by Vincent Salzillo, President and Founder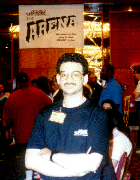 As a science fiction fan since childhood, I began attending conventions in 1979. At first, they were comic book and Trek conventions, but I soon got into the fannish set, and travelled the east coast to the various regional SF Cons. During this time I was introduced to D&D by schoolmates, and within 2 months of learning the game, decided to DM. With the proper tools in hand, I taught many friends how to play the game, and ran many campaigns. In the early eighties, I became involved in other gaming activities, and during my senior year in high school (Bronx Science), formed the Bronx Science Gaming Society. Which meant that for an entire school year, I ran Killer games and Spades tournaments (and a little bit of schoolwork).

During this time, I invested in button-making equipment and began running a dealers table at various conventions under the name The Button Factory, which became known for much more than selling buttons. During the middle eighties, with the loyal friends I collected, The Button Factory sponsored many strange and notorious parties at conventions, most notably DISCLAVE, a 1,500 person convention which had as its main attraction a cabana area around a pool where parties were held. We had numerous theme parites, often running competing events against each other, such as Pan Galactic Gargle Blasters (approx. 185 proof), Chocolate Fondues, and TOGA parties.

Well, the Toga parties became famous, and we were invited to run them in the grand ballroom of Evecon, a Virginia convention run by FANTEK. Along with the Toga parties, we began to run a New Year's dance party called the BASH, and The Button Factory became known as the kings of Christmas Lights for our unusual decorations.

In 1986, I was introduced to SIL, the Society of Interactive Literature, an east coast organization which ran Live Role Playing Games at many east coast conventions. These involved 50-150 players all acting out complex characters and interactions for the whole weekend. At that time, I had several rivalries within the group, and I decided that I would use my talents to run a LRPG that would be remembered for a long time.

In 1987, I and a few good friends began preparations for Double Exposure, based on Piers Anthony's Apprentice Adept series (The Book Club Edition was called Double Exposure, hence the name). This was billed as the most complex LRPG ever attempted, and we feel it lived up to its name. Run at Lunacon in 1988, it brought 80 people together for what many told me afterwards was one of the best weekends of their lives. We simulated everything, including linked Atari STs for the Game Computer, and wowed the players.

A sequel was inevitable to clean up some problems and to refine the techniques, so we ran Double Exposure II: The Demon's Revenge at Lunacon '89, this time with 90 players and it turned out even better. While these games were done without official permission, I later met and discussed the games with Piers Anthony who gave me his blessing and congratulated me on a job well done.

Now it was time for an original game instead of a second sequel, so we put our heads together to form a new orginal game, which became The Lords of Killian, to be run at Lunacon '90. But we needed to identify it as our group, so I gave up the name The Button Factory, and changed the name of the group to Double Exposure; it read "Double Exposure presents The Lords of Killian". Another successful game, and during this time, we continued running our BASHes, our TOGA parties, our special events and parties, and had quite a following going. Only now it was Double Exposure presents.

Then came preparations for the fourth game, which we called DREAMPORT, another original concept. This was supposed to run at Lunacon '91, but a series of events including the unfortunate scheduling of SILLICON (an LRPG-only Con) during the same weekend as Lunacon made me decide to cancel the game, much to the dismay of my players.

But by early '91, I and my group, having helped to run dozens of conventions on the east coast, decided to run a convention of our own, a LRPG much like SILLICON. So I turned Double Exposure into a DBA in New York State, and began visiting hotels. We decided on July 1992 as a good date to have the convention, and began advertising it. I decided from the beginning that this would be a top-notch convention, so the flyer was slick and glossy and totally professional. By DISCLAVE '91 (May), DEXCON (named for Double EXposure CON) began to flesh out to a whole gaming convention, and quickly grew beyond my expectations before I had the flyer out.

Once again, I wanted to push the envelope, so DEXCON advertised concepts alien to the gaming community (such as the addition of a Con Suite, with all the free food they can eat all weekend long), and I sunk a lot of money into it to start it up. Other east coast gaming conventions actually laughed at me, telling me A) my new concepts would not work and B) I was headed for bankruptcy. By this time, I had a volunteer staff of 35 people, many of whom are still with me (and many more besides).

DEXCON 1 brought in 550 attendees, much to the astonishment of the Game Companies who supported us, and quite nicely, the other conventions, many in their 5th years and more, still proud of their top attendance numbers of 400 or so. Double Exposure was Incorporated that year, and we began preparations for DEXCON 2, confident that anything we put into it would be accepted. Hence was born the Pun Contest, the Improv, the $2,500 Badge Puzzle, the SUGARFEST (later sponsored by Sunline Brands), The Chocolate Fondue, and dozens of other special events which are unique to DEXCON. My vision also directed the assembly of The ARENA, a 50' x 20' miniatures battlefield and the Live Space Hulk Game, which quickly got Games Workshop solidly on our side. We also had the backing of GAMES Magazine, so did a Hidden Contest. And added in numerous puzzles & riddles.

DEXCON 2, run in July 1993, thanks to word of mouth and excellent publicity, got 820 attendees, and DEXCON 3, run in July 1994 got 1,200, thanks to the Magic: The Gathering NJ State Championship and many other new events. DEXCON became one of the largest conventions in the country. Our second convention, DREAMATION, has achieved a cult following, and fast became another success story, along with the introduction of the AVATAR SYSTEM, a year-round live role playing game of epic proportions.

Thanks to our incredibly diverse background in convention management, computers and our reputation in the gaming industry, Double Exposure, Inc. contracted with IDG Expo Management to run the National Macintosh Gaming Championship at MACWORLD Expos in 1999 and 2000. And in April, 1999 the AVATAR SYSTEM underwent a major revision, and the hundreds of players were delighted at the new additions we put into it.

Double Exposure took a much-needed hiatus from convention management between 1999 and 2003, although we continued to run the Avatar System and numerous small events. Then, in 2003, we cranked up the machine and regrew DREAMATION into a full-sized convention. We also announced a partnership with several organizations to bring back DEXCON for the first time in 7 years in 2004. DEXCON 8, which ran in July 2005, had over 1,300 people; with the revamping of our web site in August 2005 and many new alliances and surprises, we will continue the legacy of excellent event management and hospitality well into the future!

Double Exposure, Inc. is known for its unusual perspective on traditional events, and it is almost entirely directed by our grand vision. As such, there is no committee deciding what to do, and our staff works because they love and enjoy the things we do. We will never change this basic tenet of our company, no matter how big we (or our events) get.