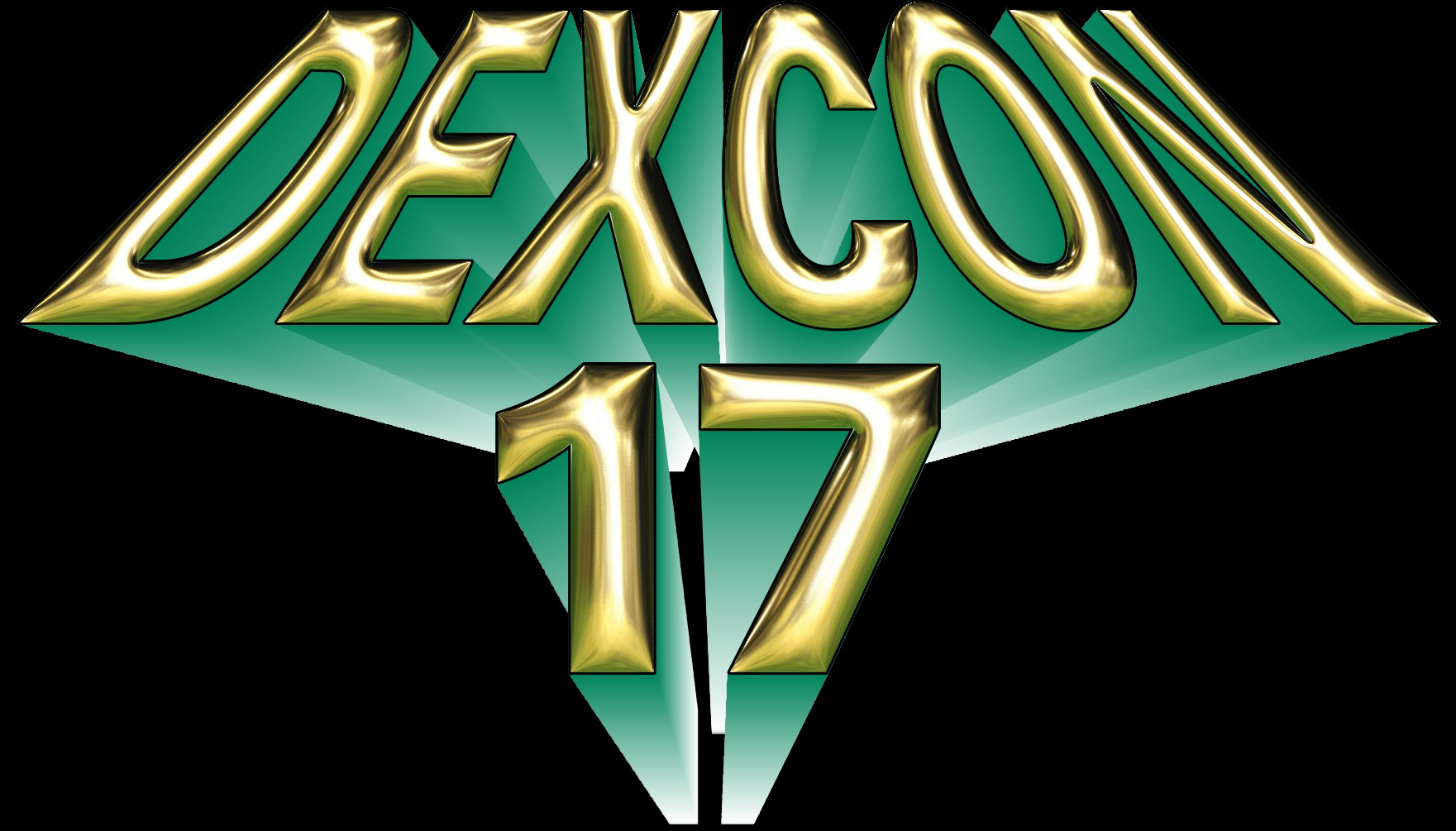 Where America Comes to Play!
Wednesday, July 2 - Sunday, July 6, 2014
Panels & Seminars Schedule for DEXCON 17
Updated 6/24/14
---
The Master Grids will be posted in a few days.
---
---
You may ONLY reserve seats in DEXCON 17 events if you are pre-registered.
Click here to pre-register for DEXCON 17 if you have not already done so.

To reserve your spots in the events you want to play in, send eMail to THIS ADDRESS ONLY and include your name and the events you want to register for NOTE: You may ONLY choose Event Codes which are SHOWN IN GREEN. DO NOT CHOOSE CODES WHICH ARE SHOWN IN RED and have LOCKS on them. Red Event Codes indicate locked events which you cannot register for, later rounds in tournaments which you will be automatically advanced to if you win the preliminary rounds, or events which have already filled up to capacity (if we have a chance to update them).

We allow you to select second and third choices for a given time slot; indicate this clearly in whatever fashion you'd like, otherwise we will just leave that slot open. And of course, since the grids are not yet posted, we understand that you may want to reserve spots in one or two popular events immediately and then send follow-up eMails with additional codes once you figure out how to plan the rest of your convention schedule.

If you have already sent in a list of events from the Signature Event and LARP Schedule that was posted on May 18th, those events are already reserved, and you do NOT need to add them again. If you want to UN-reserve a spot in one of those events, just be clear about it in your email, and we will delete you appropriately. Each time you send more information, we will send you back your up-to-date schedule.

We will reply within 48 hours with a confirmation that your reservations were received. If you do NOT get a confirmation, assume that your codes are NOT received and try again. Note that you MUST include a valid eMail reply-to address for us to reach you to confirm!
---
The Event Listing contains vital information about each event, in the format shown below:

Event ID; Type of Event; Event Name; Event Author. Event Description. Event Day & Time; Round (1); Materials (2). Level (3); Attitude (4), Age Notification (5). Next Round (6) (if applicable); See Also: Repetition of event or round (if applicable).

In the interest of conserving space, repeat listings of the same event or multiple round events will contain only the title, a reference to the first listing, time and round information. Note that prizes are usually NOT listed; all prizes will be gallery level certificates (or applicable awards), unless otherwise specified. In the case of cash prizes, Double Exposure reserves the right to withdraw the grand prize based on attendance of the specific event. Some cash value prizes will be awarded as certificates or shopping sprees for the Dealers' Room, and MAY be transferred to future Double Exposure conventions.

Notes:

(1) One Session; One round; 1 of x = First round, etc.; 1A of x = Same round repeated elsewhere.

(2) All Materials Provided (except dice); All Materials Offered (except dice), but feel free to bring your own; Bring Your Own Materials (and characters, if applicable).

(3) Beginners ONLY; Beginners Welcome; Knowledge of rules Necessary; Experts ONLY.

(4) Very Silly; Silly; Fun; Serious; Very Serious.

(5) All Ages; Under 18 Requires Parental Clearance; 18 & Over ONLY; Young Players Encouraged.

(6) All "Next Round" listings show which specific round or session you will be scheduled for automatically if you advance. This information is vital, and you should be aware of it, although you CAN reserve an alternate selection which takes place at the same time as a future advancement round. At the appropriate time, you will cancel one or the other. Note that all available events are shown in GREEN, and all advancement rounds are shown in RED.

All Special Headline Events are shown in YELLOW.
---
D1089: "Gaming with Kids" presented by Amanda Valentine. Ready to introduce a kid in your life to your gaming hobby? This is an open discussion led by Amanda Valentine, who is the parent of two tween gamers, helped moderate a middle school gaming group, and has edited and developed several RPGs suitable for young gamers, such as Little Wizards and Fate Accelerated Edition. Thursday, 9:00AM - 11:00AM; One Session; Serious, All Ages. See Also: D1090.

D1090: "Gaming with Kids". See D1089. Friday, 9:00AM - 11:00AM; One Session.

D1091: "The Collectible Swap Meet" presented by Elizabeth Wood. Have a collection to show off? Looking to trade some tradables? Come to the Collectible Swap Meet! TCG's, Skylander, Disney Infinity, Disney Collectibles, Lego MiniFigs and More! Friday, 11:00AM - 1:00PM; One Session; Fun, All Ages.

D1092: "Gaming As Other: What Fandom Has Gotten Right Lately" presented by Avonelle Wing. Join our esteemed panelist for an hour long conversation praising areas of fandom that have done progressive, supportive or encouraging things in the last year. Topics might include any number of social justice related topics, which we're too smart to list here, in case we forget something really obvious and hurt somebody's feelings. Friday, 1:00PM - 2:00PM; One Session; Serious, All Ages.

D1093: "Kids Teaching Kids" presented by Amanda Valentine. Two veteran gamers, ages 12 and 13, will teach other kids some of their favorite board games, like Sentinels of the Multiverse, Pandemic, Dominion, Ascension, Forbidden Desert, and others. This game session welcomes young players - the Game Moderator (GM) is experienced with the attention span and high energy of young players, and the pace and atmosphere at the table will accommodate them. Please note that the GM is not responsible for keeping track of any young players; children not prepared for this independence and those under the age of 11 should be accompanied by an adult. Caregivers that wish to play along with their children are highly encouraged! Friday, 2:00PM - 4:00PM; One Session; Fun, Recommended for Young Players. See Also: D1094.

D1094: "Kids Teaching Kids". See D1093. Saturday, 2:00PM - 4:00PM; One Session.

D1095: "Kill the Orc!!!" presented by Jesse Benjamin. A Solo talk with intermittent Q&A addressing the parallels between species or 'races' in traditional high-fantasy role playing games and the modern concept of ethnic 'races'. The focus of the talk will be on how gaming culture and gaming literature defines and handles the construct of race as it relates to storytelling, world-building and character personification. Saturday, 5:00PM - 6:00PM; One Session; Serious, All Ages.

D1096: "The DEXCON 17 Writer's Workshop" presented by John Adamus. Are you an aspiring writer? Have a story inside you and want to find out how to get it into print? Join our esteemed panel of authors and other professionals who will talk about how to get your wonderful ideas into the hands of millions! Sunday, 10:00AM - 12:00PM; One Session; Serious, All Ages.
---
For further information, click here to send eMail.