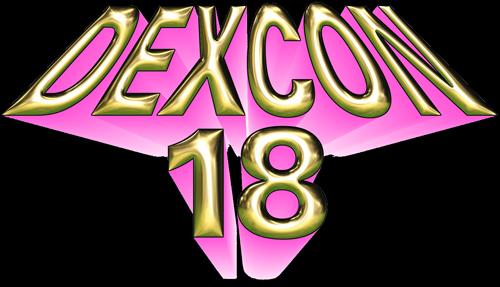 Where America Comes to Play!
Wednesday, July 1 - Sunday, July 5, 2015
Master Schedule for DEXCON 18
Updated 6/29/15 at 9:00AM EDT
---
You may ONLY reserve seats in DEXCON 18 events if you are pre-registered.
Click here to pre-register for DEXCON 18 if you have not already done so.

To reserve your spots in the events you want to play in, send eMail to THIS ADDRESS ONLY and include your name and the events you want to register for NOTE: You may ONLY choose Event Codes which are SHOWN IN GREEN. DO NOT CHOOSE CODES WHICH ARE SHOWN IN RED and have LOCKS on them. Red Event Codes indicate locked events which you cannot register for, later rounds in tournaments which you will be automatically advanced to if you win the preliminary rounds, or events which have already filled up to capacity (if we have a chance to update them).

We allow you to select second and third choices for a given time slot; indicate this clearly in whatever fashion you'd like, otherwise we will just leave that slot open. And of course, since the grids are not yet posted, we understand that you may want to reserve spots in one or two popular events immediately and then send follow-up eMails with additional codes once you figure out how to plan the rest of your convention schedule.

If you have already sent in a list of events from the Signature Event and LARP Schedule that was posted on May 18th, those events are already reserved, and you do NOT need to add them again. If you want to UN-reserve a spot in one of those events, just be clear about it in your email, and we will delete you appropriately. Each time you send more information, we will send you back your up-to-date schedule.

We will reply within 48 hours with a confirmation that your reservations were received. If you do NOT get a confirmation, assume that your codes are NOT received and try again. Note that you MUST include a valid eMail reply-to address for us to reach you to confirm!
---
---
Click here for the COMPLETE SCHEDULE OF ALL 1,212 EVENTS
Click here for the Signature Event & LARP Schedule
Click here for the NAGA Schedule
Click here for the D&D Adventurers League Schedule
Click here for the Role Playing Game Schedule
Click here for the Board Gaming Schedule
Click here for the ARENA & Wargaming Schedule
Click here for the Collectible Gaming Schedule
Click here for the Video Gaming Schedule
Click here for the Pencil Puzzles & Word Games Schedule
Click here for the Special Events & Panels Schedule
---
For further information, click here to send eMail.