Thursday, February 19 - Sunday, February 22, 2009
At the Morristown Hyatt & Conference Center in Morristown, New Jersey
Complete Schedule of Events
The Double Exposure Fall $250 Winter Poker Championship and Scores of Other Board & Card Games!
Anime Programming throughout the weekend!
Over THIRTY Double Exposure 2009 Region 4 Championships!
DEADLANDS, Cthulhu Live! and Mystic Realms LARPs and Hundreds of other role playing events!
OVER A HUNDRED Independently Published Role Playing Games as part of the Indie Games Explosion!
The Famous Double Exposure Con Suite, including two of your favorite convention parties: Ice Cream Dreams(tm) and Chocolate Heaven(tm), plus all of the snacks and refreshments you can eat FREE all weekend long!
A Large Dealers' Room with all of your favorite vendors!
...and much more!
Over 650 Events in EIGHT continuous gaming tracks...
New NAGA Modules including LEGENDS OF THE SHINING JEWEL, ARDNA: FLESH AND BLOOD and CYBERGENERATION: STORIES OF THE REVOLUTION!
RPGA Network Modules Featuring the All-New D&D 4th Edition Forgotten Realms Campaign!
Role Playing featuring D&D, World of Darkness, HERO System, and much more!
Hordes of cutting edge and small press role playing games run by their creators and designers, such as With Great Power..., Polaris, Ganakagok and The Burning Wheel!
Wargaming featuring Warhammer 40,000, Warzone, Chronopia, BattleTech, Flames of War and much more!
Board & Card Gaming with many favorites including Puerto Rico, Carcassonne, Amun Re, Alhambra, St. Petersburg, MONOPOLY, and much more!
Computer Gaming on Eight Networked Computers and Video Gaming on a GIANT LCD Screen!
Collectible Gaming featuring World of WarCraft, Dragon Dice, Shadowfist, Magic: The Gathering and much more!
At-the-door registration will be $55.00 for the entire convention. One day memberships will be available AT-THE-DOOR ONLY for $25.00-$40.00 per day.

Rooms can be reserved at the Morristown Hyatt for $109.00/night (flat rate) by calling their main number (973-647-1234) 9-5 weekdays. Be sure to mention DREAMATION 2009 and/or Double Exposure to get the event rates!

For directions to the Morristown Hyatt, click here

For further information, send eMail to this eMail address.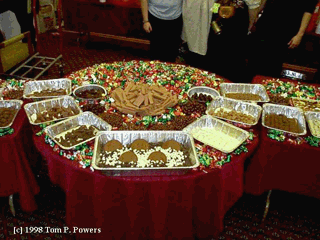 Double Exposure's Chocolate Heaven(tm)