Thursday, February 22 - Sunday, February 25, 2018
At the Hyatt Regency Morristown & Conference Center in Morristown, New Jersey
The Complete Schedule of Events will be posted on Sunday, February 18, 2018.
The Double Exposure $250 Winter Poker Championship and HUNDREDS of Other Board & Card Games!
Anime Programming throughout the weekend!
SCORES of Envoy Games, including SIX New Jersey State Championships!
Over SIXTY LARP Events, from numerous groups including Phoenix Outlaw Productions and Damocles Thread Development!
SCORES of Independently Published Role Playing Games as part of the Indie Games Explosion!
The Famous Double Exposure Con Suite, including two of your favorite convention parties: Ice Cream Dreams(tm) and Chocolate Heaven(tm), plus all of the snacks and refreshments you can eat FREE all convention long!
A Large Dealers' Room with a diverse array of vendors!
...and much more!
HUNDREDS of Events in SEVEN continuous gaming tracks...
New NAGA Modules including LEGENDS OF THE SHINING JEWEL and PATHFINDER SOCIETY!
A Large Selection of D&D Adventurers League Network Modules!
Role Playing featuring D&D, HERO System, Shadowrun, Call of Cthulhu and much more!
Hordes of cutting edge and small press role playing and story games run by their creators and designers, such as Apocalypse World, Monsterhearts and Dread!
Wargaming featuring Warhammer 40,000, BattleTech, and much more!
Board & Card Gaming with many new favorites including Wasteland Express Delivery Service, Terraforming Mars, Word Slam, Harry Potter, and much more!
Video Gaming on a GIANT LCD Screen!
Collectible Gaming featuring Magic: The Gathering, Dragon Dice, My Little Pony and more!
Live Game Shows: Gamers' Jeopardy and Gamers' Family Feud!
Read the Double Exposure Anti-Harassment Policy here.

Pre-registration will be $55.00 for the entire convention.
Click here to pre-register for DREAMATION 2018 until Tuesday, February 20, 2018 at 11:59PM!.

At-the-door registration will be $65.00 for the entire convention. One day memberships will be available AT-THE-DOOR ONLY for $25.00-$50.00 per day.

Click here to submit a game proposal for DREAMATION 2018 until Sunday, January 21, 2018 at 11:59PM!

Rooms can be reserved at the Morristown Hyatt for $141.00/night (flat rate) by going to the following link: https://resweb.passkey.com/go/Dreamation2018 or by calling the hotel's main number (973-647-1234) 9-5 weekdays. Be sure to mention DREAMATION 2018 and/or Double Exposure to get the event rates! For directions to the Morristown Hyatt, click here

Booths in the DREAMATION 2018 Dealers' Room begin at just $175.00. If you would like information about being a vendor at DREAMATION 2018, send eMail to this eMail address.

For further information, send eMail to this eMail address.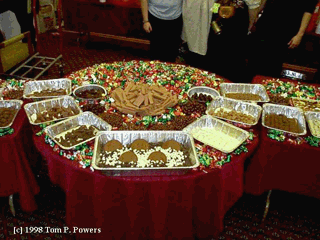 Double Exposure's Chocolate Heaven(tm)