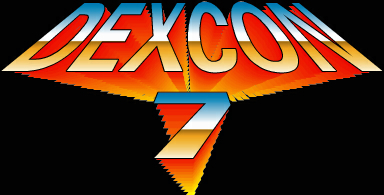 America Plays Again!
Featuring


Wednesday, July 14 - Sunday, July 18, 2004
at the East Brunswick Hilton
in East Brunswick, New Jersey
---
Updated 7/12/04
A National 96 Hour Extravaganza Containing Over 750 Events, Including:
INTERCON NORTHEAST in cooperation with LARPA!
ELEVEN U.S. National Championships!
NINE Regional Championships!
THIRTY-TWO RPGA (and affiliate) Network Individual Modules!
The $2,500 Badge Puzzle!
The ARENA, the world's only 50' x 20' Wargaming Battlefield!
The Return of the Famous Double Exposure Pun Contest!
The $250 Summer Poker Championship!
Opening Ceremonies featuring a Dinner Buffet and FIVE 20gig iPod Prizes!
Dozens of Special Guests: Game Companies, Comic Artists, Writers, Artists!
A Complete Anime Room with a Convention-Long Schedule!
A GIANT Dealers' Room with OVER 20 VENDORS! The Double Exposure Con Suite featuring SUGARFEST 2004 and The Ghirardelli Chocolate Fondue!
Altogether over in prizes!
...And much, much more!
Click here for complete information about INTERCON NORTHEAST!
Registration for DEXCON 7 is $50.00 for a Complete Membership at the door. Daily rates range from $25.00 - $35.00.
Rooms can be reserved at the East Brunswick Hilton for $99.00 (flat rate) by calling their main number (732-828-2000) 9-5 weekdays. Be sure to mention Double Exposure to get the event rate!
For directions to the East Brunswick Hilton, click here
For further information, send eMail to: dexcon@dexposure.com
---
DEXCON 7 is presented by Double Exposure, Inc. Intercon is presented by Double Exposure, Inc. and LARPA. (C)2004, All Rights Reserved.