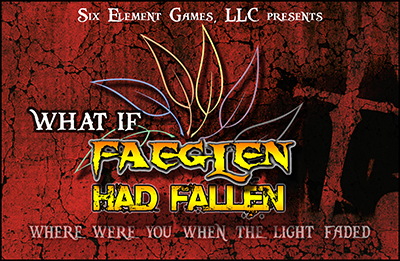 at 10:00AM - 4:00PM, Saturday, July 4, 2015
---
Q0005
A SPECIAL Experience for High Fantasy role players presented by Six Element Games, LLC
---
The Darkness has won, FaeGlen has fallen and the heroes are scattered throughout Tellus. There is nowhere to hide from the Darkness and its generals and their armies. The remaining forces of Light have retreated to the deepest parts of the old city deep beneath the now ruins of FaeGlen. Together the remaining forces prepare one final strike against the Darkness and that is to enter the realm where this creature lives and destroy it.

This special event is a What If? Event. What if FaeGlen had fallen? What if the Darkness defeated Ignis? What if the world was consumed in night for all eternity? What if the heroes you loved and followed were corrupted? What if you were the last Hope for this world?

Players from prior Double Exposure events and/or prior FaeGlen events can continue playing their characters, but new character creation can be done before game either by emailing the game designers at SixElementGames@gmail.com or at event L0008: The LARP Bazaar (Wednesday Night at 10:00PM). Costumes are highly encouraged!
---
For further information, click here to send eMail.

Back to the main DEXCON 18 page!