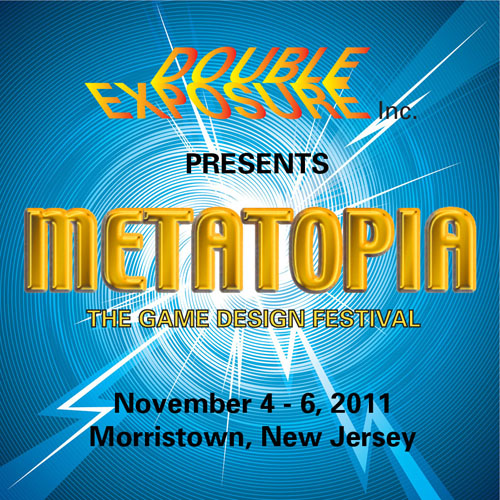 At the Morristown Hyatt & Conference Center in Morristown, New Jersey
---
LARP Schedule for METATOPIA 2011
Updated 10/25/11

METATOPIA Event Registration works differently from other Double Exposure events. While there are no advancement rounds, some of the events are red to start with because they are "invitation only". This does NOT mean that you are completely excluded from playing in them, only that you need to be invited. So when you send an eMail to us at to THIS ADDRESS, you may ask to be included in those events. We will probably call you and discuss your choices with you.

So send eMail with the things you would LIKE to play in, whether you are a Designer, a Helper or a Player. We will do our best to match you up with the events that you are interested in. There WILL be a Big Board at METATOPIA, and any seats which are not filled in advance CAN be filled at the convention.

You may ONLY reserve seats in METATOPIA 2011 events if you are pre-registered. Click here to pre-register for METATOPIA 2011 if you have not already done so.

We will reply within 48 hours with a confirmation that your requests were received. If you do NOT get a confirmation, assume that your codes are NOT received and try again. Note that you MUST include a valid eMail reply-to address for us to reach you to confirm!
---
---
L008: "Weight of a Soul" by PST Productions; presented by Greg Agostini. The oldest and strongest emotion of mankind is fear, and the oldest and strongest kind of fear is fear of the unknown. Within everyone lies the pertinacity of both good and evil and under extreme circumstances the line that separates them becomes blurred. Such is the case of the survivors of the Merchant Marine vessel "Constance". After falling prey to the dreaded U-Boat, those that were lucky enough to live will face challenges more then just mere survival. They will face their fears and what it means to be human. "Weight of a Soul" is a Metatopia Exclusive event set in 1943. Costumes are encouraged. Players will portray survivors of a torpedo attack. For character per-assignments contact PST Productions at pstproductions@gmail.com. Friday, 8:00PM - 12:00AM; One Round; 18 & Over ONLY.

L046: "Ars Amandi Workshop" presented by Lizzie Stark. Larps need love. Think about it: In a typical larp, your character is far more likely to kill something or die than she is to fall in love. The ability to play romance and love safely opens a whole new vista of possible plots, character developments, and player experience. Whether you're a game designer or a larper, come learn Ars Amandi, a fascinating Nordic mechanic for representing romance; it's boffers for lust. Participants engaging in Ars Amandi touch one another on the arms and shoulders, lightly and firmly, playfully and forcefully. During the workshop, we will be exploring different modes of touching in a safe, structured environment. Free coffee and donuts to anyone who wakes up early and attends! To learn more, visit LizzieStark.com. Saturday, 9:00AM - 1:00PM; One Session; 18 & Over ONLY.

L072: Champions LARP; "Millenium City Mayhem" by Echoes of Empires; presented by Ben Walker. Your secret identity in real life. Millennium City is in trouble - Villains, Heroes and those in between are trapped in the thrall of The Dread and Terrible Sub-Galactic Emperor. Many heroes are changed, missing or worse. It is up to you to save the city, conquer it, or doom mankind. New Players encouraged and welcome; make your character on site or use a pregen. Also, players of Champions the RPG and Champions Online may bring their characters to be translated into the Live Action System. Costumes a plus! Saturday, 1:00PM - 5:00PM; One Round; All Ages.

L097: "Blacker than the Dark of Night" by Double Exposure, Inc.; presented by Avonelle Wing. In this town, the cops are corrupt and the criminals are worse. There isn't a speck of true humanity left - anything can be had if you know where to get it, and sometimes, money just isn't the point. Power is only a bullet away, and you've got a loaded gun. Tell me, what're you gonna do with it? Remember that the more bodies you leave behind you, the more likely you are to become a body; nothing attracts attention around here like a sudden move to the top. Join Double Exposure's dynamic GMing team for this exciting, graphic and intense game! Saturday, 7:00PM - 12:00AM; One Round; 18 & Over ONLY.
---
For further information, click here to send eMail.