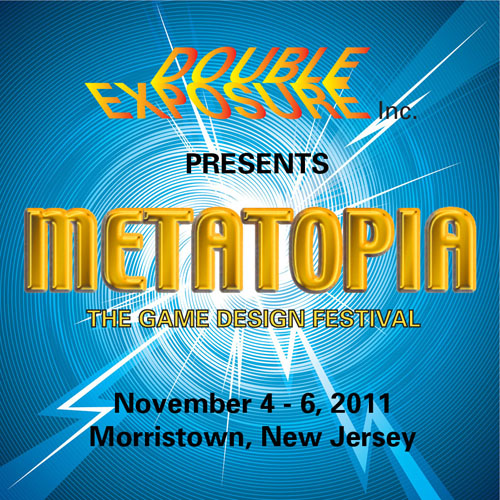 At the Morristown Hyatt & Conference Center in Morristown, New Jersey
---
Master Schedule Page for METATOPIA 2011
Updated 10/25/11

METATOPIA Event Registration works differently from other Double Exposure events. While there are no advancement rounds, some of the events are red to start with because they are "invitation only". This does NOT mean that you are completely excluded from playing in them, only that you need to be invited. So when you send an eMail to us at to THIS ADDRESS, you may ask to be included in those events. We will probably call you and discuss your choices with you.

So send eMail with the things you would LIKE to play in, whether you are a Designer, a Helper or a Player. We will do our best to match you up with the events that you are interested in. There WILL be a Big Board at METATOPIA, and any seats which are not filled in advance CAN be filled at the convention.

You may ONLY reserve seats in METATOPIA 2011 events if you are pre-registered. Click here to pre-register for METATOPIA 2011 if you have not already done so.

We will reply within 48 hours with a confirmation that your requests were received. If you do NOT get a confirmation, assume that your codes are NOT received and try again. Note that you MUST include a valid eMail reply-to address for us to reach you to confirm!
---
Click here for the MASTER INDEX OF EVENTS
---
Click here for the COMPLETE SCHEDULE OF ALL 164 EVENTS
Click here for the LARP (Live Action Role Playing) SCHEDULE
Click here for the ROLE PLAYING & STORY GAME SCHEDULE
Click here for the BOARD GAMING SCHEDULE
Click here for the FOCUS GROUP SCHEDULE
Click here for the PANELS, SEMINARS & SPECIAL EVENTS SCHEDULE
---
For further information, click here to send eMail.