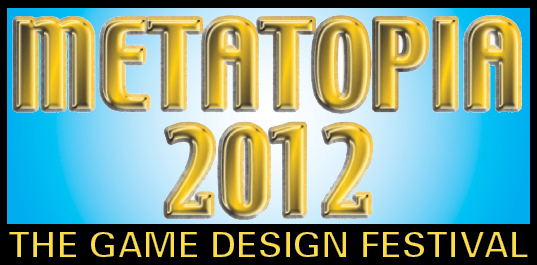 November 2 - 4, 2012
At the Morristown Hyatt & Conference Center in Morristown, New Jersey
---
The Convention For Designers and Publishers!
---
Confirmed Attendees (Updated 10/29/12):
SPECIAL INDUSTRY GUESTS:

Kenneth Hite
James Ernest
Jason Morningstar

SPECIAL PROFESSIONAL GUESTS:

Cindy Au (Kickstarter)
Ed Bell & Jen Christiansen (Scientific American, Art Directors)
Caity Ross (Mercury and Associates Structure II, Intellectual Property Attorney)
Jason Tagmire (The Game Crafter)

Jim Crocker (Indie Press Revolution)
Darren Watts (Silverback Press)
Fred Hicks (Evil Hat Productions)
Rob Donoghue (Evil Hat Productions)
Brennan Taylor (Galileo Games)
Bill White (Consensus Games)
Matthias Bonnici (Knighthawk Games)
David Simpson (Knighthawk Games)
Jason Pitre (Genesis of Legend Publishing)
Cameron Banks (Margaret Weis Productions, Ltd)
John Adamus (The Writer Next Door)
Dave Chalker (Critical-Hits)
Curt Covert (Smirk & Dagger Games)
Ishai Barnoy (Crazy Driver Story Games)
Stephen Buonocore (Stronghold Games)
Chris Adams (Aetherco)
Tim Rodriguez (Brooklyn Indie Games)
Michael Keller (Visible Hand Games)
Brian Engard
Alex Strang (Cybergecko Games)
Jonathan Lavallee (Firestorm Ink)
Geoff Bottone (Firestorm Ink)
Gil Hova (Gil Hova Games)
Geoffrey Engelstein (Mind Bullet Games)
Warren Morrison (HitMouse Studios)
Joseph Bloch (BRW Games)
Michael & Kat Miller (Incarnadine Press)
Brian Dalrymple (Gamer Ingenuity, LLC)
Ben Walker (Echoes of Empires)
Jason Godesky
Clinton Rickards
Guy Batchelder
Kirk Bauer
Dan Cassar
Joshua Raab
Mac McAnally
Chris Hernandez
Doug Snyder
Jay Treat
Max Birkett
Scott Ostrander (S and S Adventures)
Nathan Paoletta (NDP Design)
Caias Ward (TaleSpinner Studios)
Rich Parla & Courtney Tricarichi (Legendary Realms Terrain)
Matthieu Regney & The Ducks (Angry Duck Games)
Laura Simpson & Dev Purkayastha (Little Octopus Games)
Travis Chance (Action Phase Games)
Irven Keppen (Midralon Press)
Quinn Murphy (Thoughtcrime Games)
Matt James (Loremaster.org)
Russell Collins (1-7-5 Game Design)
Neal Stidham (Parenthesis Press)
Adam Dray (Fire Opal Media)
Russell Morrisey (Gorkwobble Games)
Shoshana Kessock (Phoenix Outlaw Productions)
Shane Harsch (Legendsmiths)
Hal Mangold (Atomic Overlord Press/Green Ronin Publishing)
Ivan Turner & Peter Spano (9 Kingdoms Publications)
Chris Kreuter (Masquerade Games)
David Petrosky (Consensus Games)
David Hancock (Super Dave's Gaming Company LLC)
Clark Valentine (Evil Hat Productions)
Amanda Valentine (Corvus Dormiens)
Jenesee Grey (Fable Streams Entertainment)
Larry Wickman (Gamewick Games)
Zev Shlasinger (Z-Man Games)
Ben Morgan (Chapter 13 Press)
Joshua A.C. Newman (the glyphpress)
Justin Bow (Green Fairy Games)
Brendan Conway (Saint Erebus Games)
Robert Bohl (Robert Bohl Games)
Jim McMahon (J Squared)
Matthew King (Tragolo)
Kevin Kulp (Puzzle Piece Games)
Erich Michel (Min-Max Games LLC)
Peter Schoeler (Equinox Games)
---
METATOPIA is the place to unveil new ideas and new additions to existing material, and to share them with friends and peers, old and new.
Join dozens of Designers and Publishers for 48 hours of scheduled games, demonstrations, playtests, seminars, panels and discussions. Events will include hundreds of role playing games, story games, LARPs, board games and wargames.

METATOPIA is both a freeform exchange of gaming AND a tightly scheduled Double Exposure convention. Rather than having the gamemasters focus on the attendees, we have turned the tables and are creating an environment where the Players are there to focus on the Designers! It is unlike any of our other conventions, all tied together by the top-notch Double Exposure staff, our familiar scheduling system and our world-famous Con Suite, featuring free snacks and refreshments all weekend long!

This year, we are pleased to present THREE special guests, who will be running workshops and panels, and who will all be available for high-level playtests to give extraordinarily focused feedback to Designers:

Kenneth Hite, representing Role Playing Games

James Ernest, representing Board and Card Games

Jason Morningstar, representing Story Games

And of course, all other Designers will be cross-playtesting as part of a community peer schedule that ONLY Double Exposure could coordinate! Join as a Designer for $70.00, and create your own events. Choose to include ONLY other Designers, ask for random playtesters, or fill your event with hand-picked players distinguished by their portfolios! (Note: Additional memberships for helpers & co-managers are $20.00.)

Join as a Player for $20.00, and tell us your interests - we will match you up with events that suit you based on your wishes, and then let you fill up the rest of your festival experience with whatever you'd like!

Even if your game idea consists of three pencils and a cat, you'll want to be at this exciting festival, where every Designer is treated as a star. Dust it off, show it off, and let your peers help you get it ready for the 2013 convention season!
---
Pre-registration will be $20.00 for Players and Helpers.
Click here to pre-register for METATOPIA 2012 until Thursday, November 1, 2012 at 11:59PM!.

At-the-door Player and Helper memberships will be available for $30.00.

Rooms can be reserved at the Morristown Hyatt for $99.00/night (flat rate) by going to the following link: https://resweb.passkey.com/go/Metatopia2012 or by calling the hotel's main number (973-647-1234) 9-5 weekdays. Be sure to mention METATOPIA and/or Double Exposure to get the event rates! For directions to the Morristown Hyatt, click here

For further information, click here to send eMail.