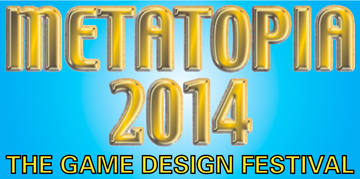 Thursday, November 6 - Sunday, November 9, 2014
At the Morristown Hyatt & Conference Center in Morristown, New Jersey
---
The Convention For Gaming Industry Professionals!
---
---
Registration opens 6:00PM Thursday night. Join us at 8:00PM for a Meet & Greet around the bar area with all of our professionals featuring FREE Empanadas from Raul's!
The Heroes' Journey, in partnership with Double Exposure and The Nerd Nighters is proud to announce our very first fundraiser!

Come on down on Thursday night at Metatopia for a night of testing your gaming prowess and flexing your generosity muscles in support of this great charity. The Heroes' Journey staff and alumni will be on hand to answer all your questions about this great 501 c(3) charity.
---
Confirmed Attendees (Updated 11/2/14):
CONFIRMED GUESTS OF HONOR:
Kenneth Hite
Avery Mcdaldno
Jason Morningstar
Will Hindmarch
Rick Loomis
Julia Ellingboe
Lisa Bowman-Steenson
CONFIRMED INDUSTRY GUESTS:
Terry Romero (Kickstarter)
Joshua Seideman (PR Consultant)
Jack Parra (Artist)
Christian N. St. Pierre (Artist)
Leslie Casilli (Artist)
John Carimando (Artist)
CONFIRMED INDUSTRY PROFESSIONALS:
Jim Crocker (Indie Press Revolution)
Darren Watts (Silverback Press)
Fred Hicks (Evil Hat Productions)
Rob Donoghue (Evil Hat Productions)
Brennan Taylor (Galileo Games)
Curt Covert (Smirk & Dagger Games)
Warren Morrison (HitMouse Studios)
Matthias Bonnici (Knighthawk Games)
Vivian Abraham
Dan Cassar
Jay Treat
John Adamus (The Writer Next Door)
Joseph Bloch (BRW Games)
Michael Keller (Visible Hand Games)
Shoshana Kessock (Phoenix Outlaw Productions)
Jason Pitre (Genesis of Legend Publishing)
Gil Hova (Formal Ferret Games)
Brian Dalrymple (Gamer Ingenuity, LLC)
Allen Yu (Learn to Rock Games)
Justin D. Jacobson (LAWCRAFT)
Elsa Henry (Storium/Blind Lady Versus)
James Stuart (Tiny Knives Games)
Diane Sauer (Shoot Again Games)
Chad Brayman (Waking Dreams Games)
Nicholas Malinowski (Waking Dreams Games)
Dave Chalker (Critical-Hits Studios, LLC)
Jonathan Barron (Late Knight Games, LLC)
Mark Richardson (Green Hat Designs)
Matthew O'Malley (Black Oak Games)
J.R. Honeycutt
Thomas Hornemann (Slightly Offensive Games)
Ericka Skirpan (In the Moment Productions)
Matthieu Regney & The Ducks
(Angry Duck Games)
Bill White (Consensus Games/Pelgrane Press)
Emily Care Boss (Black & Green Games)
Epidiah Ravachol (Dig a Thousand Holes Publishing)
Michael & Kat Miller (Incarnadine Press)
Kevin W. Kulp (Pelgrane Press)
Joshua A.C. Newman (the glyphpress)
Mark Diaz Truman (Magpie Games)
Marissa Kelly (Magpie Games)
Hal Mangold (Atomic Overmind Press)
Eric Wiener (Paradigm Concepts)
Jeff Lyon
Rishi Agrawal (Curious Purpose Games)
Jack Graham (Posthuman Studios)
Mel White
Peter Olotka (Future Pastimes, LLC)
Nick Roth (SBURBia)
Kiva Fecteau (Shadowsong Industries)
Adam Fischer (Shadowsong Industries)
Fred Palkovics (Games256)
Tony Gadaleta (Cap & Beard Productions
Laura Simpson (Sweet Potato Press)
Dev Purkayastha (Sweet Potato Press)
Quinn Murphy (Thoughtcrime Games)
Michael Pucci & Ashley Zdeb (Eschaton Media)
Sean & Megan Jaffe (Eschaton Media)
Chris & Suzanne Zinsli (Cardboard Edison)
David Petroski
Ryan Shapiro (Hogger Logger LLC)
Matthew S. King (Tragolo Corporation)

Clark Valentine (Evil Hat Productions)
Amanda Valentine (Corvus Dormiens)
Abigail Corfman (Phoenix Outlaw Productions)
Josh Harrison (Phoenix Outlaw Productions)
Zachary Huff
Neal Stidham (Parenthesis Press)
Joel Sparks (Catthulhu)
Emerson Matsuuchi (Nazca Games)
Matthew Weber
Joshua Yearsley (Evil Hat Productions)
Whitney Delaglio (Little Wish Productions)
Ann Stolinsky (Gontza Games)
Lowell Francis (Age of Ravens)
Hannah Shaffer (Make Big Things)
Cam Banks (Atlas Games)
Jeremy Morgan (Stormin' Da Castle)
Tim Rodriguez (Brooklyn Indie Games)
Stephen Buonocore (Stronghold Games)
Geoffrey Engelstein (Stronghold Games)
Andrew Federspiel (Knapsack Games)
Erik Herrington (Journey Games)
David Hancock (Creatively Constructed Games, LLC)
Christopher Amherst
Shane Harsch (Legendsmiths)
Stephen Tasker (Damocles Thread Development)
Doug Levandowski (Meltdown Games)
Kevin Chang (Rushdown Games)
Thomas O'Halloren (Sweet Saga Games)
Daniel Nayeri
Paul Ference (Tasty Cookie Games)
Christopher Batarlis (Everything Epic Games)
Evan Torner (Analog Game Studies)
Matthew Schwartz (Analog Evolution Games)
Bryan Shipp (Room 209 Gaming)
Moyra Turkington
Ian Brown
Giovanni Ruffini (Dotawo Productions)
Keith Stetson (Human Hand & Brain)
Ben Krieger (Paw-Warrior Games)
Sparkle Douglas (3D(GS))
Patrick J. Fahy
Scott Ostrander (S2 Adventures)
James Mendez Hodes (Inside Games)
Caias Ward (TaleSpinner Holdings)
Jonathan Bethune (Otrera Technology)
Cheyenne Rae Grimes (Glittercats Fine Amusements)
Sarah Richardson
Jonathan Hall (Jonathan Edward Hall LLC)
Aaron Trammell (Golden Spike Games/Analog Game Studies)
Justin Bow (Green Fairy Games)
Stephen Hood (Storium)
Rory Fitz-Gerald (The Protoglyph Collective)
Joe DeLuca (JJD Games Unlimited, LLC)
Anthony Rando (Devious Devices, LLC
Tam Myaing (Wee Big Games)
David Farhi
Jason Gough (Casual Dragon Games)
James D'Amato (ONE SHOT Podcast)
Kat Murphy (ONE SHOT Podcast)
Henry Ulrich (Wrecking Ball Game Labs)
---
METATOPIA is the place to unveil new ideas and new additions to existing material, and to share them with friends and peers, old and new.
Join scores of Designers and Publishers for 72 hours of scheduled playtests, demonstrations, seminars, panels and discussions. Events will include hundreds of role playing games, story games, LARPs, board games, card games and wargames.
METATOPIA is both a freeform exchange of gaming AND a tightly scheduled Double Exposure convention. Rather than having the gamemasters focus on the attendees, we have turned the tables and are creating an environment where the Players are there to focus on the Designers! It is unlike any of our other conventions, all tied together by the top-notch Double Exposure staff, our familiar scheduling system and our world-famous Con Suite, featuring free snacks and refreshments all weekend long!
Publishers and Designers will be cross-playtesting as part of a community peer schedule that ONLY Double Exposure could coordinate!
Join as a Player or Helper for $20.00, and tell us your interests - we will match you up with events that suit you based on your wishes, and then let you fill up the rest of your festival experience with whatever you'd like!
Even if your game idea consists of three pencils and a cat, you'll want to be at this exciting festival, where every Designer is treated as a star. Dust it off, show it off, and let your peers help you get it ready for the 2015 convention season!
---
At-the-door Player memberships will be available for $30.00.

The Morrisrown Hyatt is now completely sold out. Please contact us at the email below for information about additional hotels in the area. For directions to the Morristown Hyatt, click here

For further information, click here to send eMail.