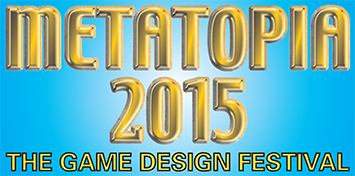 Thursday, November 5 - Sunday, November 8, 2015
At the Morristown Hyatt & Conference Center in Morristown, New Jersey
---
The Convention For Gaming Industry Professionals!
---
---
Registration opens 6:00PM Thursday night (November 5th). Join us at 8:00PM for a Meet & Greet around the bar area with all of our professionals featuring FREE Empanadas from Raul's! Open gaming and lots of schmoozing expected.
---
Confirmed Industry Professionals (Updated 11/2/15):
Kenneth Hite (Pengrane Press)
Cat Tobin (Pelgrane Press)
Will Hindmarch (Word Studio)
Darren Watts (Silverback Press)
Fred Hicks (Evil Hat Productions)
Rob Donoghue (Evil Hat Productions)
Joshua Yearsley (Evil Hat Productions)
Jason Morningstar (Bully Pulpit Games)
Steve Segedy (Bully Pulpit Games)
Chris Pramas (Green Ronin Publishing)
Jason Walters (IPR/Hero Games)
Julia Ellingboe (Stone Baby Games)
Cam Banks (Atlas Games)
Kyla McT (Atlas Games)
Jeff Tidball (Atlas Games/Left Justified Studio)
Jason Pitre (Genesis of Legend Publishing)
Dave Chalker (Critical-Hits Studios, LLC)
Emily Dresner (Critical-Hits Studios, LLC)
Michael Miller (Incarnadine Press)
Kat Miller (Incarnadine Press)
Bryan Shipp (Room 209 Gaming)
Sarah Perry-Shipp (Room 209 Gaming)
Ray Watters (Room 209 Gaming)
Henry Ulrich (Wrecking Ball Game Labs)
Brian Dalrymple (Alligator Alley Entertainment)
Eric Wiener (Alligator Alley Entertainment)
Stephen Buonocore (Stronghold Games)
Shoshana Kessock (Phoenix Outlaw Productions)
Nicolas Hornyak (Phoenix Outlaw Productions)
Josh Harrison (Phoenix Outlaw Productions)
Diane Sauer (Shoot Again Games)
Tim Rodriguez (Brooklyn Indie Games)
Justin D. Jacobson (Blue Devil Games/LAWCRAFT)
Gil Hova (Formal Ferret Games)
Elsa S. Henry (Storium.com/Blind Mouse Games)
Russell Collins (Robot Claw Design)
Giovanni Ruffini (Nile South Games)
Vickie Moore (VickieGames)
Christopher Badell (Greater Than Games, LLC)
Chris O'Neill (9th Level Games)
Justin Purvis (Movie Buff)
Whitney Marie Delaglio (Little Wish Productions)
JR Honeycutt (Waitress Games)
Tayler Stokes (Games to Gather)
Richard A. Johnson (Rattrap Productions)
Thomas Hornemann (Slightly Offensive Games)
Stephen Tasker (Damocles Thread Development)
K.N. Granger (Goldfinch Games)
Geoffrey Engelstein (Mind Bullet Games)
Kiva Fecteau (Shadowsong Industries)
Adam Fischer (Shadowsong Industries)
Matt Loter (Prettiest Princess/QPC Games)
Jeffrey Norman Bourbeau (Magical Purple Hippo Games)
Evan Torner (Analog Game Studies)
Kathryn Hymes (Kathryn Elizabeth Hymes)
Stephen Hood (Storium)
Kristin Firth (Jaded Girl Games)
Lucas Weese (Cohio Games)
Eric Guadara (Dashing Cape)
Tony Gadaleta (Cap & Beard Productions)
Shane Harsch (Legendsmiths)
Aj Comfort (Space Monkeys Down)
Jenna Comfort (Space Monkeys Down)
Jody Barbessi (U.S. Games Systems, Inc.)
Jacob Lefton (Linden Street Studio)
Evan Rowland (Make Big Things)
Jonathan Rosenberg (Grebnesor Games)
John Adamus (The Writer Next Door)
Tam Myaing (Wee Big Games)
Bill White (Consensus Games/Pelgrane Press)
Caias Ward (TaleSpinner Holdings)
Christopher Batarlis (Everything Epic Games)
James Holder (Biggest Robot Productions)
Nicholas Everlith (Ryzal Games)
Chris Perrin (This Just In)
Mario Dongu (This Just In)
Anthony Rando (Devious Devices, LLC)
James Muckell (Pure Fun Games, LLC)
Meguey Baker (Night Sky Games)
Jack Graham (Posthuman Studios)
Adam Zalatan (KinSoul Studio)
Josh Roby (Kallisti Press)
Michael Malecki (Eleventh Hour Productions)
Gavin White (Special Snowflake Games)
J Li (Caldera Games)
Jonathan Echavarria (Bloomfield College)
Benjamin King (Bloomfield College)
Ko Sasahara (Engine ID)

Jim Crocker (Indie Press Revolution)
Brennan Taylor (Galileo Games, Inc.)
Krista White (Galileo Games, Inc.)
James Mendez Hodes (Galileo Games)
Curt Covert (Smirk & Dagger Games)
Warren Morrison (HitMouse Studios)
Joshua Ferraiuolo (HitMouse Studios)
Matthias Bonnici (Knighthawk Games)
Joshua A.C. Newman (the glyphpress)
Joseph Bloch (BRW Games)
Hannah Shaffer (Make Big Things)
Brian Van Slyke (Make Big Things)
Stras Acimovic (Platonic Solids)
Kat Kuhl (One Shot Podcast Network)
James D'Amato (One Shot Podcast Network)
Michael Keller (Visible Hand Games)
Robert Bohl (Robert Bohl Games)
Stentor Danielson (Glittercats Fine Amusements)
Cheyenne Wall-Grimes (Glittercats Fine Amusements)
Mark Diaz Truman (Magpie Games)
Marissa Kelly (Magpie Games)
Brendan Conway (Magpie Games)
Ivan Turner (9 Kingdoms Productions
Michael Kaminky (Harder than a Duck)
Anthony Amato (Cardboard Fortress Games)
Nicole Kline (Cardboard Fortress Games)
Anthony Qian (Pudding Cup Bandits)
Glenn Given (Games By Play Date)
Graham Walmsley (Graham Walmsley)
Christopher Zinsli (Cardboard Edison)
Suzanne Kabrt-Zinsli (Cardboard Edison)
Chris Spivey (Darker Hue Studios)
Jill Spivey (Darker Hue Studios)
Thomas O'Halloren (Sugarplum Chronicles)
Matthieu Regney & The Ducks
(Angry Duck Games)
Ann Stolinsky (Gontza Games)
Matthew O'Malley (Black Oak Games)
Christopher Parks (Quixotic Games)
Laura Simpson (Sweet Potato Press)
Dev Purkayastha (Sweet Potato Press)
Mark Richardson (Green Hat Designs)
Thomas Rochelle (The Plot Thickens Game)
Carl Cleanthes (Creative Art & Design Studios)
Geoffrey Suthers (Studio Wumpus)
Dave Beever (Wandering Tribe Games)
John Dermody (Vanishing City Games)
Darrell M. Stark (Runaway Orange)
Joshua Paugh (Paw-Warrior Games)
Matthew Schwartz (Analog Evolution Games)
Keith Stetson (Human Hand & Brain)
Moyra Turkington (Unruly Designs)
Charlie Hoopes (HoopCAT Games)
Will Nickley (Nickley Games)
Wesley Bogan (None 2 Bright Games)
Neall Price (Onyx Path Publishing)
Jack Parra
Jay Treat
Michael Meinberg
Christopher Corbett
Eric Alvarado
Banana Chan
Sarah Richardson
Doug Levandowski
Matt Weber
Daniel Newman
Benjamin Reinhart
Daniel Hendlowitch
Morgan Ellis
Christopher Pinyan
Erik Dresner
Christopher Duffy Austin
Hakan Seyalioglu
Kat Jones
Craig Page
Beth Rimmels
Nolan James
Scott Martel Jr.
Zintis May-Krumins
Sam LaFleche
Jeremy Stoltzfus
Zachary Huff
Henry Michael-Brown
Mel White
David Turner
Stephanie Bryant
Tobias Strauss
Rodney Currie
Dan Cassar
Scott Ryan
Jared Tripp
Ken Chadwick
Nicholas Malinowski
Megan Knouff
Nathaniel Levan
Aaron Wilson
Plus IGDN Scholarship winners: Alex Helm, Kimberley Lam, Andre La Roche & Jay Sylvano
---
METATOPIA is the place to unveil new ideas and new additions to existing material, and to share them with friends and peers, old and new.
Join scores of Designers and Publishers for 72 hours of scheduled playtests, demonstrations, seminars, panels and discussions. Events will include hundreds of role playing games, story games, LARPs, board games, card games and wargames.
METATOPIA is both a freeform exchange of gaming AND a tightly scheduled Double Exposure convention. Rather than having the gamemasters focus on the attendees, we have turned the tables and are creating an environment where the Players are there to focus on the Designers! It is unlike any of our other conventions, all tied together by the top-notch Double Exposure staff, our familiar scheduling system and our world-famous Con Suite, featuring free snacks and refreshments all weekend long!
Publishers and Designers will be cross-playtesting as part of a community peer schedule that ONLY Double Exposure could coordinate!
Even if your game idea consists of three pencils and a cat, you'll want to be at this exciting festival, where every Designer is treated as a star. Dust it off, show it off, and let your peers help you get it ready for the 2016 convention season!
---
Pre-Registration is now closed. At-the-door registration is $30.00.

The Hyatt Morristown is completely sold out at this time.


Hyatt House, our spillover hotel, is taking reservations for METATOPIA attendees. It is about 5-10 minutes from the Hyatt Morristown by car, and it has large, roomy suites. Please contact them at 973-971-0008 to make a reservation.
For directions to the Morristown Hyatt, click here
For further information, click here to send eMail.