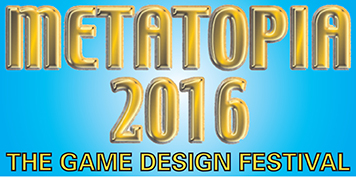 Thursday, November 3 - Sunday, November 6, 2016
At the Hyatt Regency Morristown & Conference Center in Morristown, New Jersey
---
The Convention For Gaming Industry Professionals!
---
Registration opens 6:00PM Thursday night (November 3rd). Join us at 7:00PM for a Meet & Greet around the bar area with all of our professionals! Open gaming and lots of schmoozing expected.
---
Confirmed Industry Professionals (Updated 11/2/16):
Kenneth Hite (Pelgrane Press)
Marie Poole (Lone Shark Games)
Will Hindmarch (Word Studio)
Darren Watts (Silverback Press)
Fred Hicks (Evil Hat Productions)
Rob Donoghue (Evil Hat Productions)
Cam & Jessica Banks (Atlas Games)
Jeff Tidball (Atlas Games)
Kyla McT (Atlas Games)
Zev Shlasinger (WizKids)
Clark Valentine (Evil Hat Productions)
Amanda Valentine (Corvus Dormiens)
Jason Morningstar (Bully Pulpit Games)
Avery Alder (Buried Without Ceremony)
Ron Edwards (Adept Press)
Brennan Taylor (Galileo Games)
Tim Rodriguez (Galileo Games)
John Carimando (Galileo Games)
Michael Miller (Incarnadine Press)
Kat Miller (Incarnadine Press)
Stephen Buonocore (Stronghold Games)
Geoff Engelstein (Mind Bullet Games)
Jim Crocker (Indie Press Revolution)
Melissa Lewis-Gentry (Modern Myths)
Curt Covert (Smirk & Dagger Games)
Gil Hova (Formal Ferret Games)
Matthias Bonnici (Lost Cog Games)
Cat Tobin (Pelgrane Press)
Jason Walters (IPR/Hero Games)
Julia Ellingboe (Stone Baby Games)
John Adamus (The Writer Next Door)
Geoff Bottone (Geoffquest)
Matthew McFarland (Growling Door Games, Inc.)
Michelle Lyons-McFarland (Growling Door Games, Inc.)
Neal Stidham (Parenthesis Press)
Moyra Turkington (Unruly Designs)
Dave Chalker (Critical-Hits Studios)
Emily Dresner (Critical-Hits Studios)
Shoshana Kessock (Phoenix Outlaw Productions)
Craig Page (Phoenix Outlaw Productions)
Nicolas Hornyak (Phoenix Outlaw Productions)
Josh Harrison (Phoenix Outlaw Productions)
Stephen Dewey (Cavalry Games)
Brian Dalrymple (Alligator Alley Entertainment)
Eric Wiener (Alligator Alley Entertainment)
Rich Lescouflair (Alligator Alley Entertainment)
Diane & Nick Sauer (Shoot Again Games)
Jason Pitre (Genesis of Legend Publishing)
Beth Rimmels (Rising Stars Press)
Ryan O'Grady (Legendsmiths)
Jack Graham (Posthuman Studios)
James D'Amato (One Shot Podcast Network)
Alex Roberts (One Shot Podcast Network)
Christopher Badell (Greater Than Games)
Andy Geremia (FoxMind Toys & Games)
Joshua Yearsley (Evil Hat Productions)
Brian Rogers (Amalgam Studios)
Whitney Marie Delaglio (Little Wish Productions)
Mark Richardson (Green Hat Designs)
Eric Cesare & Anthony Rando (Devious Devices)
J Li (Vermillion Games)
Eric Simon (Four-in-Hand Games)
Hamish Cameron (Ardens Ludere)
Kathryn Hymes (Thorny Games)
Hakan Seyalioglu (Thorny Games)
Matt Fantastic (Prettiest Princess)
Jeffrey Norman Bourbeau (Vile Genius Games)
Suzanne & Christopher Zinsli (Cardboard Edison)
Frank DiCola (Game Revenant LTD)
Joshua Ferraiuolo (HitMouse Studios)
Mendel Schmiedekamp (Silver Garden Games)
Matthieu Regney & The Ducks
(Angry Duck Games)
Marian McBrine (Gen Con)
Shane Harsch (Legendsmiths)
Ben Krieger & Josh Paugh (Paw-Warrior Games)
Michael Crenshaw (Shoe Shine Studios)
Ian Reed (Yodeo Games)
Jason Tocci (VirZOOM)
Brandon Leon-Gambetta (Stop, Hack & Roll)
Mark Diaz Truman (Magpie Games)
Marissa Kelly (Magpie Games)
Sarah Richardson (Magpie Games)
Brendan Conway (Magpie Games)
Joseph Pettine (Dark Hills Gaming)
Michael Malecki (Eleventh Hour Productions LLC)
Laura Simpson (Sweet Potato Press)
Dev Purkayastha (Sweet Potato Press)
Gavin White (Special Snowflake Games)
Christopher Bradbury (Viewbird Games)
John Dermody (Vanishing City Games)
Bill Lasek (Wandering Hearth Games)
Dave Beever (Wandering Tribe Games)
Derek Chappell (Newstand Press)
Ivan Turner (9 Kingdoms Publications)
Matthew Schwartz (Analog Evolution Games)
Vincent Baker (Lumpley Games)
Kristin Firth (University of Chicago)
Tim Blank (Gameworthy Labs)
Jonathan Testa (Wombat Games)
Noah Miller (XYZ Game Labs)
Thomas Toynton (Golden Dragon Studio)
Andreas Walters (Metal Weave Games)
Joel Greenwald (Grandpa Toys)
Michael Mihealsick (Coalition Game Studios, LLC)
Scott Ostrander (S2 Adventures)
Jason Robinette (Hack and Slash Games)

Jessica Hammer (Carnegie Mellon University)
Judeth Oden Choi (Carnegie Mellon University)
John Bezanis (Fluffy Puppy Games)
Robert Bohl (Robert Bohl Games)
Russell Collins (Robot Claw Design)
Joel Sparks (CATTHULHU.com)
Jim Dagg (Saddle Shaped Games)
Tayler Stokes (Games to Gather)
Jay Sylvano (Games to Gather)
Chris O'Neill (9th Level Games)
Heather O'Neill (9th Level Games)
Heather Wilson (9th Level Games)
Anthony Amato (Cardboard Fortress Games)
Christopher Visco (Silverclutch Games)
Glenn Given (Games by Play Date)
Justin D. Jacobson (Restoration Games)
Benjamin Morrow (Learn Larp LLC)
Maury Brown (Learn Larp LLC)
Dylan Grey (Werewolf Games LLC)
Sarah Allen (MVM Games)
Stephen Tasker (Damocles Thread Development)
Jon Rosenberg (Grebnesor Games)
Nicholas Malinowski (Dakani Games)
JR Honeycutt (Waitress Games)
Kelvin Ortega (Absolute Zero Gaming)
Peter C. Hayward (Jellybean Games)
Christopher Pinyan (Crispy Games Co)
Mike Gnade (Rock Manor Games)
Christopher Batarlis (Everything Epic Games)
Jim Samartino (Everything Epic Games)
Daniel Nayeri (Workman Publishing Company)
Stephen Hood (Storium)
Pete Petrusha (Imagining Games)
Jim McClure (Third Act Publishing)
Christopher Barney (Metahex Studio)
Kevin Carmichael (Dancing Giant Games)
Erik Herrington (Journey Games)
Randy Lubin (Diegetic Games)
Ko Sasahara (Engine ID Inc.)
Ryan Schoon (Loremaster Games)
David Simpson (Knighthawk Games)
James Stuart (Tiny Knives)
Joseph Valoren (Hard Luck Games)
Henry Ulrich (Wrecking Ball Game Labs)
Damon Tabb (Creative Foundry)
Kiva Fecteau (Shadowsong Industries)
Adam Fischer (Shadowsong Industries)
Neall Price (Onyx Path Publishing)
Kevin Kulp (Pelgrane Press)
Elsa Henry (Blind Mouse Games)
Thomas Rochelle (Avant Card Games)
Matthew Tarulli (ODAM Publishing LLC)
Thomas Hornemann (Slightly Offensive Games)
Tam Myaing (Wee Big Games)
Demarkes Green & Eugene Davis (KND Games)
Kyle Haas (ChickenRider Games)
Jason Williams (VR-Soft.Com/VRGames)
Calvin Holt (Holtfork Games)
Breeze Grigas (Zephyr Workshop)
Justin Cummings (Hatch Hill Games)
Erin Hawley (The Geeky Gimp)
Rachel E.S. Walton
Jay Treat
Mel White
Kate Bullock
Johannes Oppermann
Doug Badzik
Liz Bauman
Eric Jeppesen
Maksim Mukhammedov
Rodney Currie
Joanna Piancastelli
Morgan Ellis
William Little
Emily O'Neil
Paulomi Pratap
Rocco Privetera
John Sheldon
Doug Levandowski
Adam Browne
Mark Fuchs
Christopher Duffy Austin
Anthony Fiumano
Charlie Hoopes
Carlos Hernandez
Josh Mills
Christian Otterman
George Sarantopoulos
Noah Arjomand
Colin Kyle
Peter Ciccolo
Eric Alvarado
Colum Higgins
Henry-Michael Brown
Nathaniel Levan
Nolan James
James Lee Griffin
Benjamin Reinhart
Henry Baust
Warren Morrison
Orion McClelland
Kimberley Lam
Jonathan Gilmour
Tim Hutchings
Shawn Roske
Vlad Ivanov
David Turner
Max Swietnicki
Stephanie Nudelman
Zachary Barash
Zachary Huff
Kevin Petker
Vera Vartanian
Devin Conlon
Mike Lasota
Miguel Pena
Dymphna Connor
Mark Shireman
Plus IGDN Scholarship winners: J. Derrick Kapchinsky, Darcy Ross, Kiel Chenier, Vivian Paul,
Krissy Bullock, Jeremy Alva and Roe Nix
---
METATOPIA is the place to unveil new ideas and new additions to existing material, and to share them with friends and peers, old and new.
Join hundreds of Designers and Publishers for 72 hours of scheduled playtests, demonstrations, seminars, panels and discussions. Events will include hundreds of role playing games, story games, LARPs, board games, card games and wargames.
METATOPIA is both a freeform exchange of gaming AND a tightly scheduled Double Exposure convention. Rather than having the gamemasters focus on the attendees, we have turned the tables and are creating an environment where the Players are there to focus on the Designers! It is unlike any of our other conventions, all tied together by the top-notch Double Exposure staff, our familiar scheduling system and our world-famous Con Suite, featuring free snacks and refreshments all weekend long!
Publishers and Designers will be cross-playtesting as part of a community peer schedule that ONLY Double Exposure could coordinate!
Even if your game idea consists of three pencils and a cat, you'll want to be at this exciting festival, where every Designer is treated as a star. Dust it off, show it off, and let your peers help you get it ready for the 2017 convention season!
---
Pre-Registration is now closed. At-the-door registration is $30.00.

The Hyatt Morristown is completely sold out at this time.


Hyatt House, our spillover hotel, is taking reservations for METATOPIA attendees. It is about 5-10 minutes from the Hyatt Morristown by car, and it has large, roomy suites at $113/night. Please contact them at 866-974-9288 or use this link to make a reservation, and make sure to tell them it is for METATOPIA and/or Double Exposure.
For directions to the Hyatt Regency Morristown, click here
For further information, click here to send eMail.