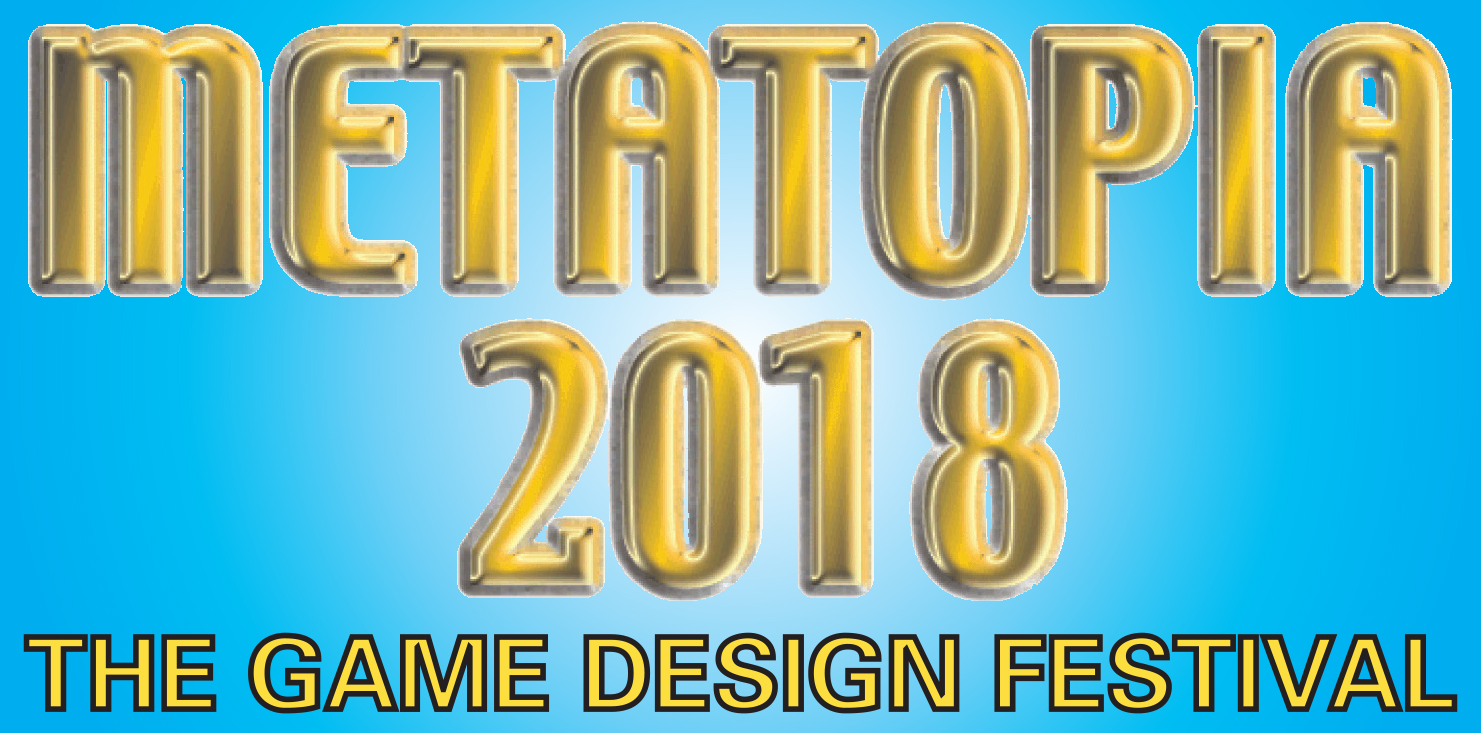 Thursday, November 1 - Sunday, November 4, 2018
At the Hyatt Regency Morristown & Conference Center in Morristown, New Jersey
---
PANELS, SEMINARS & SPECIAL EVENTS SCHEDULE for METATOPIA 2018
Updated 11/1/18 at 4:30PM EDT - THIS IS THE FINAL UPDATE.

The Big Board is now active at the physical convention. We can no longer process event reservations through email.

D001: "First Time METATOPIA Attendees" presented by Avonelle Wing, Darren Watts. Join Avonelle Wing and others for a METATOPIA orientation. All types of attendees welcome. We'll talk about the philosophy behind this unique convention, answer questions and introduce you to each other. Friday, 9:00AM - 10:00AM; Serious, All Ages.

D002: "How to Be a Playtester (101)" presented by Kate Bullock, Kelvin Ortega, Jennifer Graham-Macht. Our panelists talk about how to be good playtesters. Learn how to hear the questions being asked and answer with useful feedback. We all want to give helpful criticism; learn more about how to do that. Friday, 10:00AM - 11:00AM; Serious, All Ages.

D003: "Mechanical Atmosphere: Emotional Feedback in Game Design" presented by Jabari Weathers, Jacqueline Bryk. Nuance in game design isn't just about numbers or "balance." Fewer numbers/less crunch doesn't necessarily mean that a design is "less complicated." Let's talk about how finding the right mechanic for the right task will help shape the player experience. Friday, 10:00AM - 11:00AM; Serious, All Ages.

D004: "Face Your Fear" presented by Kiva Fecteau, David Beever, Jim Dagg , Kate Beaman-Martinez, Beth Rimmels. Congratulations. You screwed up the courage and got yourself to METATOPIA! Prepare to panic... or not. Talk with fellow participants in small groups to identify your fears and where they come from. You'll probably discover a lot of commonalities. Our workshop leaders have begun to overcome their own fears, and have seen success at METATOPIA. They'll share tips and techniques to help you stay afloat during the weekend. Friday, 10:00AM - 11:00AM; Serious, All Ages.

D005: "Honing Your Game Pitch" presented by Jim McClure, Kenneth Hite, Cat Tobin. This panel is designed to help you establish the best way to present your game to consumers. From Elevator pitches, to focus points, to mechanical highlights, we will cover what is most important in getting people to buy into your game. Attendees should be prepared to discuss their game project as part of a group, and have an elevator pitch pre-prepared. The panelists will then help each individual attendee to hone their presentation. Friday, 11:00AM - 12:00PM; Serious, All Ages.

D006: "Marketing Is More Than Social Media" presented by Melissa Lewis-Gentry, Beth Rimmels, Christopher Tang. While social media is an important tool for marketers to use, many companies confuse it for the whole breadth of a marketing. Hear expert marketing professionals talk about what marketing departments should be doing for game publishing companies. Friday, 11:00AM - 12:00PM; Serious, All Ages.

D007: "Productive Playtesting" presented by Isaac Shalev, Gil Hova, Jennifer Graham-Macht. Join us for a roundtable conversation about how to get the best data from your time at the playtesting table. We'll discuss our experiences running playtests, and talk about common mistakes and how to avoid them. Friday, 11:00AM - 12:00PM; Serious, All Ages.

D008: "Now What?" presented by Steve Segedy, Christopher Badell, Mark Richardson, Cat Tobin. Once you've created a game, what are your options for getting it out into the world? Come ask questions and find out about printing, distribution, and fulfillment options for independent designers and small publishers. We could also include discussion of Kickstarter, BackerKit, contracts, licensing, etc. Friday, 12:00PM - 1:00PM; Serious, All Ages.

D009: "How To Work With Artists" presented by Jack Parra, Lissanne Lake, Scott Bowmanchester. This panel will touch on the process of how to find and approach artists, negotiate the contract, and then successfully work together. It's important that publishers get an artist's-eye-view of things so they can better understand what we do, the process, and the time involved and plan projects accordingly. Friday, 12:00PM - 1:00PM; Serious, All Ages.

D010: "What Does Disability Representation Look Like?" presented by Shayna Cook, Elsa Henry, Shoshana Kessock. Designing and running analog games with accessibility in mind is difficult when you aren't sure what that looks like. Learn about what many disabled people would like to see in terms of representation, community members experiences as disabled gamers, and why you should make your games accessible. Friday, 12:00PM - 1:00PM; Serious, All Ages.

D011: "Actual Play, Digital LARP & Online Gaming" presented by Maury Brown, Tara Clapper, Michael Meinberg, Seanna Musgrave. Analog (tabletop and LARP*) games with digital participants have their own challenges in design, mechanics, and community. This panel will discuss the trend and what it may mean going forward for designers, players and community managers. *yes, LARP. Yes, online. Yes, digital LARP online. Friday, 1:00PM - 2:00PM; Serious, All Ages.

D012: "Choice Mechanics" presented by Anne Ratchat, Rob Donoghue, Jennifer Martin. In each game, players make choices starting character design/assignment. How does a designer balance creating meaningful decisions while balancing choice paralysis? How does the feel of the game change by increasing and decreasing choices available? Friday, 1:00PM - 2:00PM; Serious, All Ages.

D013: "Navigating Consent in Gaming" presented by Sam Saltiel, Brand Robins, Camdon Wright, Eli Eaton. Good consent practice requires that consent is enthusiastic and informed. Let's talk about how to encourage a higher level of consent. We will discuss tools you can add at the table, but then we'll explore ways to integrate consent into the foundations of your design. Friday, 1:00PM - 2:00PM; Serious, All Ages.

D014: "Kickstarting in 2019" presented by Chandler Copenhaver, Steve Segedy, Christopher Batarlis. Kickstarter today is a different animal than it was a year or five years ago. Let's talk about the things you need to know if you're launching a campaign next year. Friday, 2:00PM - 3:00PM; Serious, All Ages.

D015: "Horror Mechanics (For More Than Just Horror)" presented by Anne Ratchat, Kenneth Hite, Elsa Henry, Julia Ellingboe, Jabari Weathers. In the genre of horror, game designers and writers have developed an arsenal of tools specifically to disempower the characters in their worlds. These mechanics are assumed one-trick ponies but can also serve as useful mechanics for empowering play as well when understood. The goal of this panel is to break down why specific horror mechanics work and how to use them effectively, regardless of genre. Friday, 2:00PM - 3:00PM; Serious, All Ages.

D016: "Queer Worldbuilding" presented by Mandy Perry, Ezekiel McGee, Nicolas Hornyak, Shoshana Kessock, Jennifer Gutterman. Building an inclusive gaming experience goes beyond pronoun stickers on name badges and accessible gaming areas. In this roundtable, participants will dig past 100-level inclusion to discuss writing inclusive and diverse worlds, with primary focus on LGBTQ inclusion and avoiding trope pitfalls. Friday, 2:00PM - 3:00PM; Serious, All Ages.

D017: "Truth, Survival, and Empowerment in Darker Narratives" presented by Mabel Harper, Avonelle Wing, Misha Bushyager, Eli Eaton. A discussion about why some people, specifically members of minority groups, might feel drawn to darker games and survival narratives, and how fiction of this nature both describes reality and can also provide answers, empowerment, and revolutionary verve in a world that is hostile to racial, sexual, ethnic, and gender minorities. Friday, 3:00PM - 4:00PM; Serious, All Ages.

D018: "Working With a Marketing Consultant" presented by Kira Peavley. Marketing isn't magic. You need a real strategy and a methodology that allows you to stand out. Working with a consultant can help you focus your strategy, set realistic goals, and better understand your data to help drive your marketing decisions and execution. Friday, 3:00PM - 4:00PM; Serious, All Ages.

D019: "Understanding Financial Regulations for Crowdfunding" presented by Bradley Hausman. A brief overview of SEC and some state regulations regarding crowdfunding, and other forms of raising capital, and registering your campaign. In this roundtable, feel free to discuss your experiences and how others can learn from them. Friday, 3:00PM - 4:00PM; Serious, All Ages.

D020: "LARP for Tabletop Designers, Tabletop for LARP Designers" presented by Jason Morningstar, Jay Treat, Jacqueline Bryk, Tim Hutchings. Live action role playing offers all sorts of interesting insights and techniques that are ripe for poaching for tabletop games - and vice versa. We'll discuss the affinities, differences, and edge cases in these related mediums. Hopefully you will leave with some new ideas, regardless of which design space you think you operate in. Friday, 4:00PM - 5:00PM; Serious, All Ages.

D021: "Eat, Drink & Be Merry: Developing Cultural Touchstones for Immersive World Building" presented by Kristen Roberts, Jennifer Gutterman. Building dynamic worlds for your game is not just about swords, guns and magic. Much of what gives our world it's depth and richness is rooted in environment and evolving cultural traditions. Using examples like native cuisines, holidays, and slang terminology, this workshop will focus on how to develop setting-specific cultural touchstones that are relatable for your audience without being derivative or anachronistic. Incorporating these details into your game design not only creates a more immersive environment for your players, but also helps to build community and bring people together in real life. Join our workshop, bring your setting concepts, and learn about how to add and emphasize these important socio-cultural concepts in your world building and game design. Friday, 4:00PM - 5:00PM; Serious, All Ages.

D022: "Ask a Marketing Expert" presented by Beth Rimmels, Mike Roberts, Mandy Perry. Learn the answers to your specific marketing & promotion questions from the experts. Beth Rimmels & Mike Roberts work for a digital marketing agency and are experts in social media marketing and SEO (how people find you on Google). Mandy Perry is an expert in tumblr marketing who just wrapped their first highly successful Kickstarter. This interactive workshop will also include live analysis of web sites as time allows. Bring your questions and learn how to get the word out about your product and establish a professional presence online. Friday, 4:00PM - 6:00PM; Serious, All Ages.

D023: "Latinx Design" presented by Brandon Leon-Gambetta, Miguel Angel Espinoza, Mark Diaz Truman, Alejandro Guzman Vendrell, Jennifer Gutterman. Join us for a celebration of Latinidad and an opportunity to come together as a Latinx community. This panel of Latinx game designers come together to discuss what it is like to write, play in, and run games while Latinx. Friday, 5:00PM - 6:00PM; Serious, All Ages.

D024: "Plastics Prototyping: Using SLA 3D Printing to Design Your Components" presented by Zane Everett. Traditional 3D printing for component prototypes has typically resulted in sub-par samples, but the process of iterative design for getting a feel for how your game will look and handle is invaluable. Until recently, more sophisticated means of 3D printing have been prohibitive. With the latest release of affordable SLA printers in the past year prototyping incredibly high quality components has come within the price range of hobbyists and startup businesses. This presentation will cover the pros and cons of SLA printing, general tips for successful prints, and how it affects your bottom line. Friday, 5:00PM - 6:00PM; Serious, All Ages.

D025: "So You Want To Be A Good Male Ally" presented by Jason Morningstar, Rob Donoghue, Jonathan Gilmour, Brand Robins. Have you heard your fellow designers and players speaking out against sexism and harassment in gaming and wondered what you could do as a man to help? Join us for a lively and surprising conversation about being a better ally. Friday, 6:00PM - 7:00PM; Serious, All Ages.

D026: "Hardly A Soft Matter - Soft and Hard Incentives in Games" presented by Gil Hova, Tim Rodriguez. A "hard" incentive is a mechanical reward a game gives you for doing something, like a VP bonus. A "soft" incentive is a reward that won't give you a mechanical bonus, but makes you feel good somehow, like an achievement badge. We see soft incentives all around video games and RPGs. Why are board games, and hobby board game culture, so fixated on hard incentives? Could more soft incentives in board games help, or would they detract from the game? Friday, 7:00PM - 8:00PM; Serious, All Ages.

D027: "Golden Cobra Announcement" presented by Jason Morningstar. The Golden Cobra Challenge is a friendly contest open to anyone interested in writing and playing freeform games that ran through the month of October. Now we're ready to discuss our methodology, submission trends, and what we've learned about freeform in the process. And, of course, announce the winners! Join us for an informal discussion and awards ceremony. The winning games will be offered throughout METATOPIA, so come play with the judges as well. Friday, 8:00PM - 9:00PM; Serious, All Ages.

D028: "Marketing 101: Creating a Basic Marketing Plan" presented by Juliet Meyer, Raymond Bruels. This is a basic course in marketing your brand and/or your product and helping you know the difference between the two in terms of tone and voice. Which social media platform is best for you? How should you measure success? Do I need a website/Facebook/Instagram/Telegram Channel/Sub-Reddit and what are those things? What are the different ways to market? What is my target demographic? How can you build an audience for your brand/product? Friday, 8:00PM - 9:00PM; Serious, All Ages.

D029: "Digital Prototyping Workshop" presented by Zintis May-Krumins. Prototyping is an important aspect of game design. Using the right tools can improve your workflow, keep things fast, replicable, and organized. In this workshop, you are invited to bring your laptop and get comfortable working with several free tools, such as cardmaker beta, paint.net, and google drive. After some quick instruction and a live demonstration, everyone is invited to practice, ask questions, and start on their own projects. The programs being covered are only available on Windows machines. Sorry Mac users. Friday, 8:00PM - 10:00PM; Serious, All Ages.

D030: "The Price is Wrong! Understanding How to Price your Work" presented by Melissa Lewis-Gentry, Christopher O'Neill, Cat Tobin. The goal of this discussion is to talk about how to properly price work to not only avoid losing money, but to actually make money doing this thing. Our focus will be 3 fold - a rubric for pricing Board Games and RPGS, how to figure out market costs, and a discussion of why undervaluing and underselling your work HURTS EVERYONE. Chris has an MBA, and has run a publishing company for 20 years. Melissa is an expert on Game Retail. Friday, 9:00PM - 10:00PM; Serious, All Ages.

D031: "Accessible Gaming Design Workshop" presented by Shoshana Kessock, Elsa Henry, Shayna Cook, Mandy Perry. This is a workshop to explore how to design accessible games from the ground up, tackle different accessibility needs, and how to have conversations about accessibility as game runners, designers, and participants. Friday, 9:00PM - 10:00PM; Serious, All Ages.

D032: "The State of the Industry - 2018" presented by Stephen Buonocore. Stronghold Games' Stephen Buonocore takes the stage to talk about the state of the board gaming business as we move into 2019. The industry has undergone dramatic changes in recent years, and if you're working off of old understandings, you might get caught short. Friday, 10:00PM - 11:00PM; Serious, All Ages.

D033: "The Joy of Honobono" presented by Rach Shelkey, Jacqueline Bryk, Maury Brown, Cheyenne Grimes. Honobono games. Heartwarming games. Pastoral games. Roleplaying games that focus on finding excitement in mundane situations and reinforcing positive emotion spaces go by several different labels. How do you design for uplifting gameplay? What impact do these games have on players? Our panelists will explore RPGs and mechanics that help players explore those warm fuzzy feelings. Friday, 10:00PM - 11:00PM; Serious, All Ages.

D034: "Podcasting for Promotion" presented by James D'Amato, Senda Linaugh. Being a guest on podcasts is a fantastic way to promote your game and build your brand. Our moderators will talk about how this might work and things you should know in advance to be a good guest. This will be run as a roundtable discussion. Friday, 10:00PM - 11:00PM; Serious, All Ages.

D035: "Prosocial Design: Build Empathy Through Games" presented by Jason Pitre, Jason Cox, Jennifer Martin. Games are are fantastic tools for building empathy and teaching skills to participants. This panel will explore the different ways that tabletop and live action role playing games can teach participants how to be better people, citizens, and community members through themes, mechanics, and procedures. Saturday, 9:00AM - 10:00AM; Serious, All Ages.

D036: "Ask Avie: What Do You Need?" presented by Avonelle Wing. Join Double Exposure's Avonelle Wing for a roundtable discussion about "the hobby gaming industry", whatever that means. From how to market yourself as a professional in the industry to why you need to understand the three-tier distribution system before you go to Kickstarter, Avie's available to answer your questions and to share the things she has learned this year. Saturday, 9:00AM - 11:00AM; Serious, All Ages.

D037: "Taxes in the Game Industry" presented by Bradley Hausman. A discussion of tax considerations for game Designers and Publishers. Understanding what forms may need to be filed, and how to best structure your business as an individual or a company. Saturday, 10:00AM - 11:00AM; Serious, All Ages.

D038: "Marketing 201: Creating Content around Your Brand/Product" presented by Juliet Meyer, Raymond Bruels. You've got a brand/product and you've got all the social media channels and a website. Great. Now what? Learn how to create consistent content for your brand/product that will resonate with your audience. This class covers Twitch streaming, social post scheduling/generation, as well as some ideas for rich media creation, and how to go about creating content for your brand/product using tools you already have! Bring your phone to this seminar. Saturday, 10:00AM - 11:00AM; Serious, All Ages.

D039: "Expanding Fantasy" presented by David (DC) Collins. Participate in a discussion about expanding the narrative fantasies applied to tabletop RPGs. The standard "set" of explored backgrounds and settings are not only old, but also fundamentally structured around a singular perspective. Inspecting the foundation of our fiction allows us to better understand the values or pitfalls of those choices, and how they may affect who decides to, or not to, join us at our table. Saturday, 10:00AM - 11:00AM; Serious, All Ages.

D040: "Build a (Better) Butterfly" presented by Michelle Lyons-McFarland. It's really easy to write truly terrible instructions. Join Dr. Lyons-McFarland for a hands-on demonstration how important it is to take the time to write truly good instructions. Saturday, 11:00AM - 12:00PM; Serious, All Ages.

D041: "Being a Full-Timer" presented by Brian Neff, Darren Watts, Cat Tobin. There are a lot of people who will say that full-time jobs don't exist in the Gaming Industry. That is wrong. There are tons of ways to make a career out of making games. It involves working long hours and probably being underpaid, but they exist. Here's how to look for them, and how to prepare for them. Saturday, 11:00AM - 12:00PM; Serious, All Ages.

D042: "Collaboration in Design" presented by Amber Autumn Gilchrist, Elizabeth Bellisario. Having extra eyes on a project is both useful and an added layer of complexity. What should you look for in a design partner, what should you do differently as a partial designer, and how do you avoid letting the stress of development ruin any friendships? This roundtable is aimed at answering questions like these. Saturday, 11:00AM - 12:00PM; Serious, All Ages.

D043: "Modern War in RPGs" presented by Mark Richardson, Daniel Kwan, Erika Chappell. People with no practical combat experience discuss how to respectfully integrate historical modern conflict into human storytelling. What research was worthwhile? How do you approach historical accuracy vs game design and satisfying shared narrative. Saturday, 12:00PM - 1:00PM; Serious, All Ages.

D044: "Queer Erasure" presented by Sam Saltiel, Elsa Henry, Avonelle Wing, Eli Eaton. Queerness is not a monolith. Queer game design is not immune to erasure, and by examining the state of currently available and celebrated games (and games) that address queerness, we can explore ways to expand our narratives to include the entire glorious rainbow. Saturday, 12:00PM - 1:00PM; Serious, All Ages.

D045: "Barter and Collaborate to Improve Your Design Experience" presented by Pete Petrusha, Ann Stolinsky, Jennifer Gutterman. Could you, your business, or your game design benefit from a partner with skills that complement your own (layout, editing, illustration, marketing, etc.)? Many of us create games and journey the path to publication alone. Hiring freelancers to help is great, but what if you could pair up to collectively make games together, freeing you to work on the things you excel at and enjoy? Join us for a workshop where you'll identify your strengths in the tabletop gaming business and we'll introduce you to potential partners who can complement your skills to make more games together. Bring business cards and/or contact information to share! (Actual attendance will limit our variety of partners, so we'll offer strategies for finding partners as well.) Saturday, 12:00PM - 1:00PM; Serious, All Ages.

D046: "Sentinels of the Multiverse: The IP" presented by Christopher Badell, Darren Watts, Dave Chalker. The Sentinels Of The Multiverse card game has been an impressive success both critically and financially, and has created a community clamoring for more ways to interact with its heroes and villains. Greater Than Games has worked to satisfy that market with spin-offs, video games, and a forthcoming RPG. Join us for a very special panel which tells a story that everyone wants to hear. Saturday, 1:00PM - 2:00PM; Serious, All Ages.

D047: "Navigating Nostalgia" presented by Rach Shelkey, Misha Bushyager, Michelle Lyons-McFarland, Senda Linaugh. Nostalgic media is flooding pop culture and the gaming community has taken notice! Our panelists will discuss designing with nostalgia as a focus: How do we deal with nostalgia not being universal across all players? What about the problematic parts of history that nostalgia conveniently overlooks? How do you navigate the toxic sense of entitlement that goes hand-in-hand with nostalgia in popular culture? Saturday, 2:00PM - 3:00PM; Serious, All Ages.

D048: "Art For Your Game Without Breaking The Bank" presented by Jack Parra, Lissanne Lake, Scott Bowmanchester. Getting high-quality art is key to making a product look professional. How do publishers do it without breaking the bank? Our panel makes with the tips and tricks. Saturday, 2:00PM - 3:00PM; Serious, All Ages.

D049: "Success through Iteration" presented by Jay Treat, Mark Richardson. How much do you change your game between tests? Which way do you change it? How do you evaluate playtester feedback and suggestions against your design goals? When do you stop tweaking or abandon a path? Iteration is the key to success not just in a single project but in your design career. Let's talk about how, how to do that better, and what not to do. Saturday, 2:00PM - 3:00PM; Serious, All Ages.

D050: "Alien Worlds - Xenobiology and Speculative Zoology" presented by Jason Pitre, Rob Donoghue, Darren Watts. Fictional alien biology and ecosystems are fascinating. From the implied phylogeny of James Cameron's Avatar to the Alien's Xenomorphs, exploration of alien biology is a fascinating topic worth exploring for your science fiction, post-apocalyptic or even fantasy roleplaying games. On this panel, we will discuss the principles of speculative zoology and artificial ecosystems from xenophillic perspective. Saturday, 3:00PM - 4:00PM; Serious, All Ages.

D051: "Intersectional Feminism: Game Design That Tackles Topics that Matter" presented by Julia Ellingboe, Jonaya Kemper, Moyra Turkington, Misha Bushyager. Designing historical games is complicated, especially when we're telling the stories of people who are often forgotten. How do we handle those stories without accidentally perpetuating or compounding existing damage? Saturday, 3:00PM - 4:00PM; Serious, All Ages.

D052: "We Want to Sign Your Game!" presented by Nicole Perry, Peter Hayward, Curt Covert. Every publisher is looking for the next big hit. Every time they sit down with you, they want your game to be that hit. Here are some simple tips to making games that publishers are excited to sign. Saturday, 3:00PM - 4:00PM; Serious, All Ages.

D053: "Take Your Dice Outside: Narrative, Storytelling and How Tabletop Will Save Your LARP" presented by Sean Jaffe, Megan Jaffe, Joshua Harrison, Casey Edison. As role playing matures, the progression of how players move between LARP and Tabletop has changed the dynamic considerably. From the SCA to Vampire to today's blockbusters, LARP has always had a complicated and confusing relationship with tabletop, and we're going to explore how both mediums can build each other up. Role playing as a medium thrives when storytelling is completely free, so why do we box these two styles away from each other? Saturday, 4:00PM - 5:00PM; Serious, All Ages.

D054: "Metaphorical Games - Fictional Reframing of Issues" presented by Jason Pitre, Mark Diaz Truman, Kate Bullock. Games are art, and can explore challenging subject material. It can often be useful to use fictional metaphors to recontextualize these difficult topics and make them easier to to examine with a layer of emotional distance. On this panel, the speakers will explore how and when to use metaphors in your game design, and the pitfalls to avoid. Saturday, 4:00PM - 5:00PM; Serious, All Ages.

D055: "Designing an RPG - Real-Time Workshop" presented by Jim McClure, Emily Reinhart, Greg Workman. During this workshop the moderators will actively design a brand new RPG from scratch while giving in depth analysis as to what the mechanics/systems are doing. This will be an interactive event where the attendees get to shout out concepts, themes, and mechanics "Who's line is it anyway?" style in order dictate the game that is being made and ensure the panelist had no prior planning. Saturday, 4:00PM - 6:00PM; Serious, All Ages.

D056: "How to Lose Money with a Kickstarter Success" presented by Nicole Perry, Peter Hayward. Our first three crowdfunding campaigns made almost a quarter of a million dollars on Kickstarter. By the end of it, we were almost fifty thousand dollars in debt. Nicole and Peter from Jellybean Games talk about common mistakes made by first-time creators, and how to avoid them. Saturday, 5:00PM - 6:00PM; Serious, All Ages.

D057: "Approaching Allyship from a Genuinely Intersectional Perspective" presented by Julia Ellingboe, Brand Robins. There's no formal roadmap to being a "good" ally. It's easy to scratch the surface and stop moving, because you've challenged your own paradigm. That's not enough. Let's brainstorm tools and tactics for guiding allies towards functional engagement. Saturday, 5:00PM - 6:00PM; Serious, All Ages.

D058: "The Transitive Property of Myth" presented by Kenneth Hite. In this year's installment of "Ken Thinks About Stuff Out Loud", I look at the structural patterns of mythology. Are there actually structures of myth, and if there aren't, can we pretend there are? How can we take real-world myths and make them game material? How can we translate one myth system (that of the "standard fantasy world" for example) into another (e.g., Greek mythology)? And how can we translate any of it into dice, numbers, and heroic player character stories? Saturday, 6:00PM - 7:00PM; Serious, All Ages.

D059: "Immersive Theater, Interactive Theater and Public Play: What We Can Steal" presented by Jason Morningstar, Nicholas Fortugno, Amy Ashton, Marshall Bradshaw. Immersive theater, interactive theater, and public games all offer weird untapped potential for designers of all kinds of games. We've assembled a panel of experts in these disciplines that are adjacent to our own, and we'll see what we can learn and borrow from them. Saturday, 7:00PM - 8:00PM; Serious, All Ages.

D060: "Free Previews vs. Ashcans: Building an Audience For Your Upcoming Release" presented by Todd Crapper, Mark Diaz Truman, Senda Linaugh, Sam Saltiel. Are you planning to release a free preview of your upcoming core rules or will you create an ashcan? What is an ashcan? Is free better than a paid preview? What can help make your preview stand out? This panel will look at the makings of either format and provide insights into how either relates to final sales of your core rulebook with award-winning panelists experienced in both formats and hard data from OneBookShelf. Saturday, 8:00PM - 9:00PM; Serious, All Ages.

D061: "Getting Started With DriveThruRPG" presented by Christopher Tang. Let's talk about how to interact with DriveThruRPG, some of the nitty gritty process but also the general principles to bear in mind and some of the things many people do not know like the details of the OGL, basic copyright law, the availability of Community Content programs, etc. Also taking audience questions liberally since I expect there will be those. We will also cover some of the ways the site has changed in the last year (mostly GDPR changes). Saturday, 8:00PM - 9:00PM; Serious, All Ages.

D062: "Developing a Marketing Plan" presented by Jason Pitre, Beth Rimmels, Melissa Lewis-Gentry. In this special, 2-hour workshop, we will help you develop your own marketing plan for your games. The first half of the seminar will involve explanation of the key marketing principles and concepts for your use. In the second half, you will work in a small group to discuss how the information applies to you, and you will create your own basic marketing plan. Saturday, 8:00PM - 10:00PM; Serious, All Ages.

D063: "First Thoughts on Second Editions" presented by Russell Collins, Robert Bohl, Brennan Taylor. A moderated discussion with co-panelists on why to produce a second edition of a game; what makes a design a second edition; and how to go about introducing it. Questions from the audience at the end. Saturday, 9:00PM - 10:00PM; Serious, All Ages.

D064: "A Stage Gate Approach to Game Development" presented by Randy Lubin. A stage gate approach involves developing multiple ideas in parallel, starting with one sentence pitches. Each round of the design process advances to a higher fidelity pitch, rule set, or playtest and each round you cull a subset of the potential games. It's a highly effective method for generating a breadth of ideas, overcoming design anxiety, and developing with confidence. Saturday, 9:00PM - 10:00PM; Serious, All Ages.

D065: "The Art Of Mechanics" presented by Jim McClure, Emily Reinhart. This panel will cover the art behind using game mechanics to influence player behavior. The panelist will dissect mechanics from published games and discuss how these mechanics influence play, and what lessons designers can learn from them. Saturday, 10:00PM - 11:00PM; Serious, All Ages.

D066: "Why You Need a Business Partner" presented by Nicole Perry, Peter Hayward. When turning your board game idea into a board game company, the first step is sorting out the logistics. Unless you have a burning desire to deal with accountants, spreadsheets, corporate structures, and The Joy of Taxes, you need a business partner. Nicole Perry and Peter Hayward are business partners; listen to them discuss how they split tasks, make sure that everything is covered, and the unexpected benefits of working closely with a partner. Saturday, 10:00PM - 11:00PM; Serious, All Ages.

D067: "Game Design Trash Fire Makeovers!" presented by James Mendez Hodes. Have you ever thought, "Wow, I'd love to run this cool game for my friends, but I can't because it's unspeakably offensive"? Let's apply game design and social justice principles to solve that problem before it starts! In this 201-level workshop, participants practice the skills designers, writers, and sensitivity readers use to collaborate with others and create games and fiction which are both progressive and fun. We'll go over some best practices together, then break into small groups to transform antiquated content into something beautiful and validating. Content warning for grappling with offensive materials, for example "this vampire faction is Islamophobic" or "this game's treatment of mental illness is ableist". Saturday, 10:00PM - 11:00PM; Serious, All Ages.

D068: "Crunching the Cardboard - Tabletop Analytics and Feedback" presented by Brian Neff, Kiva Fecteau. Playtesting and gathering feedback is the first step. The next step is to figure out what to do with the data you've collected and apply it to your design process productively. We will talk about how to discern which data should change your path and how. Sunday, 10:00AM - 11:00AM; Serious, All Ages.

D069: "Deconstructing Religion In Your Games" presented by Shoshana Kessock, James Mendez Hodes. Religion has held sway across the world in various forms, and its influence has molded everything from how we live our everyday lives to the laws we make and the entertainment we consume. We will take a look at how real world religious ideologies have impacted the games we create, how they influence the worlds we build, and how we might deconstruct those ideas to approach our games from a different perspective. Specific care will be taken to contrast western ideologies from across the world. Sunday, 10:00AM - 11:00AM; Serious, All Ages.

D070: "Love Like A Bomb" presented by Kate Beaman-Martinez, Jonaya Kemper. We're going to examine some evolving wisdom about balanced, healthy intimate relationships and apply it to group dynamics. In this case, we're going to talk about how the concept of "love bombing" applies to gaming communities. Sunday, 10:00AM - 11:00AM; Serious, All Ages.

D071: "Beyond Bright Lights: Doing Cyberpunk Differently" presented by Jacqueline Bryk, Kate Bullock, Hamish Cameron. Much of cyberpunk focuses on the heroic outcast: the usually white male hacker or delivery person or shadowrunner bent on twisting the system for himself. Most of these stories take place in massive, crowded cities -- so why is it so rare to see any other narrative? Let's talk about how to expand our view of cyberpunk! Sunday, 11:00AM - 12:00PM; Serious, All Ages.

D072: "Planning a Kickstarter? What You Need to Know!" presented by Juliet Meyer, Raymond Bruels, Chandler Copenhaver. Kickstarter can be amazing for creators, but there's a lot of other things around them that will help you find success. Learn how to market and plan for a Kickstarter, and what five things you should have in place long before the launch. Sunday, 11:00AM - 12:00PM; Serious, All Ages.

D073: "So You Want to be a Podcaster!" presented by Philip Vecchione, Senda Linaugh, Monica Speca. Podcasting is the new blogging. Fame, fortune, influence. Or...software glitches, audience-building, busy cohosts. Let's talk about the complications and joys of being a podcaster in a roundtable format. Sunday, 11:00AM - 12:00PM; Serious, All Ages.

D074: "Designing RPGs With Safety Tools Included" presented by Philip Vecchione, Senda Linaugh, Alex Roberts. Let's talk about integrating safety tools into your design process from the foundation. Yes, the x-card is valuable. Let's talk about design that builds the next generation of tools in from the beginning. Sunday, 12:00PM - 1:00PM; Serious, All Ages.

D075: "Don't Pay For Prototyping Parts" presented by Ann Stolinsky, Kiva Fecteau, Brian Neff. Some newbies feel they need to have their prototypes be gorgeous before playtesting even once. Designs may (probably will) change, so cobbling together materials may be a better idea. Let's talk about the everyday things you already own that can be pressed into service. Sunday, 12:00PM - 1:00PM; Serious, All Ages.

D076: "Making Your (Alt-)Historical Setting More Inclusive" presented by Eric Simon, Shoshana Kessock, Misha Bushyager. History is more diverse than we think. Whether you're developing settings that are close to real history or highly speculative alt-history, there's always room to expand representation by highlighting real people and experiences. Let's research together in this interactive workshop! Sunday, 12:00PM - 1:00PM; Serious, All Ages.

D077: "Games And Education" presented by Jennifer Gutterman, Maury Brown, Shoshana Kessock. At every milestone in our lives, we have used games or game mechanics to entice learning, reward progress in development, train for work or career preparation or use games for entertainment and relaxation. This panel will discuss how games are used in education, in teaching, and applied to game design education specifically but also in general application to training as a whole. Sunday, 1:00PM - 2:00PM; Serious, All Ages.

D078: "Self Care in the Apocalypse " presented by Kate Bullock, Bronwyn Friesen. This workshop goes through simple, effective, and important self care techniques that can be implemented both at a convention and in daily life to help create a healthier, happier life and gaming experience. It also includes easy tips and tricks for having self care during games and in breaks at a game. Sunday, 1:00PM - 2:00PM; Serious, All Ages.
---
For further information, click here to send eMail.