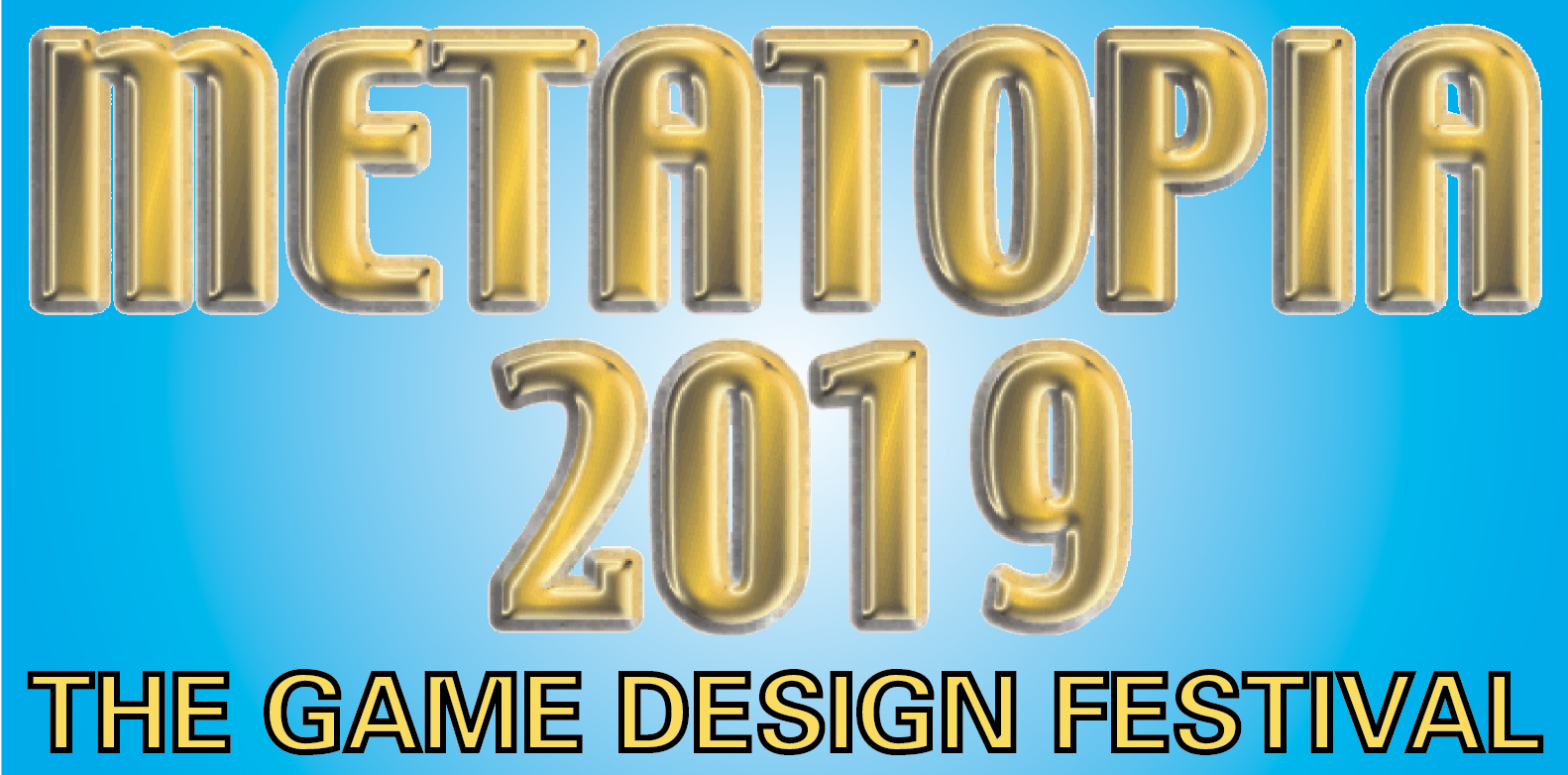 Thursday, November 7 - Sunday, November 10, 2019
At the Hyatt Regency Morristown & Conference Center in Morristown, New Jersey
---
Master Schedule Page for METATOPIA 2019
Updated 11/7/19 at 2:30PM EST; ALL emails processed.

METATOPIA Event Registration works slightly differently from other Double Exposure events. You may have already gotten an email with events that we've entered for you based on your survey responses, or our general knowledge of you as a player. If we assigned you to something, please note that we'd really appreciate if you could give that game a try (it may be a niche game that we will have trouble getting players for), but IF you feel very strongly that you do not want to playtest it for some reason, please do let us know and suggest an alternative for the slot.

DO NOT WAIT FOR US TO SEND YOU AN EMAIL WITH EVENTS. IF YOU WANT TO SELF-SELECT RIGHT NOW, WE ARE HAPPY TO ACCOMMODATE YOUR CHOICES!!!

We may end up having several back and forth emails with you to complete your schedule! We are going to work hard to keep the page up to date with events that are filled, but remember that all incoming emails are dealt with in the order in which they are received.

Some of the events are red and have LOCK symbols. There are two reasons why this might be:

1) All of the seats are filled already (check the notes at the end of the event text), and NOBODY ELSE can select this event.

2) It is a HI-TEST. If you have a Designer or Helper Membership, you can request these events (usually). If you have a Player Membership, you can request these events, but note that we MAY reject you.

The event listings will be updated periodically - Check the date/time stamp at the top of this page to see when the last update was made. This is a manual, not automatic process. Therefore, while an event might show that it still has seats, it is possible that emails that arrived before yours took those seats already. Your emails are processed in the order they are received, even if that takes place hours after you sent yours. Through the years, several people have haughtily proclaimed that this method is archaic and that we should be automating this process. There is no algorithm in the world that can do what we do to fill these playtests. Trust us.

All non-panel events are classified as one of three different levels of Playtest:

[FOCUS GROUP]: The game is still in the concept stage and players should be expecting to discuss ideas and opinions about how the game should be created, but not actually test much.

[ALPHA TEST]: The game is in early development and not quite ready to play from beginning to end. Players should be expecting to play parts of the game, and perhaps replay those parts or focus on one section of the rules at a time.

[BETA TEST]: The game is in late development and is ready to be played all the way through. Players should be expecting to give feedback and criticism about the game while playing it.

If an event is tagged by the phrase "[NDA REQUIRED]", the Designer has asked that details about his/her game design be kept quiet. The Designer may ask players to sign an actual NDA form, or to just verbally promise not to discuss the game after the playtest.

PLEASE INCLUDE YOUR PHONE NUMBER(S) IN YOUR EMAIL SO WE CAN REACH YOU IF NECESSARY!

Send eMail to m2019@dexposure.com with the events you would LIKE to play in, and PLEASE USE ONLY EVENT CODES IN YOUR EMAIL!. We will then do our best to match you up with the events that you are interested in. There WILL be a Big Board at METATOPIA, and any seats which are not filled in advance CAN be filled at the convention. Note that you DO NOT NEED A BADGE NUMBER - WE IDENTIFY YOU BY NAME AND EMAIL ADDRESS!

You can make event requests until 12:00PM EDT, Thursday, November 7. After that, you must enter your name into events on the Big Board at the convention.

PLEASE SEND ONLY ONE PERSON'S CODES PER EMAIL. DO NOT COMBINE REQUESTS.

You are also encouraged to submit a second and third choice for events in the same time slot, which will save us time in negotiating what you can get into if your primary choice is filled already. Just make it clear what is an alternate choice so we can enter things quickly.

VERY IMPORTANT: If there are specific times that you DO NOT WANT TO DO ANYTHING, please specify those times. If we see holes in your schedule (that are not lunch or dinner breaks), we MAY try to fill them!

Also, PLEASE note "D" events (panels and seminars) along with others - it is important that we track interest in the various panels, and that we know where you have holes in your schedule.

Send your reservation eMail to us at m2019@dexposure.com

You may ONLY reserve seats in METATOPIA 2019 events if you are pre-registered. Click here to pre-register for METATOPIA 2019 if you have not already done so.

We will reply within 24 hours with a confirmation that your requests were received. If you do NOT get a confirmation, assume that your codes are NOT received and try again. Note that you MUST include a valid eMail reply-to address for us to reach you to confirm!
---
Click here for the COMPLETE SCHEDULE OF ALL 754 EVENTS
---
Click here for the LARP (Live Action Role Playing) SCHEDULE
Click here for the ROLE PLAYING & STORY GAME SCHEDULE
Click here for the BOARD & CARD GAMING SCHEDULE
Click here for the ELECTRONIC EVENTS SCHEDULE
Click here for the PANELS, SEMINARS & SPECIAL EVENTS SCHEDULE
---
For further information, click here to send eMail.