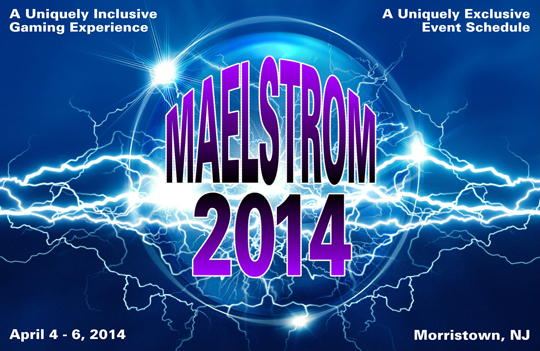 Friday, April 4 - Sunday, April 6, 2014
At the Morristown Hyatt & Conference Center in Morristown, New Jersey
---
Double Exposure is Proud to Present
A Very Unconventional Gaming Convention
---
---
Join us as we create order out of chaos; where the storms of innovation collide to form a new gaming convention unlike any other - MAELSTROM!

In collaboration with Steve Segedy of Games on Demand, Double Exposure advances the concept of unstructured gaming, as we run an entire convention without a fixed schedule! Role Playing, Story Games, LARPs, Board & Card Games, Wargames - everything we'd normally run at DREAMATION and DEXCON - will be played when the Gamemasters and the players are ready - and without time limits. New Gamemasters will have an opportunity to be mentored by those who have more experience, and players can be exposed to new game systems at any time they choose. Groups of players can form at any time to play a game or learn a game.

With Avery McDaldno of Buried without Ceremony and our community of activists and educators, Double Exposure aggressively pursues our mission to create a safe, inclusive convention experience. This new convention will encourage new gamers to join our friendly, supportive culture. Via outreach and research, we will be extending the distinctive Double Exposure welcome to players who have traditionally been or felt marginalized or poorly represented at other gaming conventions. This space will be safe. For novices and for people who have been overlooked by other events and excluded from gamerdom, we will set the bar for inclusivity.

Double Exposure will use this event to test the boundaries of what a traditional gaming convention looks like. We are creating a place for innovation, exploration and experimentation. In addition to the schedule-free format and focus on inclusiveness, we will be putting other ideas to the test; for example, a handheld gaming lounge. We get a lot of suggestions every year for different ways we might implement new ideas. Often they don't fit into the rigid model necessary for a large convention. At MAELSTROM, we will be examining and exploring these suggestions and trying them out. Not everything will work, but this is the place to see what happens!

Read the Double Exposure Anti-Harassment Policy here.
---
At-the-door memberships will be available for $40.00. There will NOT be any one-day memberships.

Rooms at the Morristown Hyatt are $107.00/night (flat rate). However, due to the overwhelming and unexpected response to this new convention, we have officially run out of rooms! If you would like a room and don't have one yet, please send us eMail and we'll put you on the waiting list. The hotel is trying to free up more rooms between now and April 4th.

For directions to the Morristown Hyatt, click here

For further information, click here to send eMail.