Updated 2/13/99
---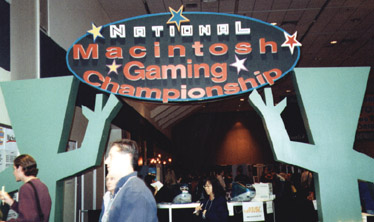 The entrance to the hottest area at MACWORLD. More than half of the many thousands of MACWORLD attendees found their way to the 1999 National Macintosh Gaming Championship and Exhibition!
---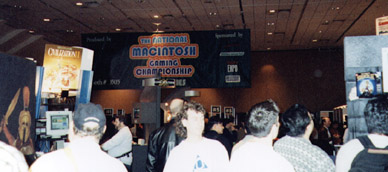 A wide shot of the people milling about under the giant banner proclaiming the start of the Championship.
---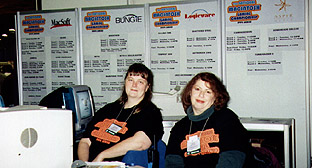 Double Exposure's lovely ladies of the information counter.
---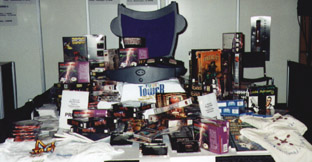 A view of some of the prizes that winners (and runners up) were able to choose from. In all, over $25,000 worth of prizes were given away!
---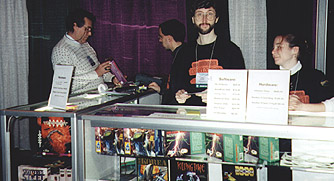 The Double Exposure store, seen here during a rare quiet time. Manager John Paine (center), Michael Costalas (left, behind the counter), Scottie Nafz (not shown) and Marie Alcock (right) sold hundreds of products for many of the companies represented at the event.
---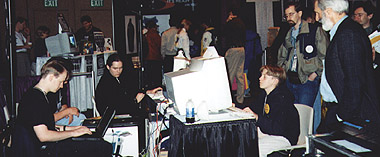 The Mac3D.com booth, where busy representatives provided a live webcast of the Championship live via a feed to their site.
---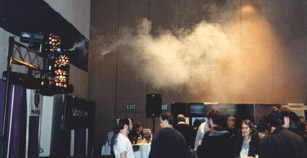 Double Exposure worked hard to jazz up the special effects at the Championship. Here we show off our new lighting system, complete with fog machine, which provided a vivid background to the exciting championship.
---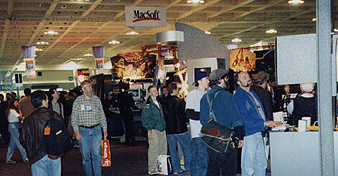 A view from the middle of the exhibition floor.
---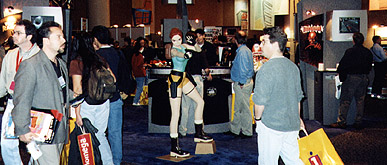 The popular Aspyr booth, where a full-size statue of Lara Croft was on display.
---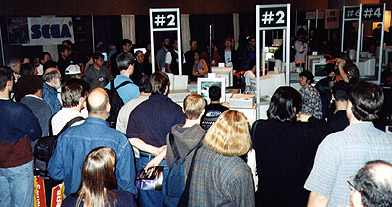 Crowds gathered around the tournament area for each of the 25 final rounds of the National Championship.
---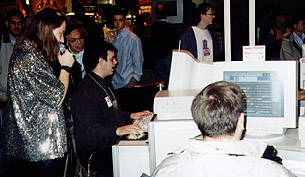 Double Exposure's Sean Jaffe (left) was one of two emcees who generated a constant stream of excitement among all of the attendees.
---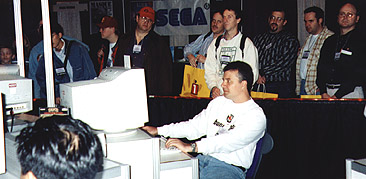 An impromptu event where Bungie's Tuncer Deniz, the project leader for MYTH II, took on three challengers simultaneously. He lost.