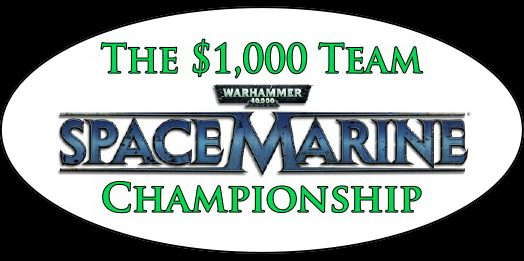 at 6:00PM - 12:00AM, Thursday, July 2, 2015
---
Q0001
Full-Scale LIVE Squad-Level Combat!
---
Bring your team, or join one on site. Up to eight teams of five players each will take part in a tense, vicious tournament of strategy and guts!

Each team consists of a Captain, who uses a bolter and a power melee weapon, three regular squad members with bolters, and a Marine with a heavy weapon. Randomly allocated rounds will be run by normal Warhammer 40,000 squad rules, with one side representing Space Marines and the other side Chaos Space Marines. A team wins by decimating the other side!

The battlefield will be randomly set with full-scale scenery for each round, and actual line-of-sight will be used for each decision. The Captain must lead his team to fight cooperatively and intelligently every step of the way. The four teams with the best record will move on to the final rounds, and the winning team will receive $1,000 in CASH ($200 per player).

NOTE: Double Exposure reserves the right to revoke the cash prize if participation falls below 30 players.
---
---
For further information, click here to send eMail.

Back to the main DEXCON 18 page!