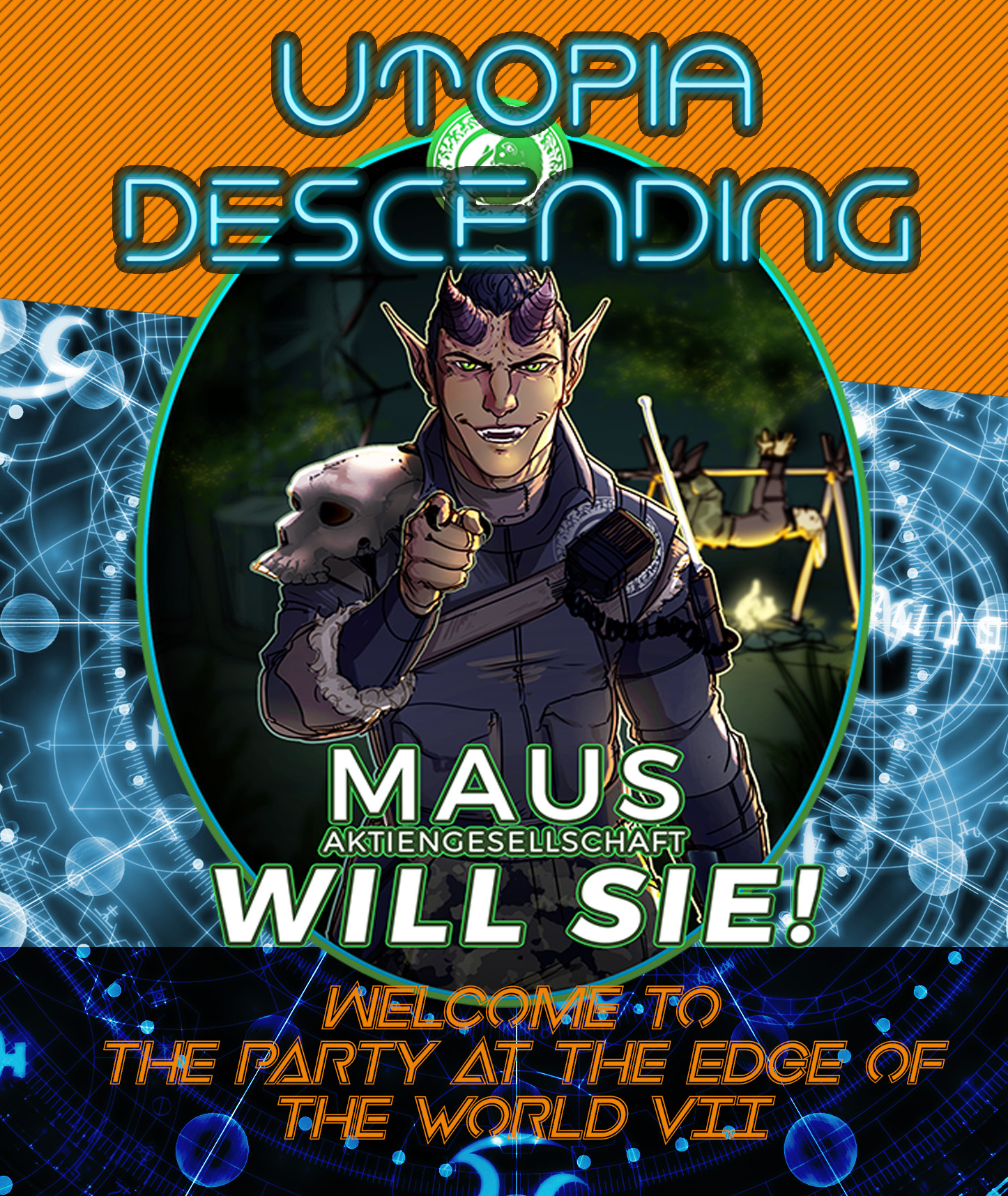 at 8:00PM - 2:00AM, Saturday/Sunday,
July 8 - 9, 2017
---
Q0004
A Science-Fiction Fantasy LARP
presented by Imagine Nation
---
Pillars! Mega-Corp Aristocrats! You-Stars!

Welcome to the 7th Party at the Edge of the World! This year festivities will be hosted by the one and only Maus Aktiengesellschaft! This year's social extravaganza takes place on the edge of a newly critically active Looking Glass Rift which has tapped into some incredible archaic underworld themed doomsday scenarios. The warding defenses produced by the ancient ones are incredible strong, but we have been able to create portal gates that should carry 5 at a time into the nether-realms. CREEPY!

So as per normal when the world is on the line, the fantastic mega-sponsors have brought together an A-List of You-Star celebrities to prevent a cataclysmic collapse. If you are one of the new "Real Star Challengers" you too will be able to rub elbows with some of the most influential movers and shakers in the world today while taking a shot at breaking through the defenses of the crypts, deal with the other worldly beings, and see if you too can shut down all the secondary and primary Looking Glass Rifts.

Meanwhile we will have the You-Star confessional booth for interviews, an amazing social mingling area for you would be corporate climbers, and an on the spot resource design and equipment synthesis station for you gadgeteers.

People around the world would pay millions of dollars to get in, but since you are a Pillar, you are just better than the rest of the world!
---
Utopia Descending is a science-fiction fantasy world that is part of an ongoing shared story collaboration between a number of networked chapters. The events of this Utopia Descending event are a part of our continuity, where You-Star potentials from around the world are coming to a massive social event that takes place whenever there is a very viable threat of epic scale.

Utopia Descending uses three zones of engagement. The first Zone uses an American Freeform LARP area for those players just looking to role play in the focuses of socializing, political intrigue, and political manipulation. A secondary zone uses toyetic design for crafting, hands on science and research focused puzzles, as well as digital interaction. Lastly, there are locked combat zones which use a contact-safe combat system outlined on the Utopia Descending web page.

The combat area will be a low light and intermittent light area. Our primary RP area will have music and neon lights, but the music will be kept to a lower volume to encourage social engagement and the lights will be solid state bright color LEDs.

Players will be encouraged to set up character FB Pages as Fictional Characters so that they can live broadcast from their phones directly to their character FB pages. Remember: Higher ratings means more money for your IC company (and more perks for your character).

Check out more about the world on www.utopiadescending.com or this event specifically at www.imaginenationcollective.com.
---
For further information, click here to send eMail.

Back to the main DEXCON 20 page!