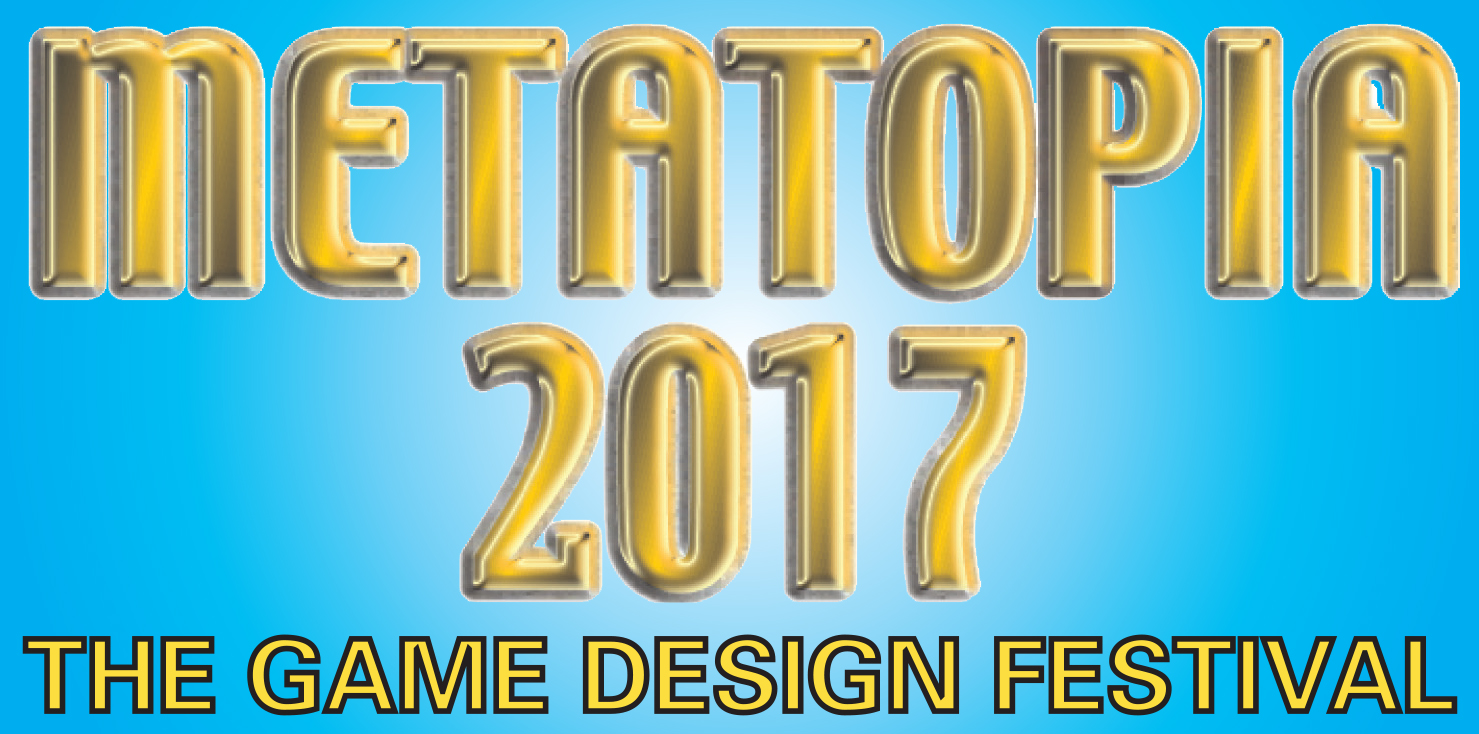 Thursday, November 2 - Sunday, November 5, 2017
At the Hyatt Regency Morristown & Conference Center in Morristown, New Jersey
---
The Convention For Gaming Industry Professionals!
---
On-Site badge pickup opens 6:00PM Thursday night (November 2nd). Join us at 7:00PM for a Meet & Greet around the bar area with all of our professionals! Open gaming and lots of schmoozing expected.
---
Confirmed Industry Professionals (Updated 11/1/17):
Kenneth Hite (Pelgrane Press)
Marie Poole (Lone Shark Games)
Will Hindmarch (Word Studio)
Darren Watts (Silverback Press)
Rob Donoghue (Evil Hat Productions)
Joshua Yearsley (Evil Hat Productions)
Clark Valentine (Evil Hat Productions)
Amanda Valentine (Corvus Dormiens)
Jason Morningstar (Bully Pulpit Games)
Julia Ellingboe (Stone Baby Games)
Brennan Taylor (Galileo Games)
Michael Miller (Incarnadine Press)
Kat Miller (Incarnadine Press)
Cam Banks (Atlas Games)
Jess Banks (Atlas Games/Magic Vacuum Games)
Stephen Buonocore (Stronghold Games)
Ryan Bruns (Mayday Games)
Daniel Peterson (Mayday Games)
Geoffrey Engelstein (Mind Bullet Games)
Jason Walters (Hero Games/Indie Press Revolution)
Jim Crocker (Indie Press Revolution)
Melissa Lewis-Gentry (Modern Myths)
Curt Covert (Smirk & Dagger Games)
Gil Hova (Formal Ferret Games)
Matthias Bonnici (Lost Cog Games)
Jason Pitre (Genesis of Legend Publishing)
Elsa Henry (Blind Mouse Games)
Brendan Conway (Magpie Games)
Michael Malecki (Eleventh Hour Productions LLC)
Randy Lubin (Diegetic Games)
Jim Dagg (Saddle Shaped Games)
Neal Tanner (Dust Pan Games)
Rod Currie (Spare the Rod Games)
Neal Stidham (Parenthesis Press)
Raymond Greaves (Egad Games)
Jack Graham (Posthuman Studios)
Ivan Turner (9 Kingdoms Publications)
Bryan Shipp (Room 209 Gaming)
Glenn Given (Games by Play Date)
Kevin Kulp (Pelgrane Press)
Diane & Nick Sauer (Shoot Again Games)
Robert Bohl (Robert Bohl Games)
Whitney Marie Delaglio (Little Wish Productions)
Matt Parish (Blue Fairy Games)
Ann Stolinsky (Gontza Games)
Jeff Fraser (Strange Theory Games
Tiffany Branum (Branum Games)
Taylor Stokes (Games to Gather/The Act Apart)
Davin Loegering (Imagine Majesty Productions, LLC)
Maury Brown (Learn Larp LLC)
Benjamin Morrow (Learn Larp LLC)
Benjamin Walker (Learn Larp LLC)
James Malloy (Stop, Hack, and Roll Podcast)
James D'Amato (ONE SHOT Podcast Network Inc.)
Alex Roberts (ONE SHOT Podcast Network Inc.)
Kat Kuhl (Paracosm Press)
Kaan Emirier (World War Kaan)
Erika Chappell (Newstand Press)
Justin Jacobson (Restoration Games, LLC)
John Adamus (The Writer Next Door)
Matthew McFarland (Growling Door Games, Inc.)
Eric Simon (Four-in-Hand Games)
John Atwood (Outboard)
William Moomaw (More Games)
David Chalker (Critical-Hits Studios LLC)
Danielle Lauzon (Imaginary Audience)
Christopher O'Neill (9th Level Games)
Heather O'Neill (9th Level Games)
Heather Wilson (9th Level Games)
Brian Neff (9th Level Games)
Orion McClelland (Unpossible Game Labs)
Noah Cohen (Single Helix Studios)
Caleb Stokes (Hebanon Games)
Henry Ulrich (Wrecking Ball Game Labs)
Mike Young (Interactivities Ink)
Spencer Harris (Hebanon Games)
Stephen Dewey (Cavalry Games)
Tam Myaing (Wee Big Games)
Jacqueline Bryk (Damocles Thread Development)
Anna Kreider (Peach Pants Press)
Chris Anderson (The Board Game Workshop Podcast)
Ethan Weber (Infinite Lives, LLC)
Ryan Schoon (Loremaster Games)
Ben Schwartz (Event Horizon LLC)
Russell Collins (Robot Claw Design)
Thomas Hornemann (Slightly Offensive Games)
Jonathan Ritter-Roderick (Lay Waste Games/Eleven Metal)
Jacob Given (Lay Waste Games)
Anthony Rando (Devious Devices, LLC)
Peter Hayward (Jellybean Games)
Nicole Perry (TWIST Gaming/Jellybean Games)
Joshua Perry (TWIST Gaming)
Jeffrey Bourbeau (TWIST Gaming)
Sara Perry (Space Lion Games)
Nicholas Favia (Cap & Beard)
Evan Michaels (The Game Theater)
Thomas Mon (Forstle LLC)
Evan Torner (Analog Game Studios)
Connor Cole (Grim Fantasy Games)
Mike Sette (Ironmark Games)
Peter Bryant (Studio187)
Brandon Leon-Gambetta (Stop, Hack & Roll)
Adam Ciffone (SE2OND)
Gerrit Reininghaus (Alles ist Zahl)
Jim McClure (Third Act Publishing)
Benjamin Bral (The Art of Mutiny)
Ted Gerard (The Raven & The Widow, LLC)
Moyra Turkington (Unruly Designs)
John Dermody (Vanishing City Games
Gwen Ruelle (Runaway Parade Games)
Daniel Kitchen (Tabletop Tiki)
Arthur Gilcrest (hamZardo)
Isaac Gibbs (Mayham Games)
Jason Costa (Multinational Games LLC)
Thomas Toynton (Golden Dragon Studio)
Joshua Ferraiuolo (HitMouse Productions)

Zev Shlasinger (Wizkids)
Tim Rodriguez (Galileo Games)
James Carpio (TSR Games)
Michelle Lyons-McFarland (Growling Door Games)
Shawn Stankewich (Flatout Games)
Anthony Amato (Cardboard Fortress Games)
Philip Vecchione (Encoded Designs)
Brian Dalrymple (Alligator Alley Entertainment)
Eric Wiener (Alligator Alley Entertainment)
Mark Richardson (Green Hat Designs)
Jeff Gum (Tekkactus Games)
Chris & Suzanne Zinsli (Cardboard Edison)
Breeze Grigas (Zephyr Workshop)
Mike Schuller (Snowman Games)
Felix Cruz (EverTech Products)
Grant Peirce (CBR Solutions)
Shane Harsch (Legendsmiths)
Ryan O'Grady (Legendsmiths)
Hannah Shaffer (Make Big Things)
Josh Paugh & Ben Krieger (Paw-Warrior Games)
Shoshana Kessock (Phoenix Outlaw Productions)
Josh Harrison (Phoenix Outlaw Productions)
Nicholas Malinowski (Labyrinth Games)
Ross Cowman (Heart of the Deernicorn)
Steve Radabaugh (Radical Bomb Games)
Beth Rimmels (Rising Stars Press)
Andrew Valkauskas (Pendelhaven)
Kathryn Hymes (Thorny Games)
Hakan Seyalioglu (Thorny Games)
Jeff Stormer (Party of One Podcast)
Bill Lasek (Wandering Hearth Games)
Pete Petrusha (Imagining Games)
Geoff Bottone (Geoffquest)
Kelvin Ortega (Absolute Zero Gaming LLC)
Robin McEntire (Flying NightBear Games)
Caleb McEntire (Flying NightBear Games)
Gavin White (Special Snowflake Games)
Mathew Rutan (Red Knight Card Games)
Noah Anderson (Aggressively Playable Games)
Paul Stefko (Nothing Ventured Games)
Joel Colombo (Split Brain Games)
Michael DeAngelo (Black Furnace Games)
Peter Ciccolo (Inverted Illuminati)
Eriberto Rodriguez (Zero Budget Geek)
Tim Blank (Gameworthy Labs)
Christopher Pinyan (Crispy Game Company)
Colin Kyle (Wrong Brothers Gaming)
Dev Purkayastha (Sweet Potato Press)
Laura Simpson (Sweet Potato Press)
Kiva Fecteau (Shadowsong Industries)
Adam Fischer (Shadowsong Industries)
Chris Batarlis (Everything Epic Games)
Jerry Wang (Arbor Games)
Daniel Berryman (DDGaming)
Joel Sparks (CATTHULHU.com)
Alexi Sergeant (Cloven Pine Games)
Beth Erikson (Thursday Games)
Craig Van Ness (Soaring Rhino Inc.)
Jeffrey Van Ness (Soaring Rhino Inc.)
Joshua A.C. Newman (the glyphpress)
Jonathan Gilmour
Doug Levandowski
Michael Scott Matecha
Don Bisdorf
Anthony Fiumano
Jeff Dieterle
David Joria
Noah Arjomand
Charlie Hoopes
Chad Bussell
Rach Shelkey
Eric Alvarado
Jimmy Ellerth
Rob Deobald
Christopher Austin
ErikPeter Walker
Beau LaManna
Avital Lubin
Jason Tocci
Wayne Bowmanchester
Henry-Michael Brown
Johannes Oppermann
Kate Bullock
Maria Rivera
Mick von Heyn
Jared Tripp
J. Dymphna Coy
David Leaman
Shawn Roske
Alex Tully
Eric Mersmann
Ian Jarrard
Tim Hutchings
Zintis May-Krumins
Jenn Martin
James Stuart
Kristin Firth
Joseph Greathead
Zachary Huff
Roberta Taylor
Corinne Taylor
Emily O'Neil
Nolan James
Daniel Thoreson
Rocco Privetera
Robin Liu
Richard Ranallo
Graham Gentz
Kevin Petker
Chad Wolf
Michael Meinberg
Julia Krystosek
Megan Knouff
Travis Magrum
Morgan Ellis
Catherine Ramen
Tim Armstrong
Janna Bramhill
Deric Drazich
Phillip Steinberg
Randall Buck
Karaktakus Audel
Robert Brown
Jason Robinette
Plus IGDN Sponsorship winners: Jessie Yaternick, Justin Rogers, Jeeyon Shim, Jefferson Kwan Lee, Miguel Angel Espinoza, Camdon Wright, Jacqueline Beckwith and Victoria Cana
---
METATOPIA is the place to unveil new ideas and new additions to existing material, and to share them with friends and peers, old and new.
Join hundreds of Designers and Publishers for 50+ hours of scheduled playtests, seminars, panels and discussions. Events will include hundreds of role playing games, story games, LARPs, board games, card games and wargames.
METATOPIA is both a freeform exchange of gaming AND a tightly scheduled Double Exposure convention. Rather than having the gamemasters focus on the attendees, we have turned the tables and are creating an environment where the Players are there to focus on the Designers! It is unlike any of our other conventions, all tied together by the top-notch Double Exposure staff, our familiar scheduling system and our world-famous Con Suite, featuring free snacks and refreshments all weekend long!
Publishers and Designers will be cross-playtesting as part of a community peer schedule that ONLY Double Exposure could coordinate!
Even if your game idea consists of three pencils and a cat, you'll want to be at this exciting festival, where every Designer is treated as a star. Dust it off, show it off, and let your peers help you get it ready for the 2018 convention season!
---
Read the Double Exposure Anti-Harassment Policy here.
---
Pre-registration is now closed.

At-the-door Player memberships will be available for $30.00.

The Hyatt Regency is completely sold out - there are numerous area hotels available.

For directions to the Hyatt Regency Morristown, click here

For further information, click here to send eMail.