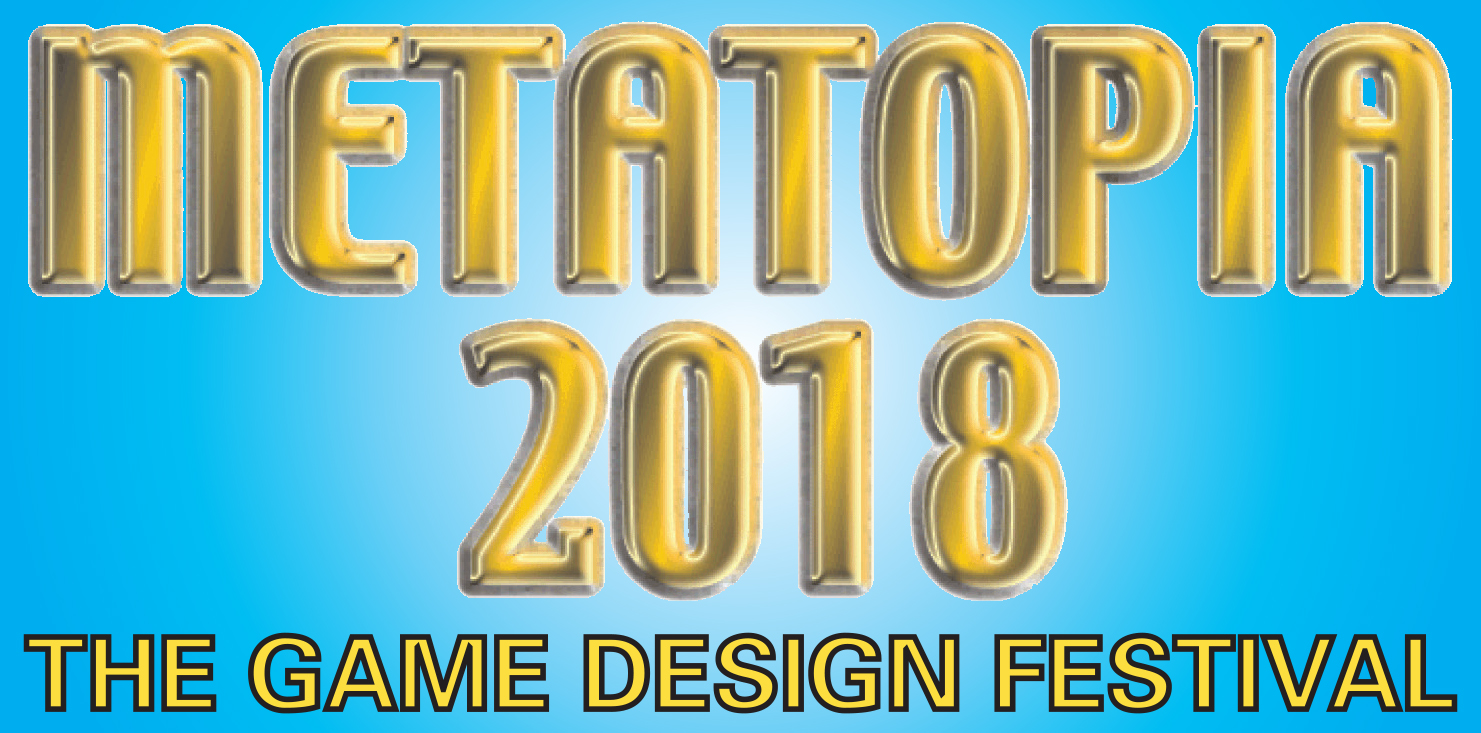 Thursday, November 1 - Sunday, November 4, 2018
At the Hyatt Regency Morristown & Conference Center in Morristown, New Jersey
---
The Convention For Gaming Industry Professionals!
---
The Complete Panel, Event and Seminar Schedule will be posted on Sunday, September 30, 2018.
The Complete Schedule of Events will be posted on Sunday, October 28, 2018.
On-Site badge pickup opens 6:00PM Thursday night (November 1st). Join us at 7:00PM for a Meet & Greet around the bar area with all of our professionals! Open gaming and lots of schmoozing expected.
---
Confirmed Industry Professionals (Updated 9/22/18):
Kenneth Hite (Pelgrane Press)
Will Hindmarch (Word Studio)
Rob Donoghue (Evil Hat Productions)
Darren Watts (Silverback Press)
Jason Morningstar (Bully Pulpit Games)
Jim Crocker (Indie Press Revolution)
Stephen Buonocore (Stronghold Games)
Curt Covert (Smirk & Dagger Games)
Christopher Badell (Greater Than Games)
Brian McCarthy (Indie Boards and Cards)
Gil Hova (Formal Ferret Games)
Ryan Bruns (Mayday Games)
Daniel Peterson (Mayday Games)
Peter Hayward (Jellybean Games)
Nicole Perry (Jellybean Games)
Mark Diaz Truman (Magpie Games)
Matthias Bonnici (Lost Cog Games)
Jeff Bourbeau (Brain Games)
Andrew Geremia (FoxMind Toys and Games)
Josh Paugh & Ben Krieger (Paw-Warrior Games)
Dixie Cochran (Onyx Path Publishing)
Elsa Henry (Blind Mouse Games)
Chad Wolf (Talking Dog Games)
Jeff Dieterle (Talking Dog Games)
Henry Ulrich (Infinite Opposition Games)
Ray Watters (Room 209 Gaming)
Robert Bohl (Robert Bohl Games)
Misha Bushyager (New Agenda Publishing/Black Girl Gameworks)
Neal Stidham (Parenthesis Press)
Randy Keenan (Keenbrook Enterprises)
Andy Brookshier (Keenbrook Enterprises)
Jacqueline Bryk (Damocles Thread Development)
Beth Rimmels (Rising Stars Press)
Mike Kaminky (Harder Than A Duck)
Suzanne & Christopher Zinsli (Cardboard Edison)
Jason Pitre (Genesis of Legend Publishing)
Mark Richardson (Green Hat Designs)
Thomas Toynton (Golden Dragon Studio)
Bill Lasek (Wandering Hearth Games)
Christopher Anderson (The Board Game Workshop Podcast)
Orion McClellan (Unpossible Game Labs)
James D'Amato (ONE SHOT Podcast Network)
Alexzandra Roberts (ONE SHOT Podcast Network)
Stentor Danielson (Glittercats Fine Amusements)
Cheyenne Grimes (Glittercats Fine Amusements)
Hamish Cameron (Ardens Ludere)
Heather O'Neill (9th Level Games)
Chris O'Neill (9th Level Games)
Robert Newton (Coin Flip Games)
Tam Myaing (Wee Big Games)
Rich Ranallo (XIG Games)
Gerald Kielpinski (Mantis Design, Inc.)
Joel Sparks (CATTHULHU.com)
Rod Currie (Spare the Rod Games)
Jim Dagg (Saddle Shaped Games)
Scott Gold (Gold Piece Games)
Mike Sette (Ironmark Games)
Keith Goreham (WyrmGaming LLC)
Mike Gnade (Rock Manor Games)
Andy Berdan (Berdandy Studios)
Philip Vecchione (Encoded Designs)
Robert Everson (Encoded Designs)
Pete Petrusha (Imagining Games)
Jason Cox (The University of Toledo)
Diane & Nick Sauer (Shoot Again Games)
Mick von Heyn (Suburbivore Workshop)
Wendelyn Reischl (Unicorn Motorcycle Games)
J.R. Honeycutt (Waitress Games)
Jim McClure (Third Act Publishing)
Eric Simon (Four-in-Hand Games)
Andrew Valkauskas (Pendelhaven)
Daniel Allen Berryman (DoubleD Gaming)
Sue Ann Derkach (Elwood's Games)
Ryan Mather (FlipTales)
Dean Bedford (Blood & Fire Gaming)
Adam Fischer (Shadowsong Industries)
Emily Escovar (OtterLabs LLC)
David Beever (Dave Beever Designs)
Tristan Zimmerman (Molten Sulfur Press)
Danielle Harper (Imaginary Audience)
Anthony Rando (Devious Devices)
Robert Miller (Mystic Mask Media LLC)
James Muckell (Pure Fun Games)
Kiva Fecteau (Gold Dragon Games)

Brennan Taylor (Galileo Games)
Tim Rodriguez (Galileo Games)
Michael Miller (Incarnadine Press)
Kat Miller (Incarnadine Press)
Dave Chalker (Critical-Hits Studios)
Brian Engelstein (Ludology)
Melissa Lewis-Gentry (John Wick Presents)
Anthony Amato (Cardboard Fortress Games)
Jeremy Bartlett (ThinkForm Games)
Stephen Dewey (Cavalry Games)
Jeffrey Pinyan (Japhy Games)
Todd Crapper (Broken Ruler Games)
Rachelle Shelkey (+1 Forward Podcast)
Kevin Kulp (Pelgrane Press)
Cat Tobin (Pelgrane Press)
Christopher Pinyan (Crispy Games Company)
Camdon Wright (Unicorn Motorcycle Games)
Alex White (Plane Sailing Games)
Kaan Emirler (World War Kaan)
PJ Parent (Black Suit Games)
Thomas O'Halloren (Noirtoony Games)
Matthew McFarland (Growling Door Games, Inc.)
Michelle Lyons-McFarland (Growling Door Games, Inc.)
Jimmy Ellerth (Tales of the Tomes)
Anna Kreider (Peach Pants Press)
Jack Graham (Giantkiller Games)
Senda Linaugh (Encoded Designs)
Ryan O'Grady (Legendsmiths)
Russell Collins (Robot Claw Design)
Isaac Shalev (Kind Fortress)
Jay Vowles (Eat Tasty Games)
Joie Martin (Drowning Moon Studios)
Robert Booth (Magic Circle Games)
Heather Wilson (9th Level Games)
James Malloy (Stop, Hack, and Roll Podcast Network)
Brandon Leon-Gambetta (Stop, Hack, and Roll Podcast Network)
Quinn Milton (Event Horizon LLC)
Ann Stolinsky (Gontza Games)
Fedja Buz (Muffin games LLC)
Jay Treat
Zintis May-Krumins
Moyra Turkington
Doug Badzik
Eugene Bryant
Dan Cassar
Kate Bullock
Jessie Yaternick
Lucian Kahn
Eric Alvarado
Michael Matecha
Nolan James
Christopher Duffy Austin
Marshall Roshto
Jason Tocci
David Gobiel
Daniel Allardyce
Travis Magrum
Jennifer Gutterman
Justin Kahler
Nicholas Greder
Miguel Angel Espinoza
Julian Butcher
Rob Deobald
Tim Hutchings
Charlie Hoopes
Eric Paquette
Ryan Abrams
Alex Rowland
Todd Walsh
William Little
Iam Jarrard
Rocco Privetera
Korey Mendes
Evanleigh Davis
Brian Beal
Jesse Casey
Randy Lubin
Avital Lubin
John Atwood
Meghan Dornbrock
Doug Levandowski
Raphael D'Amico
Rosco Schock
Jessie Yaternick
Shawn Roske
Luke Elias
Max Swietnicki
Robin Russell
METATOPIA is the place to unveil new ideas and new additions to existing material, and to share them with friends and peers, old and new.
Join hundreds of Designers and Publishers for 50+ hours of scheduled playtests, seminars, panels and discussions. Events will include hundreds of role playing games, story games, LARPs, board games, card games and wargames.
METATOPIA is both a freeform exchange of gaming AND a tightly scheduled Double Exposure convention. Rather than having the gamemasters focus on the attendees, we have turned the tables and are creating an environment where the Players are there to focus on the Designers! It is unlike any of our other conventions, all tied together by the top-notch Double Exposure staff, our familiar scheduling system and our world-famous Con Suite, featuring free snacks and refreshments all weekend long!
Publishers and Designers will be cross-playtesting as part of a community peer schedule that ONLY Double Exposure could coordinate!
Even if your game idea consists of three pencils and a cat, you'll want to be at this exciting festival, where every Designer is treated as a star. Dust it off, show it off, and let your peers help you get it ready for the 2019 convention season!
---
Read the Double Exposure Anti-Harassment Policy here.
---
Pre-registration will be $95.00 - $145.00 for Designers and $20.00 for Players.
Click here to pre-register for METATOPIA 2018 as a Player until Wednesday, October 31, 2018 at 10:00AM EDT, and as a Designer until Thursday, October 25, 2018 at 4:00PM EDT!.

At-the-door Player and Helper memberships will be available for $30.00.

Rooms can be reserved at the Morristown Hyatt for $126-$146/night (flat rate) by going to the following link: https://aws.passkey.com/go/Metatopia2018 or by calling the hotel's main number (973-647-1234) 9-5 weekdays. Be sure to mention METATOPIA and/or Double Exposure to get the event rates! For directions to the Hyatt Regency Morristown, click here

For further information, click here to send eMail.