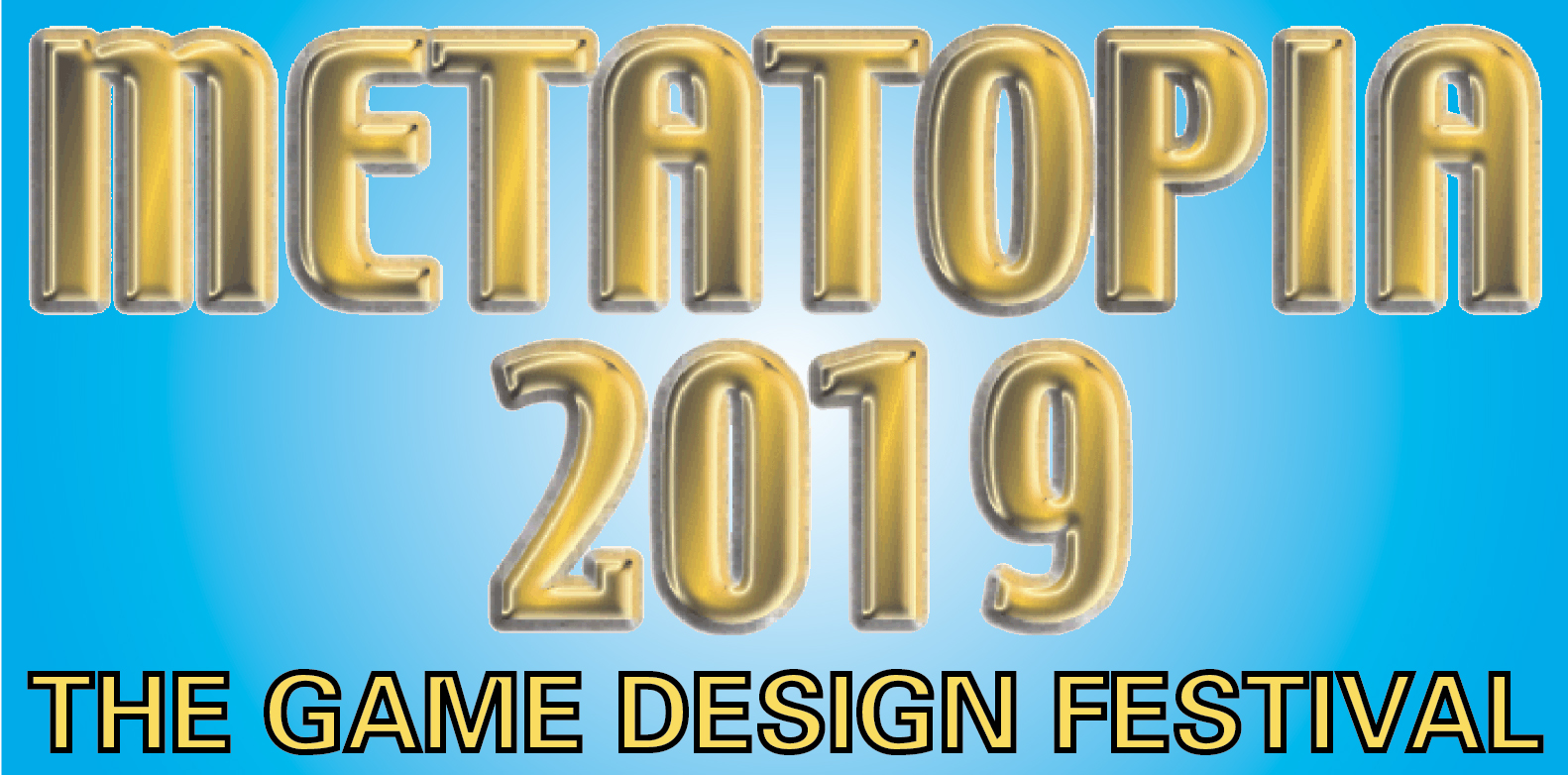 Thursday, November 7 - Sunday, November 10, 2019
At the Hyatt Regency Morristown & Conference Center in Morristown, New Jersey
---
The Convention For Gaming Industry Professionals!
---
On-Site badge pickup opens 6:00PM Thursday night (November 7th). Join us at 7:00PM for a Meet & Greet around the bar area with all of our professionals! Open gaming and lots of schmoozing expected.
---
Confirmed Industry Professionals (Updated 11/3/19):
Kenneth Hite (Pelgrane Press)
Cat Tobin (Pelgrane Press)
Rob Donoghue (Evil Hat Productions)
Darren Watts (Silverback Press)
Jason Morningstar (Bully Pulpit Games)
Jim Crocker (Indie Press Revolution)
Curt Covert (Smirk & Dagger/Laughter Games)
Gil Hova (Formal Ferret Games)
Stephen Buonocore (Indie Game Studios)
Nick Little (Indie Game Studios)
Sydney Engelstein (Indie Game Studios)
Anna Russell (Indie Game Studios)
Paula Milano (Indie Game Studios)
Julie Ahern (Greenbrier Games)
Peter Hayward (Jellybean Games)
Christopher O'Neill (9th Level Games)
Heather O'Neill (9th Level Games)
Adriel Wilson (9th Level Games)
Brian Turtle (Endless Games)
Justin Jacobson (Restoration Games, LLC
Carla Kopp (Weird Giraffe Games)
Ryan Bruns (Queen Games)
CJ Moynihan (White Wizard Games)
Christopher Badell (Greater Than Games)
Jason Walters (Hero Games)
Jonathan Gilmour (Pandasaurus Games)
Shane Harsch (Legendsmiths)
Ryan O'Grady (Legendsmiths)
Zev Shlasinger (WizKids)
Jeff Tidball (Atlas Games)
Josh Paugh(Paw-Warrior Games)
Ben Krieger (Paw-Warrior Games)
Ann Losito (Twist Gaming)
Geoffrey Engelstein (Mind Bullet Games)
Matthias Bonnici (Lost Cog Games)
Elsa Henry (Blind Mouse Games)
Michael Miller (Incarnadine Press)
Kat Miller (Incarnadine Press)
Melissa Lewis-Gentry (Avalon Lounge and Game Cafe)
Brennan Taylor (Galileo Games)
Tim Rodriguez (Galileo Games)
Jason Pitre (Genesis of Legend Publishing)
Joshua A.C. Newman (the glyphpress(
Beth Rimmels (Rising Stars Press)
Jessie Edwards (Jessie Edwards Games)
Eric Alvarado (Talon Strike Studios)
David Miessler-Kubanek (DMK Creative, LLC)
William Angus (Kitten Kaiju Games)
Rod Currie (Spare the Rod Games)
Richard Ranallo (XIG Games)
Stentor Danielson (Glittercats Fine Amusements)
Henry Ulrich (Infinite Opposition Games)
Kevin Kulp (Pelgrane Press)
John Lazration (LazArt Studios LLC)
Alex White (Plane Sailing Games)
Caleb Stokes (Hebanon Games)
Sue Ann Derkach (Elwood's Games)
Joel Sparks (CATTHULHU.com)
Korey Mendes (Roll Realm)
Jacqueline Bryk (RuffleJax)
Jesse Casey (Hounded Games)
Robert Everson (Encoded Designs)
Mike Gnade (Rock Manor Games)
Ryan Ward (Rock Manor Games)
Rabbit Stoddard (Quintessence of Dust)
Spencer McCormick (Marvelous Egg)
Joseph Sweeney (StoryWeaver Games)
Tim Hutchings (Bradley University)
Ray Nothnagel (Afterverse Inc)
Karl Schwiegershausen (Minutus Games)
Daniel Berryman (DD Gaming)
Neal Stidham (Parenthesis Press)
Chad Wolf (Talking Dog Games)
Robert Bohl (Robert Bohl Games)
Stephen Dewey (Cavalry Games)
Steven Brandes (4d10)
Gilbert Songalia (Six-5 Studios)
Chance Kallisti (Alchemical Gaming)
Eric Simon (Four-in-Hand Games)
Alexi Sargeant (Cloven Pine Games)
Matthew Meadow (Spectacle Games)
James Malloy (Stop, Hack, and Roll Podcast Network)
Lawrence Wolfe (Base+Prime Studio)
Liz Roche (Gather Round Games)
Patrick Watson (Oat and Noodle Studios)
Natalie Mesnard (Oat and Noodle Studios)
Senda Linaugh (Encoded Designs/Misdirected Mark Productions)
Philip Vecchione (Encoded Designs)
Sam Hotchkiss (Hotchkiss R&D)
Russell Collins (Robot Claw Game Design)
Glenn Given (Games by Play Date)
Omari Akil (Board Game Brothas)
David Medley (Rather Fun Games)
David Gaita (Modern Day Games)
Brandon Gutowski (Pagoda Games LLC)
Tom Toynton (Golden Dragon Studio)
Jay Vowles (Eat Tasty Games)
Mark Diaz Truman (Magpie Games)
Brendan Conway (Magpie Games)
Marissa Kelly (Magpie Games)
Kathryn Hymes (Thorny Games)
Jeff Mitchell (Arbitrio Games)
Moyra Turkington (Unruly Designs)
Angela Dobbs (Foxfire Game Design)
Michael Addison (Nerdy Pup Games)
Luka Phillips (SIGnature Style Entertainment)
Kaan Emirler (World War Kaan)
Malcolm Wright (Guilty Until Proven Innocent LLC)
Ramkesh Meena (Ram Shubh Games)
Hannah Shaffer (Make Big Things)
Ian Jarrard (Harnessed RPG)
Drew Schapow (Aggressively Playable Games)
Edward LaValley (2151 Games)
Aynsley Trevillyan (WatreGames)
Jason Costa (Multinational Games LLC)
Orion McClelland (Unpossible Game Labs)
Kymba Nijuck (Kymba.Art)
Erika Chappell (Newstand Press)
Trevor Lafferty (Analog Evolution)
Adam Ciffone (SE2OND)
Ed Rodriguez (Zero Budget Geek)
Suzanne Zinsli (Cardboard Edison)
Chris Zinsli (Cardboard Edison)

Anthony Amato (Cardboard Fortress Games)
Nicole Amato (Cardboard Fortress Games)
Tim Blank (Boston Festival of Indie Games)
Joshua Yearsley (Leder Games)
Hamish Cameron (Ardens Ludere)
Ivan Turner (9 Kingdoms Publications)
Camdon Wright (Unicorn Motorcycle Games)
Kate Bullock (Unicorn Motorcycle Games)
Mark Richardson (Green Hat Designs)
Robyn Booth (Magic Circle Games, LLC)
Sergio Cruzado Ake (Axo Stories)
Jaime Hernandez Martinez (Axo Stories)
Alastar Guzman (Axo Stories)
Joie Martin (Drowning Moon Studios)
Jeff Johnston (Pair of Jacks Games LLC)
Jim Dagg (Saddle Shaped Games)
Robert Miller (Mystic Mask Media LLC)
Dexter Duckworth (Charm City Game Design)
Anthony Rando (Devious Devices)
Eric Alvarado (Talon Strikes Studios)
Strahinja Acimovic (Off Guard Games)
John LeBoeuf-Little (Off Guard Games)
Tam Myaing (Wee Big Games)
Shoshana Kessock (Phoenix Outlaw Productions)
Daniel Ortiz (OR15 Gamelab)
Chris Spivey (Darker Hue Studios)
Geoff Bottone (Geoffquest)
Shawn Twaddell (Flesh Wound Gaming)
Raymond Greaves (Egad Games)
Jim Kavanaugh (Azure Horizon Games)
Becca Horovitz (Fiat Lucre)
Ryan Kelems (WryKnot Workshop)
Dave Eng (University XP)
Oliver Hong (Origami Android)
Monica Speca (Bonus Experience)
Matthew Malis (Metahedron Studios)
Moe Poplar (Ashy Feet Games)
Jared Tripp (Suburbivore Workshop)
John Bogucz (Intuition Games)
Jonaya Kemper (VioletRiot Games)
Justin Kahler (Sweaterpunk Studios)
Krin Irvine (Krin Games)
Clark Valentine
Amanda Valentine
Zintis May-Krumins
Jay Treat
Betsy Rosenblatt
Noel Warford
Duffy Austin
Jennifer Gutterman
Laura Boylan
Paul Stefko
Tim Armstrong
Jim Davies
Joel Carson Ashton
Conner Cole
Travis Magrum
Adam Lupu
Danielle Harper
Jonathan Yonce
Julian Butcher
William Little
Mike Sette
Jennifer Adcock
Jeff Ward
Brigette Indelicato
Benjamin Little
William Hansen
Matthew Austin
Christopher Challice
Luke Elias
Rick Dakan
Kate Freedman
David Gordon
Rocco Privetera
Fahad Syed
Menachem Cohen
John Atwood
Graham Gentz
Jason Tocci
Ron Blechner
Gerald Franklin
Zachary Huff
Dan Cassar
Kerwyn Velasco
Kyle Watt
Jeffrey Foxwell
Alex Sisk
Drew Swint
Sharang Biswas
David Brunell-Brutman
Teresa Roberts
Anna Kreider
Eric Paquette
Richard Ruane
Jason Perez
Thomas Hornemann
Jeff Stormer
Sarah Jane Murdock
Marshall Roshto
Ronald Russ
Ben Daniszewski
Mel White
Bill White
Vlad Ivanov
Charlie Hoopes
David Dai
Isaac Wynzel
Nicholas Hannouche
Matt Everhart
Sarah Addison
Dan O'Hanlon
Nathan Stevens
Nathan Well
Alex Grosskurth
Gregory Silverman
Brianna Shuttleworth
July Finn
Libby Horachek
Vas Kottas
Evan Buchholz
Nathaniel Thompson
Jon Argaman
James Lapalme
Jonathan Vallerand
Michael Steiner
Corinne Taylor
Colin Weyman
Plus 2019 IGDN Sponsorship winners: India Weston, Nina Henderson, Olivia Montoya, Ash Cheshire, Fertessa Allyse Scott, Mary Georgescu, Amr Ammourazz, Avraham Yosef Baez
---
METATOPIA is the place to unveil new ideas and new additions to existing material, and to share them with friends and peers, old and new.
Join hundreds of Designers and Publishers for 50+ hours of scheduled playtests, seminars, panels and discussions. Events will include hundreds of role playing games, story games, LARPs, board games, card games and wargames.
METATOPIA is both a freeform exchange of gaming AND a tightly scheduled Double Exposure convention. Rather than having the gamemasters focus on the attendees, we have turned the tables and are creating an environment where the Players are there to focus on the Designers! It is unlike any of our other conventions, all tied together by the top-notch Double Exposure staff, our familiar scheduling system and our world-famous Con Suite, featuring free snacks and refreshments all weekend long!
Publishers and Designers will be cross-playtesting as part of a community peer schedule that ONLY Double Exposure could coordinate!
Even if your game idea consists of three pencils and a cat, you'll want to be at this exciting festival, where every Designer is treated as a star. Dust it off, show it off, and let your peers help you get it ready for the 2020 convention season!
---
Read the Double Exposure Anti-Harassment Policy here.
---
Pre-registration is now closed.

At-the-door Player memberships will be available for $30.00.

The Hyatt Regency is completely sold out - there are numerous area hotels available.

For directions to the Hyatt Regency Morristown, click here

For further information, click here to send eMail.