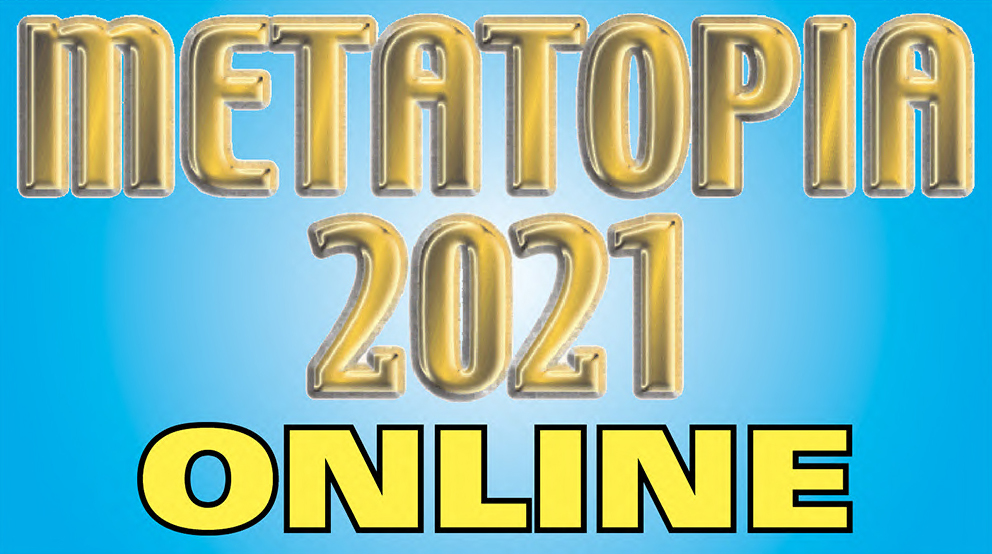 Friday, October 29 - Sunday, October 31, 2021
---
Panels and Seminars Schedule
for METATOPIA 2021
---
While this schedule is public to everyone, only registered METATOPIA attendees will have access to the METATOPIA area of the Envoy Gateway. When you receive your access (through email), you'll be able to RSVP for these events, and reserve seats in posted playtests. All links to content will be provided through the Envoy Gateway. Click here to pre-register for METATOPIA 2021 if you have not already done so.

All further instructions will be sent to registered attendees through email, including information on how to access the METATOPIA section of the Double Exposure Discord and how to sign into the Envoy Gateway. If you believe you have registered and you have NOT been contacted in a reasonable amount of time, please send email!

THERE WILL NOT BE ANY PUBLISHED PLAYTEST SCHEDULE ON THIS SITE. Professional METATOPIA attendees will be able to post playtests in a special Envoy Gateway calendar and other attendees will be able to RSVP to those events. They will NOT be on public display.
---
ALL EVENTS ARE SHOWN IN
EASTERN DAYLIGHT TIME (UTC - 4)
---
D001: "Welcome to METATOPIA ONLINE 2021" presented by Darren Watts, Avonelle Wing. Welcome back to METATOPIA! It's been a rough year for everybody, but we've made it this far. Here's how the show is going to look this year, including our new Academic Track and other highlights of the forthcoming program. Friday, 9:00AM - 10:00AM; Serious, All Ages. Location: Concord.

D002: "Designing and Publishing with ADHD" presented by Jay Dragon, Robert Donoghue, Rabbit Stoddard, Darla Burrow. Game design and publishing are complex tasks at the best of times, and particularly so for those dealing with ADHD. Many creatives struggle with maintaining their attention and concentration on their design and publishing work. How do you track your accomplishments and keep track of what you need to do next? How do you manage multiple deadlines and juggling priorities? How can ADHD be harnessed to help you with your creative work? In this panel, four experienced designers will share their hard-won secrets. Friday, 9:30AM - 10:30AM; Serious, All Ages. Location: Boardroom I.

A003: [ACADEMIC] "Sex Positivity and Relationships" presented by Beatrix Livesey-Stephens, Meguey Baker. We'll do a deep dive into how games (and players) can support sex-positivity and education about relationships and consent. From Fog of Love to Consentacle, games can do a lot for relationship education, but only if the game designers do it right and the players follow through. How do you fashion mechanics for a safe, consensual, sex-positive game, and how can that game educate people? Friday, 10:00AM - 11:00AM; Serious, All Ages. Location: Boardroom II.

D004: "Language Matters: Clear vs. Flavourful Terminology" presented by Jonathan Lavallee, Sen-Foong Lim, Misha B. It's always great and interesting to have cool terms for features in your game, but there are moments when that can get in the way of what you're trying to say. We'll be talking about the importance of, and balance between, clarity and flavor in your text. Friday, 10:30AM - 11:30AM; Serious, All Ages. Location: Concord.

D005: "What's New in Jewish Games?" presented by Gabrielle Rabinowitz, Avraham Yosef Baez, Adira Slattery, Evan Torner. A discussion amongst Jewish game designers about their approach to game development, Jewish culture and tradition, and the exciting happenings in this space. Friday, 11:00AM - 12:00PM; Serious, All Ages. Location: Boardroom I.

A006: [ACADEMIC] "Why an Academic Track for METATOPIA is Good for Games Scholarship" presented by Nicholas Mizer, Trent Hergenrader, Aaron Trammell, Shelly Jones. We're very excited this year to introduce a formal Academic Track for METATOPIA, including all of the panels marked with an "A" code. This will allow professors and teachers the opportunity to interact directly with game industry professionals and discuss pedagogy, design theory, and best practices and advice for using games in education. Please join us as we discuss the present and future of this program! Friday, 11:30AM - 12:30PM; Serious, All Ages. Location: Boardroom II.

D007: "Game Design Jam Launch (Hosted by Unpub)" presented by Benjamin Begeal. Grab some friends, enemies, or frenemies to team up for a weekend long virtual game jam! A group of designers will speak about their experiences in quick design/game jams/pitch tags and offer advice for the participants. We will also use this time to come up with some 'guardrails/training wheels' for this game jam. What will be the theme? Any specific requirements? Anything restricted? Only the dice will know... Friday, 12:00PM - 1:00PM; Serious, All Ages. Location: Concord.

D008: "Creatively Limited: What Walls Do You Put Up So You Can Bounce Off Them?" presented by Jonathan Lavallee, Sen-Foong Lim, Paul Stefko, Moe Poplar, Quinn Murphy. Analysis paralysis exists in creativity! When we put up limits and restrictions, we find new ways to solve problems and be creative. This panel will talk about what works for them when putting up walls around their creative process. Friday, 12:30PM - 1:30PM; Serious, All Ages. Location: Boardroom I.

A009: [ACADEMIC] "Role Playing as Experiential Learning: How Dungeons & Dragons Assists in Teaching Management Concepts" presented by Gabby Swab, John Harris, Ian Mercer. In Fall 2020, students across three universities participated in building a character based on their Ideal Entrepreneur, Human Resources Manager, or Leader. Using the format from the popular Dungeons and Dragons role playing game, the students' chosen character used their characteristics, skills, and knowledge to perform in three different course related scenarios. Students were then asked to reflect on their character, their decisions, and the subsequent outcomes. In this forum, we discuss the activity and the management topics (e.g., decision making, individual differences, resources) it allowed us to teach using games as experiential learning techniques. Friday, 1:00PM - 2:00PM; Serious, All Ages. Location: Boardroom II.

D010: "Distribution: Where Are We?" presented by Scott Morris, Michael Parker. Are you a designer and want to know how your game gets distributed? Are you self publishing and want to know more about Distribution? Are you crazy enough to actually ask a Distributor anything? Join us as Scott Morris from GTS and Michael Parker from ACD discuss the U.S.'s 3-Tier system and answer questions. Friday, 1:30PM - 2:30PM; Serious, All Ages. Location: Concord.

D011: "Challenges and Triumphs of Community-Based Game Publishing" presented by Jon Cole, Oscar Biffi, Katherine Shane, Misha B, Olivia Montoya, Chiara Locatelli. Some small game projects are created by an auteur, who controls every aspect of production. These panelists rejected that approach to create projects working with a team on behalf of their community. How did they balance the community's needs with their ambition? Is it possible to represent a community via anthology at all? Panelists will discuss the nitty gritty processes behind their projects, revealing what worked and what didn't, answering questions, and sharing their hard-won tips for publishing in community. Friday, 2:00PM - 3:00PM; Serious, All Ages. Location: Boardroom I.

A012: [ACADEMIC] "Board Games Media Pedagogy" presented by Chris Jeansonne, Jason Cox, Trent Hergenrader, Stephen Slota. We will share and discuss examples of how tabletop RPGs and board games are being brought into media studies educational contexts, both as a media and as paratextual/transmedial elements in media studies classrooms. We'll also discuss how game design principles are being brought into these classrooms through 'gameful learning' strategies, and to what effect? We'll use concrete examples of games and gamefulness in the classroom to spark discussion on how games can be both the subject and the method of study in media education. Friday, 2:30PM - 3:30PM; Serious, All Ages. Location: Boardroom II.

D013: "Don't Split the Party - The Unionization of Paizo" presented by Jason Tondro, Darren Watts. Earlier this month the employees of Paizo stunned the gaming world by announcing their intention to form a union. Committee representative Jason Tondro will answer questions about their intent, their methods, the chances of success and the possible impact this could have on the entire tabletop gaming industry. Friday, 3:00PM - 4:00PM; Serious, All Ages. Location: Concord.

D014: "Ask Anya - A Kickstarter Conversation" presented by Anya Combs. Join the Director of Games at Kickstarter, Anya Combs, in her return to the METATOPIA screen. Last year, she helped debunk the myth that funding in the first moments after launch ensures a successful campaign. Who knows what wisdom she'll share this year? Friday, 3:30PM - 4:30PM; Serious, All Ages. Location: Boardroom I.

D015: "Selling Globally in an Ever-Changing World" presented by Jordan Russell. What is DDP? What is VAT? How can I expand my business Globally? If these are questions you have asked yourself then this session is for you. Come grab some knowledge with Jordan Russell (from ShipBob) on how to expand your business into different markets around the world. Becoming a global business isn't as scary as it seems. Friday, 4:00PM - 5:00PM; Serious, All Ages. Location: Boardroom II.

D016: "The Aether and Beyond" presented by Richard Ruane, Diogo Nogueira, Sarah Brunt, Daniel Wilson. Cold, scary, empty, and filled with radiation, we all know the real void of outer space isn't a friendly place. But what opportunities do we get when we create settings in a different outer space, one we see in pulp novels, weird fiction, planetary romances, cosmic horror, and early tabletop games and supplements such as Spelljammer or Space 1999? What makes creating a space fantasy or weird space setting different from creating a classic fantasy or space opera? What themes can creators explore when we look at space in weird and fantastical ways? Friday, 4:30PM - 5:30PM; Serious, All Ages. Location: Concord.

D017: "Digital Distribution Platforms" presented by Evan Torner, Adriel Wilson. Platforms, or digital environments in which software is run and content is hosted, now dominate creative and bureaucratic spheres alike. We jump between more obvious platforms such as Facebook and Discord to more-innocuous "gray media" such as Google Docs, Wordpress, InDesign, BackerKit, and Acrobat, as well as sales points like Drive Thru and itch.io. This panel is meant to help understand how analog games intersect with the digital economy, building on valuable work done by Aaron Trammell (2019) and Tanya Pobuda (2018, 2020) in this area. Friday, 5:00PM - 6:00PM; Serious, All Ages. Location: Boardroom I.

A018: [ACADEMIC] "Keepsake Games, Art, Education and Equity" presented by Jason Cox, Shing Yin Khor, Jeeyon Shim. Keepsake games, which generate material objects as a result of play, are a fascinating tool for classroom use. What if the experience of educational games was visually shaped by the students? How would this affect their engagement and retention of content? How can a game like this thrive in the quantitative systems that dominate education? Friday, 5:30PM - 6:30PM; Serious, All Ages. Location: Boardroom II.

D019: "Designing Rewarding Game Experiences" presented by Beth Rimmels, Sen-Foong Lim, Gwendolyn Marshall. As a GM or game designer, you can produce a rewarding or disappointing experience for players. Regardless of genre, game or goals, what your design focuses on and how it conveys that determines how it will be received. We'll discuss how to create satisfying experiences whether you're trying to scare players, create thought-provoking frustration, or make players feel like heroes. Friday, 6:00PM - 7:00PM; Serious, All Ages. Location: Concord.

D020: "Care and Feeding of Your Community Manager" presented by Kelsey Danger, Bebo, Avonelle Wing, Joseph Seering. Community Managers (and Moderators) are the invisible glue that holds online communities together. From setting the tone for how the community responds to conflict to catching the first wave of flack when your fans don't like a decision you've made, they often wear more hats than anyone realizes. Let's talk about how we support them with tools and policies that make it easier to succeed in their roles. Friday, 6:30PM - 7:30PM; Serious, All Ages. Location: Boardroom I.

D021: "Golden Cobra Announcements" presented by Evan Torner, Sara Williamson, Jason Morningstar, James Mendez Hodes. Join us for the announcement of this year's Golden Cobra Challenge Winners! The Golden Cobra Challenge is a friendly design contest open to anyone interested in writing and playing freeform LARPs. It ran from September through the first week of October. We will discuss the turns and trends of this year's contest, and announce the winners of course! As with last year, all submissions will be safely playable in pandemic conditions, so come learn about some new games you can play. An informal discussion will follow the presentation and awards ceremony. Friday, 7:00PM - 8:00PM; Serious, All Ages. Location: Boardroom II.

D022: "The Data Is In: Now What?" presented by Tanya Pobuda, Sarah Stang, Erika Chung, Eric Lang. We know where we stand - gaming, specifically analog gaming in this case, has a sexism and racism problem. We've proven that through our research. Now that we have the data to back up our lived experiences, what can we do to fix the problems? Friday, 7:30PM - 8:30PM; Serious, All Ages. Location: Concord.

D023: "Questions as Mechanics: The Power of Asking and Answering" presented by Thomas Manuel, Logan Timmins, Jamila Nedjadi, Aaron Lim, momatoes. Asking and answering questions seems really simple but at the same time, it's a powerful tool in the game design process. Watch a group of storygame designers talk about the role of questions in their games and how they can help you get the best out of play at the table. Friday, 8:00PM - 9:00PM; Serious, All Ages. Location: Boardroom I.

D024: "Virtually There: Taking Your Online Role Playing Games to Another Level with Avatar-Based Proximity Chat Platforms" presented by Genevieve "Evie" Hartman, Olivia Montoya. Do you miss feeling physically present in a game space? There are tools for that! In this panel, we'll discuss running immersive role playing games using virtual avatar-based meeting platforms such as Gather, Topia, One More Multiverse, and others. We'll also discuss what to look for in such platforms, what to keep in mind when designing the spaces, and tools to make the spatial experience even more fun and functional for your players. Friday, 8:30PM - 9:30PM; Serious, All Ages. Location: Boardroom II.

D025: "Details for the Devil: A Deeper Dive into Microsettings" presented by Richard Ruane, Pam Punzalan, Brian Yaksha, Zedeck Siew. In METATOPIA 2020's "Devil in the Details" panel, we explored microsettings; settings that focus closely on a specific area, region, or location. This year, we'll discuss how microsettings challenge traditional assumptions about game mechanics, focusing on character creation, magic, technology, and GM procedures. How can the concrete specificity of microsettings open up other design opportunities beyond just the setting details? Friday, 9:00PM - 10:00PM; Serious, All Ages. Location: Concord.

D026: "Do's & Don'ts of Pitching Your Game to Reviewers" presented by Beth Rimmels, Ruel Gaviola, Egg Embry. Reviews are the number one method for spreading the word about your game. Bad timing, targeting the wrong reviewer or outlet, and not understanding the process can not only prevent your game from getting valuable reviews, it can also sabotage your marketing and more. Our panel will demystify the process of getting reviews for your game, differences in pitching videos, podcasts, and articles, pitfalls to avoid, and best practices to follow when promoting your game. Friday, 9:30PM - 10:30PM; Serious, All Ages. Location: Boardroom I.

D027: "Making Games to Change Hawaii in a Fun Way" presented by Jack Hobbs, Alika Spahn Naihe, Jeffrey Vierra. Theorycraftist Games is run by Native Hawaiians to make games to spark the culture and the changes needed to sustain island life. All members of the collective have experience with teaching amongst students and teachers. Come join us for a talk about the Native Hawaiian perspective to gaming! Friday, 10:00PM - 11:00PM; Serious, All Ages. Location: Boardroom II.

D028: "Saturday Morning Coffee (Replacement Panel)" presented by Avonelle Wing. Due to a technical glitch, this panel (which was pre-recorded) is not available. Instead, Avie invites you to join her for a cup of tea and a chat. If serious topics arise, we'll talk about them, but this might end up being tea and introducing the pets that have gotten us through the pandemic with their careful supervision of our zoom calls. The gracious panelists who recorded the original panel for this time slot have graciously agreed to repeat the conversation at a future date and share it with us then. Saturday, 9:00AM - 10:00AM; Serious, All Ages. Location: Concord.

D029: "Do You Want to Build a Snowman? Printing and Publishing Where You Are" presented by Jonathan Lavallee, Elizabeth Chaipraditkul, Alastor Guzman, Moe Poplar. In this panel we'll be looking at the current state of printing and publishing RPGs from Canada, the US, Europe, and Mexico. Where are there new opportunities for small publishers to produce physical books without breaking the bank? Saturday, 9:30AM - 10:30AM; Serious, All Ages. Location: Boardroom I.

D030: "My Design Fell Off the Rails - Now What?" presented by Carla Kopp, Nikki Valens, Jay Dragon, Avonelle Wing. Game Design is messy and weird. Sometimes you look at everything you've doodled for the last 3 months and realize that you've designed 10 games about birds. You decide to roll with it and create a 12-month Bird Anthology, but your brain suddenly refuses to think about birds, and will only think about unicorns. Or you sit down to refine your latest abstract strategy game, and end up with a first draft of a trick-taking game. Our designer guests talk about how they adjust (or cope) when their design-brain refuses to cooperate with the practicalities of making and selling games. Saturday, 10:00AM - 11:00AM; Serious, All Ages. Location: Boardroom II.

D031: "Designing for Roll20" presented by Stephanie Bryant, Gabby Parker, Keith Curtis. Do you plan to publish your game on Roll20? Learn some of the great tips and tricks to use during the layout and publication process that make getting it onto the VTT easier, faster, and more enjoyable for players at the virtual table. Join some Roll20 staff and community leaders to learn how to design the artifacts of your game to be more easily converted and played on a VTT. Saturday, 10:30AM - 11:30AM; Serious, All Ages. Location: Concord.

D032: "App and Digital Tabletop: An Exploration of Digital Tools for Tabletop Role Playing" presented by Raph D'Amico, Randy Lubin, Genevieve "Evie" Hartman, momatoes, Chris Longhurst. Join our panelists for a conversation about some of the different ways digital tools can enhance the tabletop role playing experience. We'll start with a survey of the emerging digital storytelling tools space and how different types of tools empower players and unlock new forms of play, then use our games to put this in context. Saturday, 11:00AM - 12:00PM; Serious, All Ages. Location: Boardroom I.

A033: [ACADEMIC] "Introduction to Analogue Game Modeling Language (AGML)" presented by Marc Gurwitz. This session is an introduction to a modeling structured language that can help quickly visualize a game's overall flow and design, and enable teachers, students, designers, and developers to share their ideas easily with others. In this session, I will introduce the language, provide an overview of the symbols and structures, and show some examples of how it can be applied during game design, using some existing game designs as examples. AGML uses some common elements from UML (Unified Modeling Language), Flow Charts, and other familiar structures to make it easy to pick up for anyone familiar with those existing languages, although modeling knowledge is not required. Saturday, 11:30AM - 12:30PM; Serious, All Ages. Location: Boardroom II.

D034: "Zines and ZineQuest" presented by Alexi Sargeant, Tony Vasinda, Adriel Wilson. What is ZineQuest? What is a zine? Is turning my game idea into a zine and Kickstarting during ZineQuest really something I can do? Join some experienced zine designers to discuss the ins and outs of Kickstarter's ZineQuest initiative and the short-and-sweet games they've created as part of it. Saturday, 12:00PM - 1:00PM; Serious, All Ages. Location: Concord.

D035: "International Co-Publishing Agreements" presented by Jason Pitre, Jamila Nedjadi, Jay Dragon, Sean Nittner. Countless brilliant analog game designers are creating innovative games around the world. Unfortunately, creatives from many countries face harsh barriers in terms of crowdfunding access, banking regulations, shipping challenges, or other factors. That is why international co-publishing agreements have come on the scene. In this panel, Filipino Designer/Publisher Jamila Nedjadi joins North American publishing partners to discuss the different business models that have worked for them. Saturday, 12:30PM - 1:30PM; Serious, All Ages. Location: Boardroom I.

A036: [ACADEMIC] "Phenomenology of Role Playing" presented by Bill White, Nicholas Mizer, Nicolas LaLone. As analog game scholars, we're interested in the way that different "communities of play" make sense of and articulate the practice of role playing, so we've started to conduct a range of interviews with "key informants" from different TRPG communities. Join us as we conduct a preliminary exploration of a pilot interview transcript, and help us analyze and interpret what we're hearing. We'll discuss potential interpretive strategies, identify key motifs and themes to focus on going forward, and invite workshop participants to bring their perspectives to bear on the data as we begin the process of qualitative data analysis. Saturday, 1:00PM - 2:00PM; Serious, All Ages. Location: Boardroom II.

D037: "The Mystery of the Successful Mystery Game" presented by Lisa Padol, Joshua Kronengold, Kenneth Hite, Darren Watts. Mystery is a major genre, both in and out of speculative fiction, and there have been numerous and fundamentally different approaches toward translating the genre in games (including LARPs, role playing games, and board and card games). Let's get together and talk about the different approaches and, as importantly, the different reasons that people are drawn to mystery games, and as a consequence, what is likely to satisfy them. Saturday, 1:30PM - 2:30PM; Serious, All Ages. Location: Concord.

D038: "Making Trash Games for Love" presented by Jack Rosetree, Olivia Montoya, Taylor LaBresh. Perfection is a toxic concept. The pressure to make our games elegant, innovative, replayable, marketable, pitchable, attractive, and trendy can be exhausting. Don't be afraid to make ugly, unmarketable, uncomfortable, or downright bad games. Making trash is liberating, exhilarating, and cathartic. Saturday, 2:00PM - 3:00PM; Serious, All Ages. Location: Boardroom I.

A039: [ACADEMIC] "Kids Know Best: Running Games For and With Kids" presented by Jay Dragon, M. Veselak, Jeeyon Shim, Meguey Baker. Kids are some of the most creative, prolific, and talented designers/players in RPGs, and have been working hard for thousands of years before Gygax ever rolled dice. So why don't we learn more from them? This panel seeks to reveal some of the secrets of children's games, contemplate how they relate to our own understanding of play, and even apply them to our own design. Saturday, 2:30PM - 3:30PM; Serious, All Ages. Location: Boardroom II.

D040: "Why Can't I Hit It? - RPGs Without Obvious Combat Mechanics" presented by Moe Poplar, Michael Low, J Gurantz. Now kids, stop fighting! RPGs are intensely emotionally engaging, deeply moving experiences - and they're fun! Much attention has been paid, recently, to their application in therapy, helping people navigate complex emotional change. This creates a question - how does the violence often built into the system - and setting - of an RPG affect players, and how can we create games where tension, drama, and struggle don't have to be wedded to destruction? Saturday, 3:00PM - 4:00PM; Serious, All Ages. Location: Concord.

D041: "How to Read a Contract: Boilerplate Edition" presented by Eric Whalen. Lawyers secretly know that you do not read the big chunks of standardized text in your contract that have nothing to do with your obligations and how much you are getting paid / paying (called "boilerplate" text). Worse - many lawyers forget to read the boilerplate in their own contracts! Whether you love or hate these reader-unfriendly text walls, join the panelist as he reminds us to intellectually grapple with the important provisions everyone has likely agreed to, but may never have read or fully understood until now. Chatters will be encouraged to link their own boilerplate samples so that panelists may demonstrate how to dissect organic boilerplate specimen live. Saturday, 3:30PM - 4:30PM; Serious, All Ages. Location: Boardroom I.

A042: [ACADEMIC] "Pass/Fail Play vs. Open-Ended" presented by Joan Moriarity, Darren Watts, Beth Rimmels. Which is better, a game that concludes when somebody wins, or a game that concludes when the story is deemed to be complete? It's a trick question, obviously; both styles have their benefits and drawbacks, but what are those exactly? Why do certain kinds of players tend to gravitate toward one or the other? What can devotees of one type gain from playing the other, and how can we make it more enjoyable to cross that divide? Saturday, 4:00PM - 5:00PM; Serious, All Ages. Location: Boardroom II.

D043: "The Many Meanings of "Diceless"" presented by Jon Lemich, Chance Feldstein, Alex White. There are many diceless RPGs, but their mechanics and design objectives vary more than most designers realize. What do you need to consider when designing a diceless RPG? Do you simply want to replace dice with cards or hidden information wagers, or do you want it to be randomizerless, gameless, or pure collaborative authorship? Saturday, 4:30PM - 5:30PM; Serious, All Ages. Location: Concord.

D044: "ADA Website Design and Marketing" presented by Beth Rimmels, Mike Roberts. ADA website compliance is an often-neglected topic even though it's incredibly easy to do right or wrong. In New York especially, opportunistic attorneys have won significant judgments against small to medium-sized companies. A little care and information can not only prevent issues, it also can help grow a game store or publisher's client base through accessible design. Saturday, 5:00PM - 6:00PM; Serious, All Ages. Location: Boardroom I.

D045: "GMing for Pay: Deep Thinking About How Much Work GMing Is and How We Think About the Whole Activity" presented by William Little, Steve Dee, Justus Garneau. It's becoming more popular by the year, but what is paid GMing actually like and how does it work? We'll discuss how paid GMing works and how it affects the experience of the game and relationship between the GM, players and environment it happens in. We will also talk about what changes need to be made by GMs in communicating, implementing safety tools, and managing players before, during and after the game itself. Saturday, 5:30PM - 6:30PM; Serious, All Ages. Location: Boardroom II.

D046: "Mentoring and Diversity Programs" presented by Camdon Wright, Mitchell Wallace, Elizabeth Chaipraditkul. Join our mix of mentors, mentees, and program coordinators as we break down what we've seen work, what well-intentioned choices cause problems, and how to more effectively listen to purposely excluded communities in gaming so you can better serve their actual needs. Saturday, 6:00PM - 7:00PM; Serious, All Ages. Location: Concord.

D047: "How to Work with Artists" presented by Jack Parra, Lissanne Lake, Bradley DeVitt. A collection of professional game industry artists gather to discuss the finer points of working with them as a game producer, from contracts and time management to best practices for art descriptions and stylistic choices. Saturday, 6:30PM - 7:30PM; Serious, All Ages. Location: Boardroom I.

D048: "Secrets and Powers LARPs" presented by Olivia Montoya, Acata Felton. In some circles, Secrets and Powers LARPs are dismissed as outdated or "too obscure." Our panelists flatly reject this mindset, and invite you to join them for a discussion about what Secrets and Powers games have to offer. Come learn more about this specific type of LARP, which has a focus on pre-written characters, hidden information and roles, and ability mechanics. Learn about why secrets and powers games are cool, get a crash course on how to write and GM them in the modern day, and consider how to make a better future for communities that run them. Saturday, 7:00PM - 8:00PM; Serious, All Ages. Location: Boardroom II.

D049: "Shipping is on FIRE. Why?" presented by Mel D'Amato. Anyone who makes or sells consumer goods has been watching the news about shipping and logistics in horror. The cost of freight is up. There are no shipping containers to put goods into. Products are sitting on docks in Asia. Full ships can't get to port to unload on this side of the ocean. Our expert, Mel D'Amato from ShipBob, talks to us about what's going on, why everything is terrible, and what we can expect over the next several months. Saturday, 7:30PM - 8:30PM; Serious, All Ages. Location: Concord.

D050: "Problematic and Taboo Topics" presented by Anne Ratchat, Jason Morningstar. When writing games, a lot of topics are taboo simply because as a community, we are worried how people might take the intentionality of the design to the worst possible places. The issue created by not writing these games, we erase the experience of so many creatives and players who also deserve to have their voices heard. We will be discussing the thought process of how to tackle these controversial topics so that games can be a place for all experiences. Saturday, 8:00PM - 9:00PM; Serious, All Ages. Location: Boardroom I.

D051: "Unleashing the Power of InDesign: The Industry Standard for Layout" presented by Adam Jury-Last. Let's take a look at some of the powerful tools that are part of Adobe InDesign - the most versatile software available to lay out professional graphics for all aspects of our industry. Saturday, 8:30PM - 9:30PM; Serious, All Ages. Location: Boardroom II.

D052: "Bad Design Habits We Love" presented by Jason Morningstar, Tim Hutchings, Jeeyon Shim. Join us for a rollicking discussion of our worst habits and how being lazy, careless and hard-headed is often the best possible approach to game design. Do you design in layout? Is your playtest process a little shambolic? Do you cut corners and assume the math will all work out? If not, come and be outraged as we take a somewhat jaded approach to conventional wisdom you've heard a thousand times. Saturday, 9:00PM - 10:00PM; Serious, All Ages. Location: Concord.

D053: "Spirituality Check: Spiritual Growth, Exploration and Healing Through RPGs" presented by Menachem Cohen, Ryan Cagle. Because of the fictional distance between player and character, TTRPGs, even D&D, can be designed and used to facilitate spiritual growth, exploration, and healing. Mechanics, role play, and setting/story also factor into this and GMed, GMful/less, and solo games work in this context. Panelists will discuss how they have designed and used games for spiritual discovery and address theoretical underpinnings of why it works, such as bleed and alibi. There will be time for questions. Saturday, 9:30PM - 10:30PM; Serious, All Ages. Location: Boardroom I.

D054: "Math Essentials for Designers" presented by Jason Pitre, BJ Recio, Mags Maenad, Alastor Guzman. Math is often a barrier for analog game designers of all disciplines. This panel is meant to help lower that barrier by teaching you some basic, versatile tools you can use to solve most problems. How do you figure out probabilities of success when rolling dice or drawing cards? What is a bell curve, a mean and a median? How do you figure out combinations and permutation? We are here to give you the tools to thrive. Saturday, 10:00PM - 11:00PM; Serious, All Ages. Location: Boardroom II.

D055: "The Font is Mightier Than the Sword" presented by AC, Sinta Posadas, momatoes. An introduction to proper graphic design, with discussion about why layout is important to your game. Used well, it can make a good game great, but used badly it can make a great game unplayable. Saturday, 10:30PM - 11:30PM; Serious, All Ages. Location: Concord.

D056: "Why LARP Needs Polyamory Representation" presented by Acata Felton, Kate Hill, Sharone Horowit-Hendler. Join us for a conversation about designing LARPs that include non-monogamous relationships. Whether the game is primarily focused on these relationships, or they are just one part of a much larger story, designing for them intentionally helps both monogamous and non-monogamous players interact with these relationships respectfully. We'll speak from our own experience writing, playing, and reading games that include non-monogamy. We hope you'll bring your favorites too. We hope to provide thoughtful discussion for those new to the topic (both in design and playing) and those who wish to continue the conversation around designing LARPs with non-monogamous relationships. While we'll be speaking from our experience in LARP, we'd love to engage board game and tabletop players and designers as well - hopefully we'll find a few gems that cross game-styles. Saturday, 11:00PM - 12:00AM; Serious, All Ages. Location: Boardroom I.

D057: "Game Facilitator Camp: Onboarding GMs for Online TTRPG Communities" presented by Lowell Francis, Jim Crocker, Jamila Nedjadi, Alun Rees. For the last several years the Gauntlet Gaming Community has used Game Facilitator Camps to help GMs get used to running online. These voluntary workshops have a mentor and three participants. They combine Q&As, participant-run sessions, and feedback debriefs. GFCs cover safety, specific play culture, technical aspects, and game facilitation skills. In this panel we'll go over how these work, what the syllabus looks like, and what lessons we've learned from running them. Sunday, 9:00AM - 10:00AM; Serious, All Ages. Location: Concord.

D058: "Budgeting for Art 101" presented by Jack Parra, Lissanne Lake. Getting high-quality art is key to making a product look professional. How do publishers do it without breaking the bank? Our panelists provide the tips and tricks. Sunday, 9:30AM - 10:30AM; Serious, All Ages. Location: Boardroom I.

D059: "Game Design Jam Wrap-Up (Hosted by Unpub)" presented by Benjamin Begeal. We are back to review and give feedback on all games and game nuggets that are submitted through the Game Jam form prior to the panel. Sunday, 10:00AM - 11:00AM; Serious, All Ages. Location: Boardroom II.

D060: "IP and Licensing in Games" presented by David Fitzgerald, Sean Owens. Protect yourself! In this seminar two lawyers with practical experience in the world of game design discuss patents, copyrights, trademarks, and legal agreements for use by designers and companies. How do you protect your idea, your brand, your finished game? And what kinds of complications are you likely to encounter along the way? Sunday, 10:30AM - 11:30AM; Serious, All Ages. Location: Concord.

D061: "Gothic Fiction in Role Playing Games" presented by Joie Martin, Dave Seidman-Joria, Kenneth Hite, Misha B. Gothic themes have been present in role playing games almost from the beginning. But what is Gothic fiction, the literary genre that inspired these themes, and how do role playing games adapt and transform them? Sunday, 11:00AM - 12:00PM; Serious, All Ages. Location: Boardroom I.

A062: [ACADEMIC] "Instructional Design: Teach the Teacher" presented by Jason Pitre, Timothy Brannan, Richard Ruane, Lynn Kirabo. Writing instructions is a difficult task, and experts in instructional design have much to teach analog game designers. In this panel, a group of said experts will explain some of the fundamental principles and lessons of instructional design, effective ways of structuring your game texts, and effective practices to design feedback surveys. Come learn with us. Sunday, 11:30AM - 12:30PM; Serious, All Ages. Location: Boardroom II.

D063: "Move It! A Deep Dive into Movement Mechanisms" presented by Geoffrey Engelstein, Tim Blank. Whether it's a person, amoeba, or spaceship, many games require pieces to move. This seminar takes a deep dive into the many options available to the game designer, with pros and cons of each. Sunday, 12:00PM - 1:00PM; Serious, All Ages. Location: Concord.

D064: "Your Haunting Board Game Industry Questions Answered" presented by Curt Covert, Julie Ahern. We all tend to fear the unknown, so since it's Hallowe'en let's talk through our fears, concerns and sources of anxiety as it relates to the game industry. Pitching, contracts, rejection, approaching publishers, the perennial question of "will someone steal my game idea?" and literally anything else that has you unsettled. Get answers and perspectives from gaming professionals so the "unknown" becomes known and far less scary in the process. Sunday, 12:30PM - 1:30PM; Serious, All Ages. Location: Boardroom I.

D065: "Designing Magic Systems" presented by Sharang Biswas. An interactive workshop where we look at examples of magic systems in games & fiction, discuss strategies that can be used to design magic systems that do more than just "feel magical" and break into groups to do some design work! Sunday, 1:00PM - 2:00PM; Serious, All Ages. Location: Boardroom II.

D066: "Porting Analog Games to Roll20" presented by Jenn Martin, Sophie Lagace, David Hemenway, Sean Nittner. Playing games on Roll20 is more popular than ever, but sometimes it's hard to translate a game designed for physical space into a digital environment. We'll talk about the strengths and weaknesses of the medium and Roll20's interface, and realistic goals for implementation. This panel will focus on games that aren't like D&D, as Roll20 was built for that and supports it well. Sunday, 1:30PM - 2:30PM; Serious, All Ages. Location: Concord.

D067: "Improving Collaborative Design" presented by Jonathan Lavallee, Quinn Murphy, Jen Adcock. Whether it takes the form of intentional collaboration with other designers, or simply gm-less creation in a story game, working together is an art. We're looking to build better tools on how we can play together, in design or instruction in our games. Sunday, 2:00PM - 3:00PM; Serious, All Ages. Location: Boardroom I.

D068: "Designing to Center Queer People" presented by Spider Perry. This panel is about approaches to creating game worlds that feel LGBTQ-affirming and centering. What are some helpful ways to make cultures, magic systems, even alternate science to support the values you hope to see in players, without seeming heavy-handed? For games that do center LGBTQ characters, what do we hope straight cisgender players can learn from playing? By the end of the panel, we might agree on some best and worst practices for LGBTQ-inclusive world-building. Sunday, 2:30PM - 3:30PM; Serious, All Ages. Location: Boardroom II.

D069: "Fair Use in RPGs" presented by Rob Hebert. California IP attorney Rob Hebert teaches you how to apply the multi-factor "fair use" test under U.S. law using everyday language and past cases relevant to artists, publishers, and designers. This talk includes a brief overview of similar doctrines employed in other countries and a short Q&A session. Sunday, 3:00PM - 4:00PM; Serious, All Ages. Location: Concord.

D070: "Retail Insight into Pandemic Product Planning" presented by Jennifer M. Ward, Scotia Buchan, Avonelle Wing. Retailers get the distilled effects of every influence pressing in on games publishing right now. As the main interface with most customers, retailers have a lot to say about what publishers and designers need to think about going into 2022. Join Avonelle Wing as she gleans insight from our panelists. Sunday, 3:30PM - 4:30PM; Serious, All Ages. Location: Boardroom I.

D071: "Queering the Canon: Updating Myths, Settings and Systems for Modern Audiences" presented by Spider Perry, Hiromi Cota, Rai Cole, James High. Queering the Canon involves dealing with game systems, myths, and settings which are not inclusive and fail to live up to modern standards. How do we update systems, settings, etc.? How do we deal with the responses from existing fans or other social media feedback? Sunday, 4:00PM - 5:00PM; Serious, All Ages. Location: Boardroom II.
---
For further information, click here to send eMail.